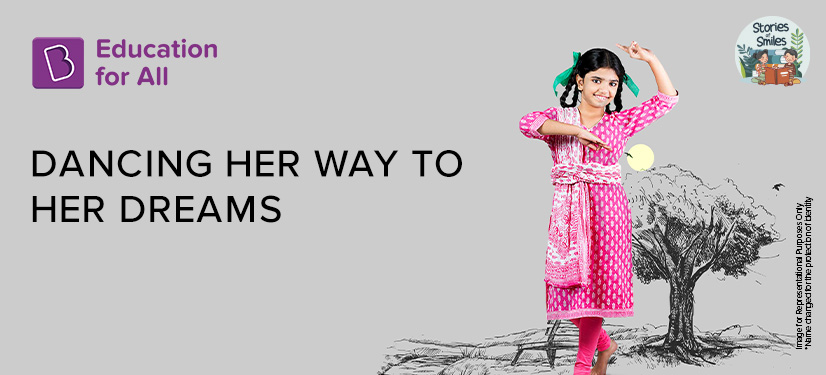 BYJU'S Education for All, with the support of its NGO partners, has been helping underserved children with education. One such beneficiary is Sanjana from Jharkhand.
---
"I want to become a dancer one day and perform at big platforms across the world," says a hope-filled Sanjana* Kumar, who dreams of soaring the skies by showcasing her talent.
12-year-old Sanjana is from a small town in Barigora in Jharkhand and attends the M.S. Bamangora School. She loves to dance, read and write, and aspires to become a professional dancer one day, but first, hopes to complete her basic education. She wants to learn English to meet more people and seek bigger opportunities as she grows older.
Sanjana's father works as a daily wage labourer, and her mother is a housewife. With her father being the sole breadwinner, the family lives hand-to-mouth. While her parents want to support her with her studies, their lack of education and income hinders them. While allowing her to go to regular school itself was slowly becoming a mere consideration, coaching and educational support were nowhere close.
That's when she came across the free BYJU'S Education for All programme through an NGO, where she could access premium content. She has been sincerely using the visual content to practice more. While the app is available in her local language, she chooses to watch the learning content in English to help improve her fluency.
"I have been regularly practicing with the app, which has helped me grasp the basic concepts in Maths and Science. But I have always been listening to the online tutors speaking in English, which has helped me speak more confidently and improve my conversational skills," says Sanjana.
Like Sanjana, BYJU'S Education for All hopes to support millions of children with access to quality education. Through our NGO partners, we hope to reach 10 million children by 2025, with the power of learning!
We hope that Sanjana achieves her dreams one day and will continue to support children like her with a fair chance at education.
*Name changed for the protection of identity
---
BYJU'S Education for All is on a mission to empower 10 million children by 2025 with education. Through the BYJU'S Give programme, you can contribute to this movement and help children with quality digital learning. You can donate an old device, which we will refurbish, and then use the money raised to buy a new device. In case you do not have a device, you can also donate to an NGO partner, who will use the funds to buy devices for children.
In both cases, we will load our BYJU'S Think & Learn premium content onto these devices and distribute them to children in need.
Also Read: Shaping Poornima's Path to Becoming a Successful Lawyer