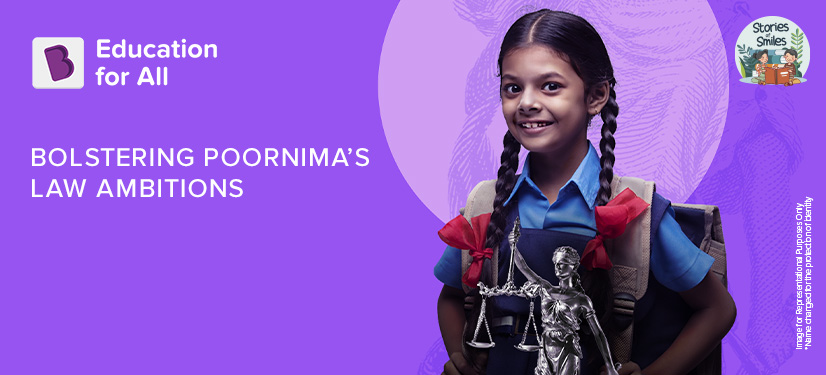 BYJU'S Education for All has been helping children like Poornima with access to free quality education to help them further their dreams and aspirations.
---
Today, there are 129 million girl children who are out of school, according to UNICEF. With abject poverty at the root of it, girl children are ultimately pulled out of their education without consideration for their futures. In addition, the lack of proper sanitation, among several other shortcomings of educational institutions, has also been the reason for a high dropout rate among students coming from a background of minimal means.
Despite the challenges, 16-year-old Poornima* has big dreams for her future. Hailing from Hoskote, Karnataka, she comes from a family of farmers and lives with her parents and two siblings.
Poornima goes to the nearby Government Girls High School, Bagepalli, and is a very promising student. She also enjoys painting and drawing, two of her favourite hobbies. But she is also determined to make a difference in her society, where injustice often prevails.
"I want to become a lawyer one day and make a difference in my society. I want to help my family and other families in my locality and make justice affordable to them," shares the passionate Class 10 student.
While she dreams big, the primary hindrance to her education is her family's financial instability. Her father, the sole breadwinner, brings home a meagre income, just enough to help the family break even. In such a situation, it was difficult for Poornima to ask her parents for additional support to get her closer to her aspirations.
However, she received a free BYJU'S licence from the NGO Right to Live, with which hope for her future has been reinstated. She practices often and works through her doubts in all subjects.
"My favourite subject is mathematics, but some concepts are challenging. I have been using the app, especially the quizzes, for the last eight months, which has helped me improve my skills and do better in the exams. I hope I can do really well in the board exams as well," Poornima says.
She adds, "I also share the app with my friends, who have improved their understanding of these subjects. Since the app is also available in Kannada, it has helped clear their doubts."
 BYJU'S Education for All is on a mission to make a difference in the lives of underserved children across India. Together with our partners and BYJUites, we hope to reach 10 million children with the power of education.
---
BYJU'S Education for All is on a mission to empower 10 million children by 2025 with education. Through the BYJU'S Give programme, you can contribute to this movement and help children with quality digital learning. You can donate an old device, which we will refurbish, and then use the money raised to buy a new device. In case you do not have a device, you can also donate to an NGO partner, who will use the funds to buy devices for children.
In both cases, we will load our BYJU'S Think & Learn premium content onto these devices and distribute them to children in need.
Also Read: How Hita Kosle is Learning and Helping her Friends Chase Their Dreams with BYJU'S