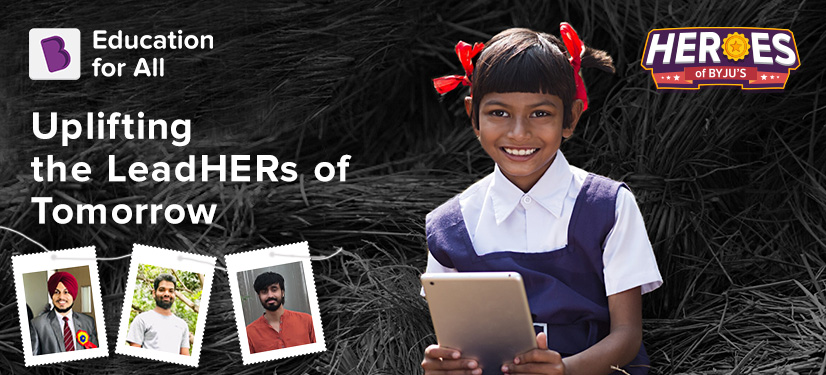 Millions of children across the world dream of reaching for the stars, but often, are hindered by the lack of resources. Poverty being one of the main factors, stops them from getting a good education and doesn't give them a fair fighting chance. This is more common among families with girl children, as they are the first to be pulled out of school whenever the family is in crisis.
On International Women's Day 2022, BYJU'S Education for All launched the LeadHERs campaign, where we asked BYJUites to nominate a girl child for a free BYJU'S course. Through this campaign, we wanted to help these children and help them with quality education that can help them become the LeadHERs of tomorrow.
BYJUites nominated children who come from difficult backgrounds, but are eager to learn. Here are some of their stories.
Sanbir Singh
Academic Specialist, Student Experience
Sanbir nominated Swapna*, who works hard to reach her dreams
When I heard about the LeadHERs campaign by BYJU'S Education for All, I thought about Swapna, a very promising class 7 student. She is a very hardworking girl who has a very positive attitude towards life.
Her father works as a daily wager and her mother works as a maid within our society. Despite coming from a family with less financial support, she scores good grades in every test. Not only that, she also takes tuitions for the students who live nearby to help them continue their studies.
I have always wanted to be able to help Swapna's efforts and help her in her studies. But through this free BYJU'S course, I am glad I could help her get one step closer to her dreams.
I hope that the BYJU'S content helps her shine like the star she is, and illuminate the lives that she touches.
Donuru Linga Reddy
Senior Associate, Pre-Sales
Donuru Linga nominated Monika* who hails from his hometown.
When I heard about the LeadHERs nominations by BYJU'S Education for All, I asked around if a child in need could benefit from the BYJU'S content. That's when I came across Monika, who is studying in Class 11, and came from a family of minimal means. She could not afford private tuitions or coaching classes to further practice after school. Moreover, things got really difficult after her father passed away from COVID-19 last year, since he was the breadwinner of the family.
I also learned that she is looking to crack the JEE examinations, and I realised that the BYJU'S course would be a perfect for her revision. Moreover, all the residents of my village recommended her name, because they all strongly believed that she would be the best fit for a BYJU'S course. Everyone knew about how hard she worked on her studies, and how much she practised to improve every day.
I truly hope that Monika can reach her dreams of becoming an engineer with the support of the BYJU'S App. With the free app, I hope to help as many students in need, and help them with a better future.
Aneesh A R
Creative Lead, Media
Aneesh nominated his house help's daughter, Sangita* for a free BYJU'S course
At times, when I tried to help Sangita, Class 6, in her school courses, I realised that she is a very curious child and has quick grasping capacity.
But due to the absence of physical schools, she seemed to have developed a few learning gaps.
Moreover, her parents were quite helpless, and were unable to guide her in the right manner.
So, when I came across the LeadHERs campaign, I decided to nominate her for a free BYJU'S course. I really hope that the content would help her bridge the learning gaps, as well as ease the concerns of her parents.
Through the LeadHERs Campaign, we hope to support more girl children with quality education. Together, with the support of BYJUites, we want to give them the future that they deserve.
*Names have been changed for the protection of their identities
---
BYJU'S Education for All is on a mission to empower 10 million children by 2025 with education. Through the BYJU'S Give programme, you can contribute to this movement and help children with quality digital learning. You can donate an old device, which we will refurbish, and then use the money raised to buy a new device. In case you do not have a device, you can also donate to an NGO partner, who will use the funds to buy devices for children.
In both cases, we will load our BYJU'S Think & Learn premium content onto these devices and distribute them to children in need.
Also Read: LeadHERs of Yesterday, Today, and Tomorrow