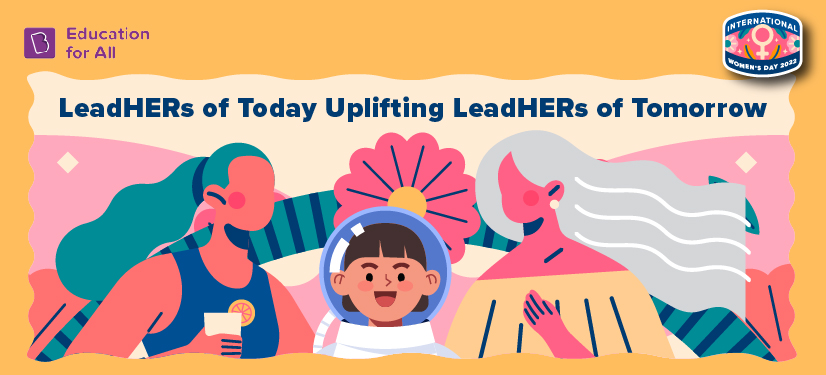 Women everywhere, in every household, in every community, despite how their economic status defines them, have been in pursuit of the same things – freedom and equality. However, each social circle has its own bias towards its women, pushing them further away from this pursuit.
In spite of having the odds stacked against them, women have often worked tirelessly to empower young girls and other women to help them make their own life choices.
BYJU'S Education for All has partnered with several NGOs that are led by such passionate women, who are on a mission to empower other women, helping them #breakthebias, creating an inclusive society.
On International Women's Day 2022, we share the stories of these NGO founders, who are inspiring young women to become the LeadHERs of tomorrow.
Prity Banerjee
Little Umbrella Foundation
A couple of years ago, Prity Banerjee would often visit the children in the slums of Delhi and spend time with them, teaching them art. However, one day, she was shocked when a 2-year-old girl went up to her and said, "Didi, I am very happy today. My mother passed away when I was young. Now, even my father has passed away. So, please take me with you."
She learnt that many children did not understand the importance of having the support of their parents. So, to make a difference in their lives, she left her high-paying corporate job to start the Little Umbrella Foundation (LUF).
LUF helps children with holistic development through alternative education, that is, education through creative media like art, dance, music, film-making, etc. It also functions under the verticals of mental health and inclusion. LUF caters to about 1093 children through its education vertical, Virtual Vidyalaya.
On International Women's Day, Prity shares, "Every woman is a leader – be it a teenager, or a senior citizen. Every woman should understand the value they hold within the society and how their existence can help it grow."
Also Read: An "Umbrella" to Safeguard the Dreams of Children
Dr Usha Pillai
IDEA Foundation
After completing her Masters Degree in Social Work in 1985, Usha Pillai started working with a Pune-based NGO. While working there, she learnt how many children coming from difficult backgrounds would drop out of schools easily. She also conducted a detailed study for the same to investigate the reasons for this high dropout rate.
With the findings of this study, she started the IDEA Foundation, where she conducted educational interventions for children. Once they understood the needs of the children, they would enrol children in schools, accordingly.
With a single study centre in 2002, IDEA started its work in slums and later expanded its work to include educational sponsorship for high school children. It is present in more than 26 communities in and around Pune, in about 11 villages around Hinjewadi and Bhor in Maharashtra state, and some areas in Kerala and Chennai, impacting about 3500 underprivileged women and children.
On International Women's Day, Dr Usha shares that it takes more than just education for a woman to become independent.
"Most often, women, irrespective of their social backgrounds, depend on their husbands for money matters. Being in 2022, it's high time we bring a change. So, every girl should not only have an education, but also financial literacy. Only this can help them become financially independent in the long run," she says.
Stanzin Saldon
rZamba Foundation
For as long as she could remember, Stanzin Saldon has never conformed to societal norms. Be it her marriage or education, Stanzin has always followed her heart. On understanding the situation of students in Kargil, Stanzin decided to make a difference in their lives.
Stanzin and her friends wanted to build a programme that was multi-pronged and multi-dimensional. That's when they laid the foundation for rZamba Trust in 2017. 'rZamba' is a word that translates to 'bridge' in the Balti language, metaphorical of building a bridge to education, health, livelihood, environment, gender equality, leadership, and culture.
In 2018, rZamba commenced the intensive engagement and assessment of the children in a few Higher Secondary Government Schools. It also created libraries for the children of Kargil, in addition to several literacy and numeracy programmes.
With its 30 member team, rZamba caters to about 4000 kids across different villages in and around Kargil. It is also interesting to note that 65-70 percent of these government school children are girls.
Stanzin shares her message to all upcoming leaders, especially women on International Women's Day: "Keep being resilient as challenges won't lessen themselves in any way. Without compromising on your compassion and authenticity, keep striving towards your vision for a better you, a better family, community, and humankind."
Also Read: Changing the Kargil narrative, one lesson at a time
Vinita Saraf, Namrata Surekha
EkTara Foundation
The dire state of West Bengal's marginalised communities and the lack of resources for them left Vinita Saraf and Namrata Surekha a little distraught. Fueled by their passion to make things better for these communities, the duo started the EkTara Foundation in 2011.
The idea was to provide holistic education to children, especially the girl children who could become the changemakers of tomorrow. The beneficiaries of EkTara have access to support programmes on health, hygiene, nutrition, and skill-building opportunities.
The NGO started with about 50 children, but with the strong will to make sure that education is a part of more lives, they now cater to about 950 children. Namrata believes that if they can have such an impact, anyone can, and shares her thoughts on International Women's Day:
"If you have a dream, pursue it, even if others don't believe in it. We must have the courage to make our dreams come true," says Namrata.
Devi Anbanandan
Nirnayam Foundation
Nirnayam Trust was started in 2017 by Devi Anbanandan after she quit as a partner from her previous employment at a software firm. With her team of four volunteers, Nirnayam reached out to about 20 girl children. The NGO now caters to about 150 students.
Nirnayam means "decision" in Tamil. The NGO believes that to make the right decision, one needs to understand their options better. Likewise, these children need to take a "Nirnayam" for their own lives, and Devi believes that wholesome education can accelerate this.
At Nirnayam, the volunteers try to bring out the best in these girl children. This is facilitated through its many programmes catering to education, health, wellbeing, etc.
"It is imperative that we keep these girls engaged with education, because not only does it help them become more confident, but also keeps them safe from all kinds of crimes against girls – sexual violence, child labour, and child marriage," Devi says.
Also Read: How Nirnayam is helping girls "decide" their own future
Uma Ahuja, Aruna Anand, Shalini Vidhani, Shefali Nair, Priyanka Singh, Avneet Bhatia, Bhavana Agarwal
Smiles Foundation
With the objective of aiding women and children with a healthy future, seven women – Uma Ahuja, Aruna Anand, Shalini Vidhani, Shefali Nair, Priyanka Singh, Avneet Bhatia, Bhavana Agarwal – started the Smiles Foundation.
The NGO's programmes cover children, youth, and women in the slum communities of New Bombay. It works under verticals that cater to the education, health, and wellbeing of these groups.
During the COVID-19 lockdown, millions of people were impacted by the pandemic. The women of Smiles Foundation were on their feet to help those in distress. They have been serving food to 500 people daily during the lockdowns and in the past 21 months, have distributed over 1,75,000 grocery kits to the poor and needy families and continue this noble work for the deprived sections of the society.
"A good leader never walks ahead but walks with the group," says Shalini Vidhani, on the occasion of International Women's Day. "So, to all upcoming leaders, make sure to grow with everyone and reach your dreams together."
BYJU'S Education for All is proud to have partnered with these women who are helping other women grow and also creating the LeadHERs of tomorrow.
Here's wishing all the inspiring changemakers a Happy Women's Day!
---
BYJU'S Education for All is reaching out to underprivileged children across India. Through the BYJU'S Give programme, you can contribute to this mission and help children with quality digital learning. You can donate an old device, which we will refurbish, and then use the money raised to buy a new device. In case you do not have a device, you can also donate to an NGO partner, who will use the money to buy devices for children.
In both cases, we will load our BYJU'S Think & Learn Premium content onto these devices and distribute them to children in need.