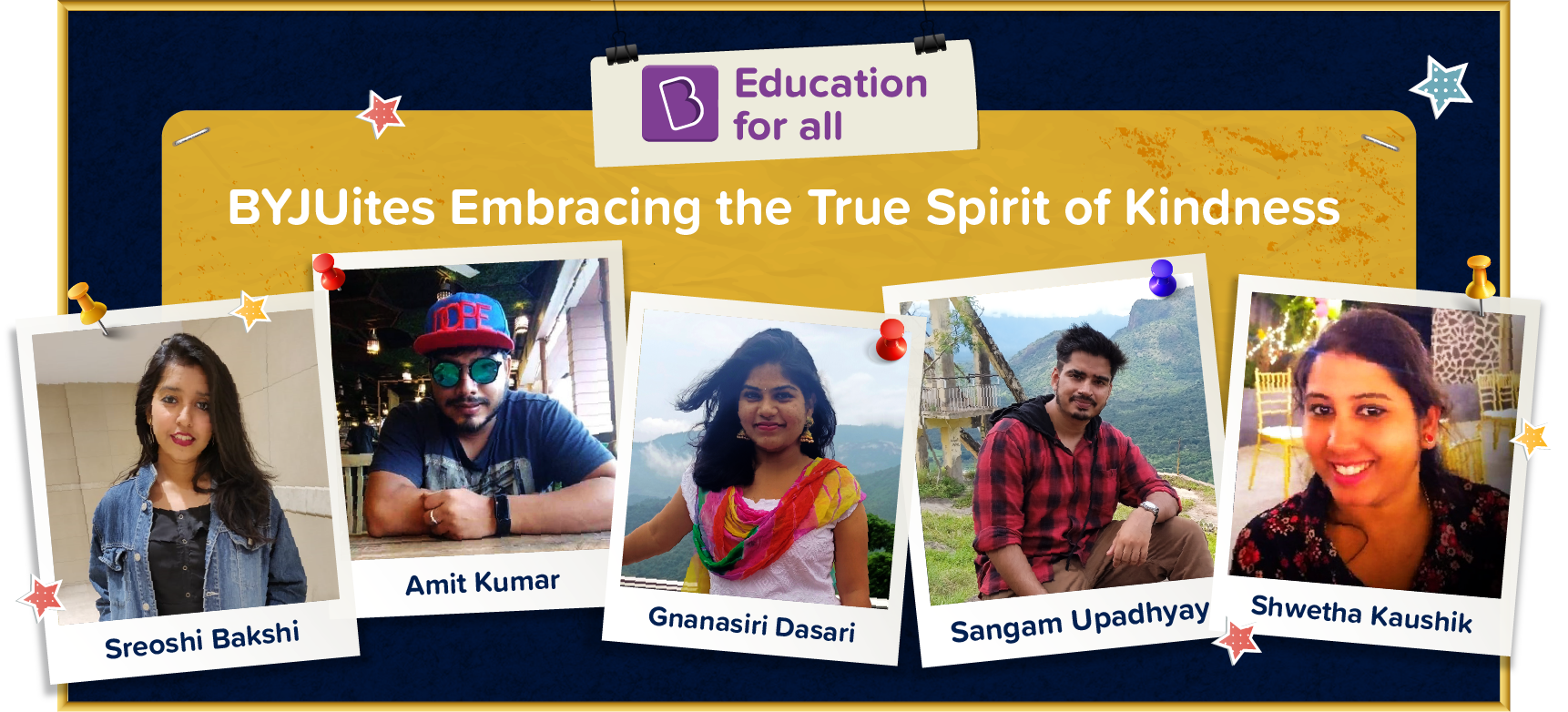 In December, we asked BYJUites to share their stories of inspiration and kindness to help #SpreadWarmth through these stories. Several of them got back to us with their moving anecdotes, in hopes of inspiring another to make a difference.
Here are some of the heartwarming stories from our BYJUites helping thousands of people across the country.
Shwetha Kaushik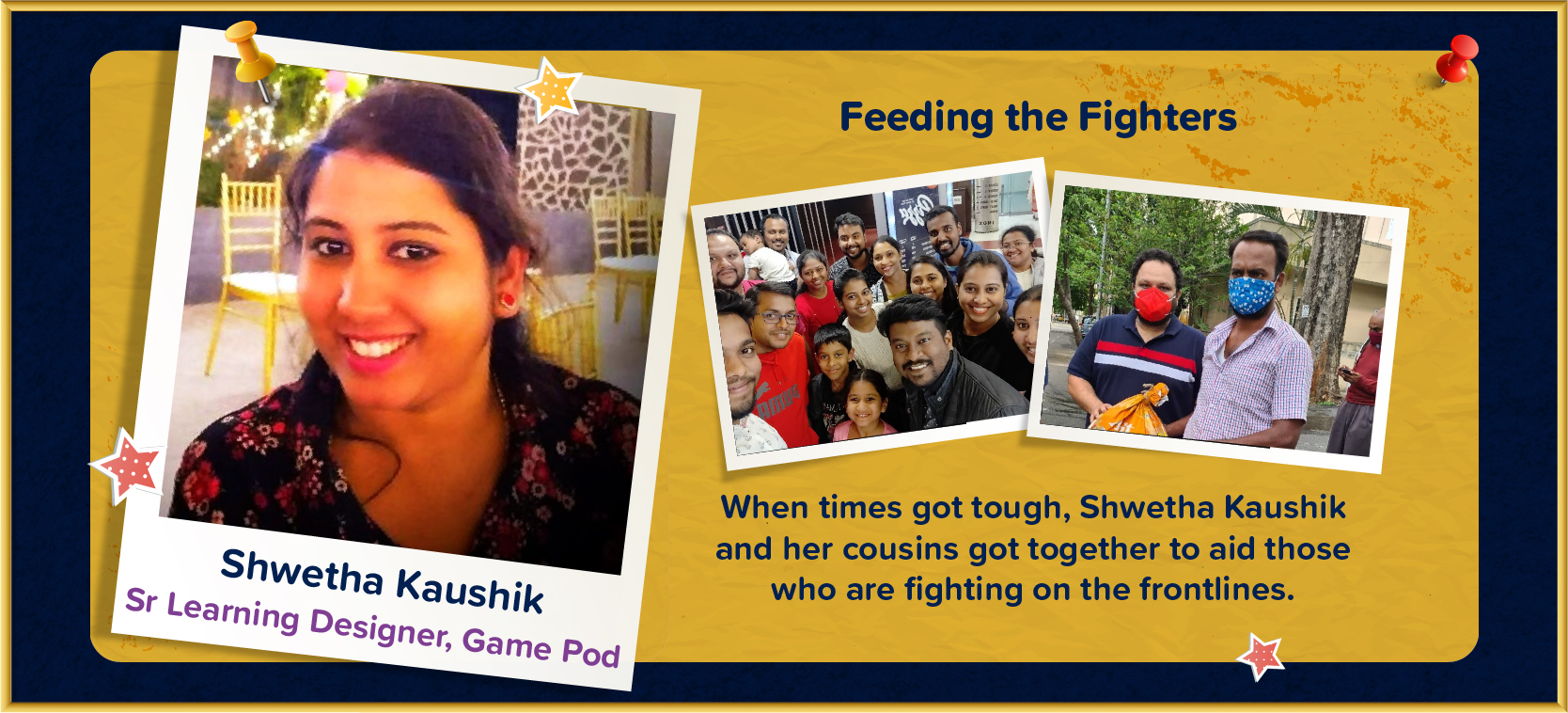 During the very first wave of the pandemic, my entire family, except for my child, tested positive for COVID-19. At the time, we didn't know how to care for her as some of us had to be quarantined, and some of us, hospitalised. Fortunately, my mother tested negative and was able to look after my child. Meanwhile, the family help's services were halted, but we still ensured that we paid them their salary.
During the second wave, I lost my favourite aunt to COVID-19; our whole family was shaken with sorrow. While the pandemic has been an emotional rollercoaster for all of us, it got us thinking – 
If an economically stable family like ours was shaken, what about those thousands of underserved families that are in a major financial crisis?
While the first wave was uncertain for all of us, we were quite certain about what we wanted to do in the second wave – help those in need.
My cousins and I, a 20-member team, started a food distribution drive in South Bangalore in remembrance of our aunt. While some of us took care of the backend operations, the rest of us went out to distribute the food.
Through a 14-day drive during the second lockdown, we distributed food to about 4412 people who were facing the brunt of the pandemic. In addition, we provided grocery kits to underserved families, and also distributed food to the police officials on one of the days, as a thank you for their service.
Gnanasiri Dasari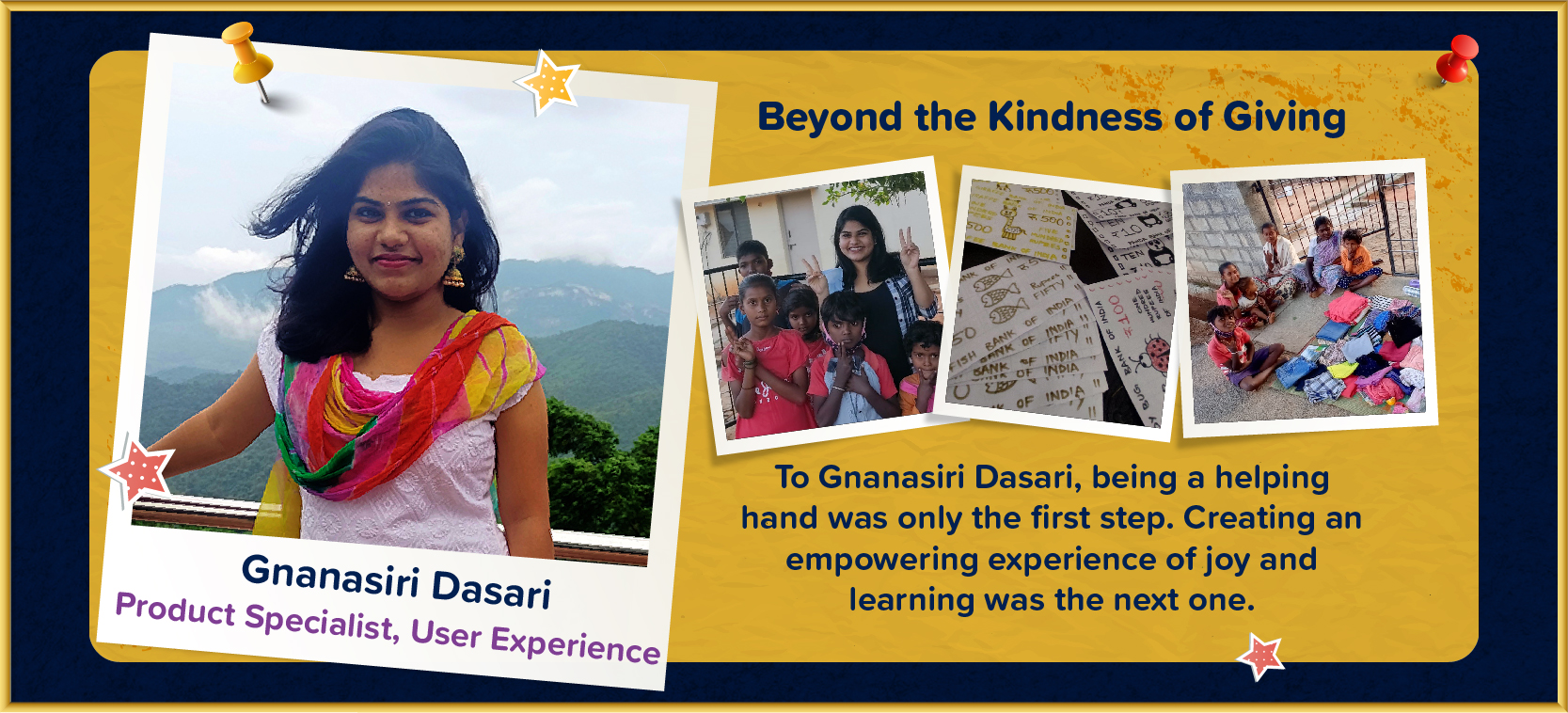 During the pandemic, I joined an NGO called the Robin Hood Army (RHA), a zero-funds organisation that collects excess food from restaurants and distributes them to the less fortunate. Since I live away from where most of RHA's operations run, I try to collect the food from eateries in my area and distribute them to the poor.
Since I am the only Robin where I live, I get help from my friends and family to distribute the meals to people in the locality.
Apart from volunteering with RHA, I also try to teach the children of the daily wagers in my area, whenever I get the time. I try to help them study, especially during their exams.
During the season of giving last month, I also conducted a clothes distribution drive, but with a twist.
I made dummy currency and distributed it among kids. I then arranged the clothes like in a shop and asked the kids to shop on their own with the fake money that I gave them. They felt so excited to spend that dummy money for the shopping. The feeling that they got when selecting what they wanted is far greater than just simply taking what was donated.
Sangam Upadhyay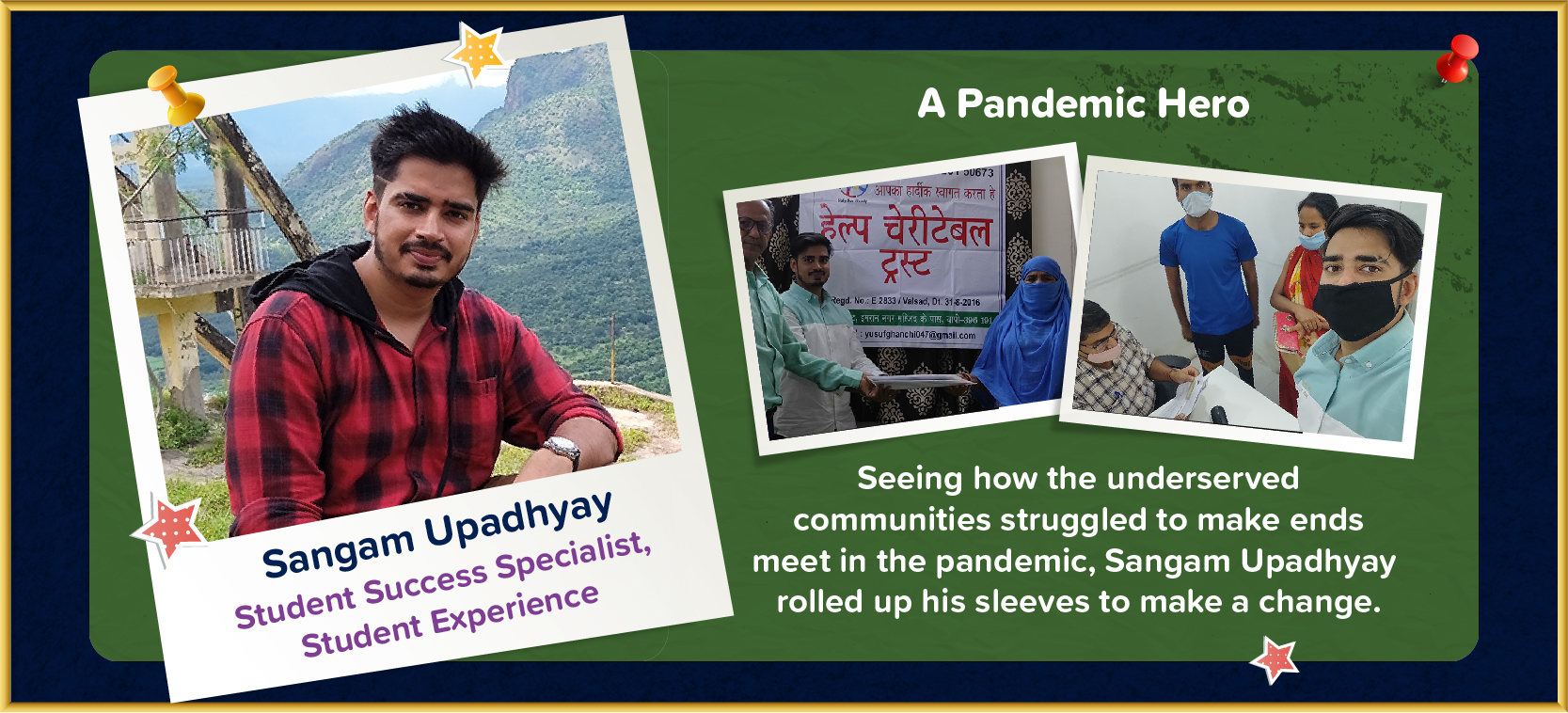 During the pandemic, while everyone was losing their jobs and struggling to earn their livelihood, I felt privileged that I had a roof over my head and food on my plate. But the plight of people around me had deeply moved me. That's when I decided to help the needy by all means necessary.
However, since I did not have enough money to help people financially, I registered myself as a social worker with the Help Charitable Trust, an NGO near my locality in Gujarat. This NGO's main goal is to implement government schemes for underprivileged and marginalised sections of society. Here, I usually work flexibly and donate any amount of time to carry out the NGO's work.
Along with my peers, I helped execute various government schemes under which we supported widows in setting up their own small businesses through financial assistance, helped BPL members get access to free heart, kidney, and cancer treatments, and provided food assistance to marginalised sections, among others.
This volunteering made me realise how privileged we are, and how we can help others by uplifting their social status. This is just the beginning of a long journey. I am still associated with this NGO as a part-time social worker and I wish to help many more people in the future.
Amit Kumar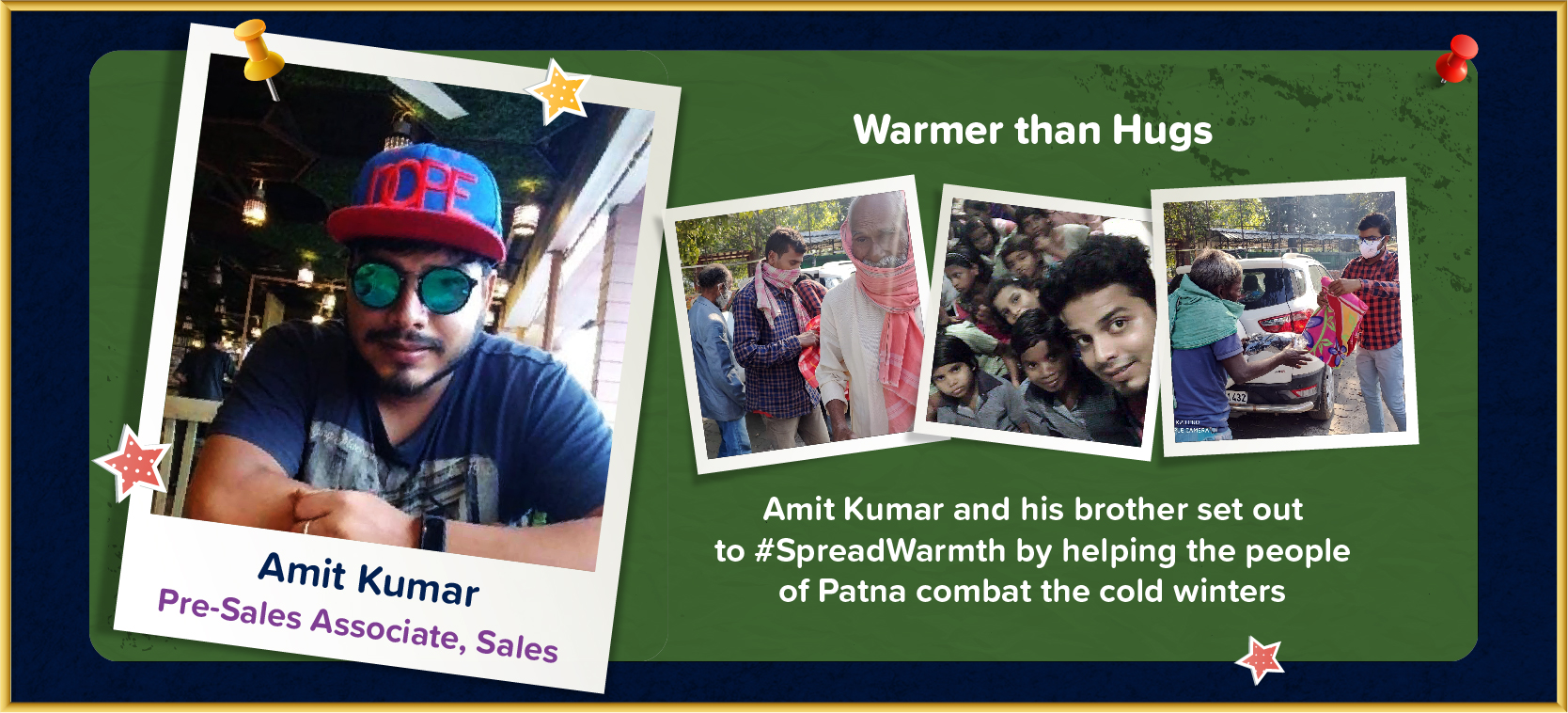 December and January are the coldest months of the year, a time when most of us are safe and warm within our homes. About 3-4 years ago, on one such winter night in our hometown in Patna, my younger brother and I decided to eat out for dinner. On our way back, we saw a number of people sleeping on the streets with no warmth for protection from the cold.
That's when we took a decision to distribute Kambals or blankets to them. Since then, we have been distributing about 100 Kambals, every year 
If I can sleep in an air-conditioned room, wrap myself in a cosy blanket and live with everything that I need, I think it's only fair that I make a difference to these people, who need my help. If every person starts doing their bit and helping the poor, then fewer people would be severely impacted by the cold. We may not be able to help everyone, but everyone can help at least someone.
Sreoshi Bakshi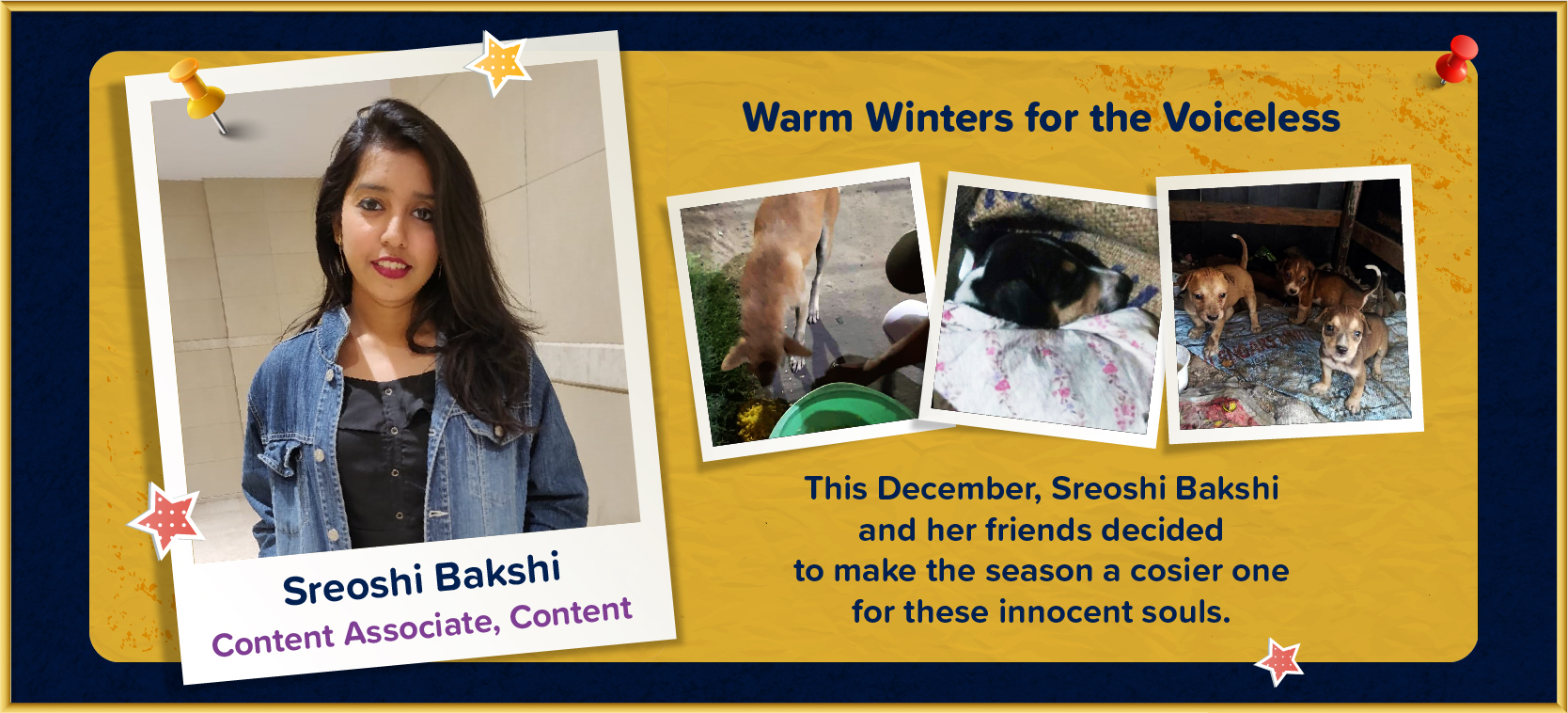 This year, I decided to volunteer for the furry four-legged friends in my locality in Kolkata. Dogs are loyal creatures and can be friends when you need them. However, being voiceless animals, we need to help them in some way possible. So this year, along with my neighbours, I decided to create a warm shelter for them to face the chilly winters.
We were able to build a small shed for them in our neighbourhood for them to rest during the cold winter nights. We also gave them warm clothes and blankets and filled the food bowls every day.
Right now, there are two dogs that we care for. They seem quite happy with their setup and it gives me much pleasure to see that. I believe that dogs are such loving animals, and they deserve this and much more for the friendship that they offer to us.
---
While our BYJUites continue to inspire us every day, we also want to ensure that we're doing our bit for society. Through our BYJU'S Education for All initiative, we want to ensure that children across India, despite their social boundaries, are able to access digital education. 
You too can be a part of this initiative. An old, digital device can open opportunities for many children in need. Visit BYJU'S Give to learn more.
Also Read: "Bridging" the Learning Gap with Bal Utsav