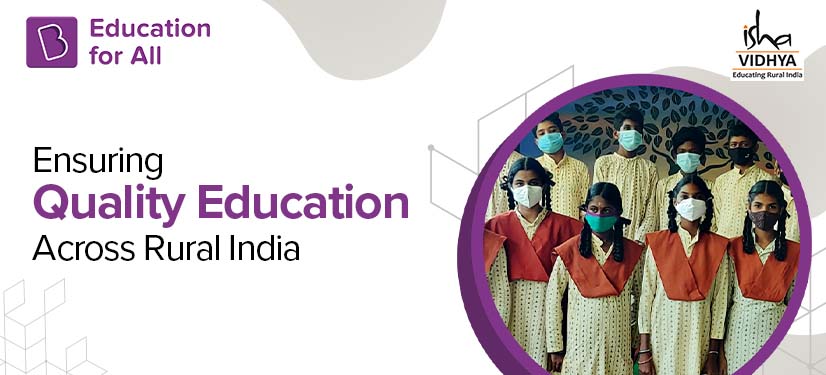 Education has a critical role in the future of a child, but millions of children still do not have access to it. The reason? Gender inequality, poverty, and lack of opportunity. While urban India has thousands of learning opportunities, there is a severe shortage of the same in many rural parts of the country. 
In order to eliminate this inequality and create equal opportunities for all children, Isha Vidhya was established in 2006, under the umbrella of Isha Education trust by Sadhguru. 
"Our mission is to ensure that children in rural areas have access to good learning opportunities and make sure they have a holistic education," says Silambarasan Chandran, Senior School Coordinator, Isha Vidhya Academic Team.
The organisation has been working towards making high-quality education accessible and affordable, especially for children from underserved communities.
The rural schools founded by Isha Vidhya aim to provide a scalable model to provide education and development to help children realise their full potential while enjoying their learning.
Building and Supporting School Education
Isha Vidhya runs two primary learning programmes for children. One of the factions includes setting up schools in rural India, another looks to support existing government schools with quality education. 
Through the first programme, Isha Vidhya has set up ten rural schools (9 in Tamil Nadu and one in Andhra Pradesh), which are currently serving about 8500 rural children, from Kindergarten to Class 12. 
About 60% of the students – most of whom are first-generation learners – are supported with scholarships. The rest of the students pay a subsidised fee for their education.
"At Isha Vidhya, the teachers are solely focused on educating the students. So we provide training for these teachers and help them make their classes more interesting," says Silambarasan.
The Government School Support Programme, Isha Vidhya is currently supporting 34 government schools, in the districts of Tirupur, Coimbatore, Salem, and Kanchipuram in Tamil Nadu. The programme caters to over 10,000 students and 72 teachers.
"We have been making digital content to help students, and have also been training the teachers on how to use this content," Silambarasan shares.
Through this programme, the organisation looks at uplifting these schools with training sessions for teachers, English learning programmes for students, and other extracurricular activities.
Digital Learning with BYJU'S
Isha Vidhya has been providing quality education to its students through its programmes. On partnering with BYJU'S Education for All, Isha Vidhya aims to further support children with digital education. We have provided the students with Think & Learn Premium licences to support their learning.
"BYJU'S has provided innovative and interesting video content for the students to learn online," says Sushil Kumar Gopal – Monitoring and Training lead, Isha Vidhya Academic team.
"The content is well aligned with our education board and has been helping our students' learning process during the lockdown," he adds.
With more partners who have like-minded goals, we at BYJU'S Education for All hope to positively impact the futures of children across the country with education.
---
BYJU'S Education for All is on a mission to empower 10 million children by 2025 with education. Through the BYJU'S Give programme, you can contribute to this movement and help children with quality digital learning. You can donate an old device, which we will refurbish, and then use the money raised to buy a new device. In case you do not have a device, you can also donate to an NGO partner, who will use the funds to buy devices for children.
In both cases, we will load our BYJU'S Think & Learn premium content onto these devices and distribute them to children in need.
Also Read: Youth volunteerism, upskilling and education? Yes, IN-DEED!