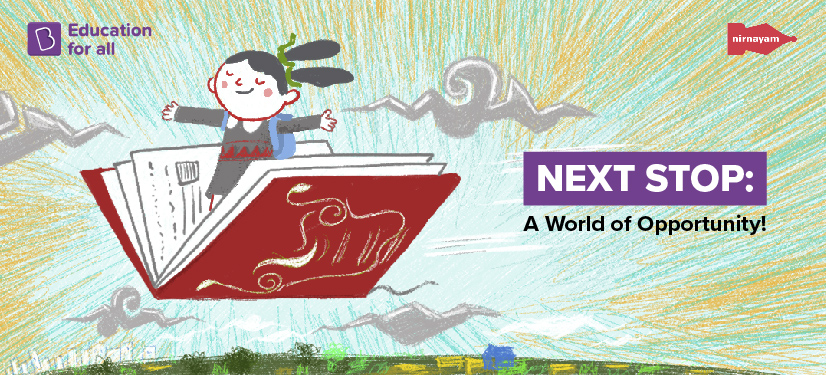 While thousands of children took to online education, Geetha and her sister were struggling to go back to school. Moreover, Geetha was a passionate learner and was one of the best students in her class. But, without the safe spaces in the school, her extended family was going to find a groom for this grade 8 student.
Geetha* and her family of four live in a single-room shanty in Chennai. When the pandemic struck, not only were her parents out of their daily wage jobs, but Geetha and her younger sister were not going to school anymore. This was the case for almost every child across the country.
Geetha has always wanted to become an IT employee and support her family. And her parents always, despite the other family members' plans, wanted to support their daughter's dreams.
So, when the lockdown was imposed, an NGO named Nirnayam Trust, Chennai, came forward to help many students like Geetha. This way, promising students got another fighting chance at education.
"Education plays an important role in a person's life, especially in the lives of girl children," says Devi Anbanandan, Founder of Nirnayam Trust.
Nirnayam Trust was started in 2017, when Devi quit as a partner from her previous employment at a software firm. Devi and her team of four volunteers reached out to about 20 girl children. It now caters to about 150 students.
"I believe that education for girls is very important and that they should have the basic awareness and sense of social responsibility. So, we concentrate on academics and also on upskilling them, and on making them equal members of the society," says Devi.
Imparting Wholesome Education
Nirnayam means "decision" in Tamil. The NGO believes that to make the right decision, one needs to understand their options better. Likewise, these children need to take a "Nirnayam" for their own lives, and wholesome education can accelerate this.
At Nirnayam, the volunteers try to bring out the best in these girl children. This is facilitated through its many programmes.
"We have the English for Girls (EFG) programme to help girls become more fluent in the language. This way, they can form full sentences in the language in which most of the curriculum is based," says Devi.
In addition, there are programmes called You Be Yourself (UBU) which supports girls with a platform to showcase their talent; Integral Education (IE), a programme that attempts to reach positive outcomes through multiples workshops; E-classes or Enhancement Classes that help the students be on par with each other; Mental Emotional Social Health (MESH) which creates awareness and educates the students on mental, emotional and social aspects of behaviour. It helps them with adaptability, emotional wellness, resilience and other aspects to keep up with the fast-paced world.
Through the Environmental Education classes, the students are shown videos of pressing issues around the world. Occasionally, they take the children to the Madras Crocodile Bank Trust and Centre for Herpetology, Mahabalipuram to create awareness about Crocodile conservation.
Nirnayam has also set up a library for the children enrolled with the NGO. This library acts like a regular lending library, where children can take the books home for a certain time period.
Apart from this, the students are also supported through the IRIS programme – I Rise, I Shine – a financial scholarship for students, selected based on their commitment towards academics.
Another programme called Shisya is a mentor-mentee programme. Here, the mentors would help their mentees bring out their full potential. However, this programme has not been kicked off yet, due to the pandemic.
Virtual Learning Through the Pandemic
Since 2020, Nirnayam has been trying hard to reach children through online platforms. While some students had access to online classes through smartphones, some others didn't.
"In the initial phase of the pandemic, people donated tabs, mobiles and laptops for the children. We distributed whatever devices we had collected to the regular students," Devi shares.
"We interact with the parents and call them directly. So, the parents also try pushing their kids to learn online. Most of the families live in single-room homes and in a lot of poverty, but despite the struggles, the kids have benefitted a lot through the virtual medium and their parental support," she explains.
Even for the volunteers, the digital classrooms have been a learning experience. However, these 60 volunteers work diligently to help educate these children in these trying times, despite any challenges. In fact, each of these volunteers caters to about 3-4 students in order to provide them with individual attention.
"It is imperative that we keep these girls engaged with education, because not only does it help them become more confident, but also keeps them safe from all kinds of crimes against girls – sexual violence, child labour, and child marriage," Devi shares.
Digital Education with BYJU'S Education for All
BYJU'S Education for All is on a mission to reach 10 million underserved children by 2025. We aim to achieve this through our NGO partnerships. Nirnayam has partnered with BYJU'S EFA to help support the girls at the organisation with digital education.
These students have been given the licences to BYJU'S Think & Learn Premium content. Devi says that the students really enjoy going through the detailed videos of the concepts, which help them understand better.
"The videos not only help improve the interest but also improve their digital skills. As more students join us, we can do more with the partnership and more children can be impacted with such quality education," says Devi.
"While I thought that online education was not a way for schools, learning with BYJU'S has changed that perspective. Now, I believe that hybrid learning – blended learning with offline and online modes – can help us take forward our wholesome learning," she adds.
Every girl child needs an education. Despite the advancements in technology, we're still so backward in the way women and girls are treated. While there is still a long way to go to achieve equality, a fair chance at good educational opportunities is a stepping stone to get there.
*Name changed to protect the identity of the child
---
BYJU'S Education for All is reaching out to underprivileged children across India. Through the BYJU'S Give programme, you can contribute to this mission and help children with quality digital learning. You can donate an old device, which we will refurbish, and then use the money raised to buy a new device. In case you do not have a device, you can also donate to an NGO partner, who will use the money to buy devices for children.
In both cases, we will load our BYJU'S Think & Learn Premium content onto these devices and distribute them to children in need.
Also Read: Mining Through Educational Inequalities in the Coal Capital of India