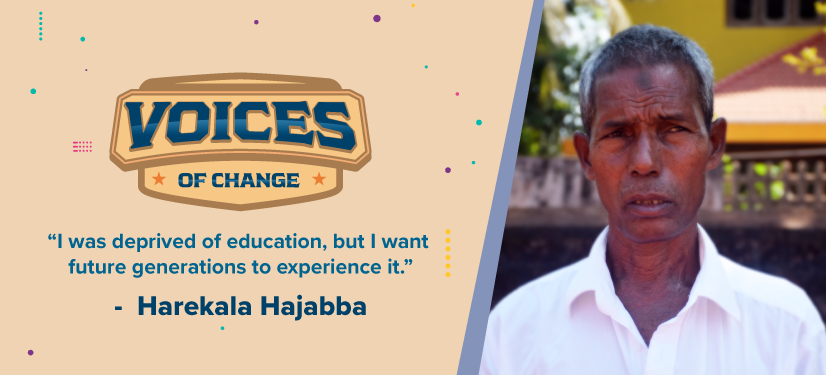 "Education is a must. I was deprived of it, but I want future generations to experience it. It is a necessity," says Harekala Hajabba, a simple man who has gone to do extraordinary things.
In a conversation with the BYJU'S team, the Padma Shri awardee shares his life story, highlighting his journey of setting up the very first school in his village.
Hailing from a quaint village called Harekala, nestled close to the city of Mangaluru, Hajabba sold oranges for a living. 
"As a child, I was unable to receive education because of my family's financial situation. We barely had any food or clothes enough for our family of 8, and getting educated was a very distant dream," Hajabba tells us, adding that he started working to support his family.
He then began rolling beedis at the age of 6. He would use the money earned to buy oranges from the Mangaluru Central Market.
Hajabba, who then sold these oranges at the Mangaluru bus stand, encountered a major communication problem when a group of foreigners asked him, "How much for the oranges?"
"I had to ask other passengers in the bus what the foreigners were asking because I didn't understand the language. I was embarrassed about it, and felt that I should have been educated," Hajabba shares.  
However, instead of dwelling on the same, he channelled that regret into fulfilling the dreams of other children. He strongly believed that they shouldn't face this situation simply due to the lack of education. In fact, the village had no proper school at that point of time. So, the strong-willed man decided to build a school for them. 
Hajabba was looked down upon when he went from door-to-door asking for funds to build the school. Undeterred, he began to set aside money from his savings from selling oranges to fuel this dream. But while he saved money, his children were barely getting three square meals a day. 
Despite the struggle, his wife supported his dream, as she continued the beedi business to make ends meet.
So, with a goal to ensure the same doesn't happen to a child of poor means, he finally set his dream into action in 1999. 
The first school in Harekala
He set up a small school in the premises of a Mosque in Newpadpu. While it started with a strength of 28 students, more students began to join. So, he decided to approach the government officials for help to acquire more land for the school.
His work spoke for him when he was granted 0.4 acres of land at Newpadpu hill. And with the help of donors and well-wishers, he was able to inaugurate the school in August 2001. 
In 2004, a local newspaper Kannada Prabha featured an article about Hajabba. This helped him garner more attention towards his school. 
Because of his tireless efforts, today, Hajabba's school, Dakshina Kannada Zilla Panchayat Composite High School, Newpadpu, caters to 170+ children from grades 1-10. Seeing his efforts, several organisations funded his mission, and all of the money was utilised in developing the school. The infrastructure of the school now has several facilities including a computer room, a library, among others. 
Hajabba's endeavour in making education possible for so many children earned him the name "Akshara Santha" meaning letter saint. In the meantime, he also learnt how to sign, and can comfortably put his signature today. 
While the school is instrumental in building the education base of the children in Harekala, Hajabba feels that it is incomplete as there is no education beyond Class 10.
"Even now, children have to go far from the village to complete their education, so my next focus is to build a college for these children," he says.
Receiving nationwide appreciation
Inspired by his hard work, the Hosa Digantha newspaper felicitated Hajabba as the Varshada Vyakthi (Person of the Year), which was followed by several awards and accolades including the Padma Shri award for 2020.
"On 25 January this year, at about 11 am, I got a call from the Home Minister's office, Delhi, and they told me that I had received the Padma Shri award. I was very overwhelmed and speechless at that moment," says Hajabba.
In November 2021, hundreds of achievers were bestowed the Padma awards, and one among them was Harekala Hajabba, in the 'Social Work' category. He was felicitated by the President of India, Ram Nath Kovind.
"In 2015, several well-wishers had recommended me for Padma Shri, and we had forgotten about that," he says, not expecting to receive it this year.
In addition to all the awards, Harekala Hajabba's story is now also a part of the syllabus for the BCom students at Mangaluru University. 
Veena J H, who worked as the headmistress for three years in the Newpadpu school says that come rain or shine, the students would always attend school. They were all motivated by Hajabba's dedication to give them an education. The former Headmistress has also been instrumental in helping Hajabba in his efforts.
"I try to carry the same thing forward. I may not be able to do it at the same magnitude, but I am trying my best to be like him," she says.
We at BYJU'S are inspired by Harekala Hajabba's remarkable work and hope to help him in his mission. At BYJU'S Social Initiatives, we are inclined to reaching more children through inspiring individuals and NGOs, who are already doing this amazing work. 
In the days to come, BYJU'S Social Initiatives will be partnering with the school to help the children of the Newpadpu school through our BYJU'S Education for All programme. Through this partnership, we hope to support their educational goal and help them give wings to Harekala Hajabba's lifelong dream.