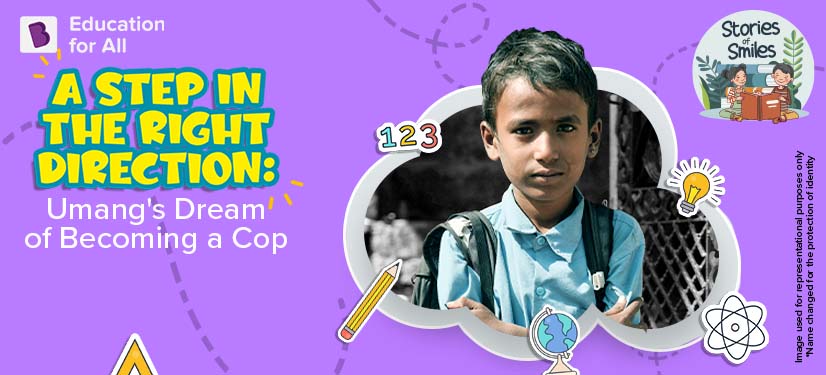 "I want to become a police officer and serve the society," says Umang* Paramesh, a grade 7 student from the M.S. Bamangora School, Jamshedpur, Jharkhand.
Life has not been easy for Umang for a very long time. After being orphaned as a child, he lost his elder brother a couple of months ago. At the same time, the impact of the pandemic weighed down on his education. Umang's future looked bleak.
Fortunately, Umang's sister and her husband have been taking care of him well, supporting him with his needs and safeguarding his education.
Umang was a regular and promising student when he was going to school. However, online education took a toll on him and he felt lost without the school space. But with his sister's help, he was able to attend the online classes that were conducted by his school.
As days passed, Umang familiarised himself with the online classes. In fact, one of the volunteers of ALIG (A Literacy Initiative Group) Society gave him a BYJU'S licence, with which he was able to understand different concepts of class VII while at home.
ALIG helped him understand the videos and concepts better by changing the language to his regional language. The volunteers also taught him how he could track the progress on the BYJU'S App, how he could make notes from the BYJU'S content, and also attempt the tests and quizzes to practice.
"The tests and activities from the BYJU'S App are very interesting, and help me understand the concepts well. The activities allow me to practise more and get familiar with the topics," Umang shares.
Umang lives near his school. So, most of the students from the school, who do not have a BYJU'S licence, go to Umang's house after class and learn from the content together.
While the schools have reopened for children now, and online learning is not as much in need, ALIG Society is encouraging children to continue using the app and benefit from its free offerings. The students can return home and benefit from the BYJU'S app while studying.
Through the partnership with ALIG Society, we at BYJU'S Education for All hopes to support the education of more children like Umang, who can become the leaders of tomorrow. Together, hope to reach more children with quality educational content and create a hopeful future for them.
*Name changed for the protection of identity
---
BYJU'S Education for All is reaching out to underprivileged children across India. Through the BYJU'S Give programme, you can contribute to this mission and help children with quality digital learning. You can donate an old device, which we will refurbish, and then use the money raised to buy a new device. In case you do not have a device, you can also donate to an NGO partner, who will use the money to buy devices for children.
In both cases, we will load our BYJU'S Think & Learn Premium content onto these devices and distribute them to children in need.
Also Read: Hemming Adya's Dreams of Becoming a Fashion Designer