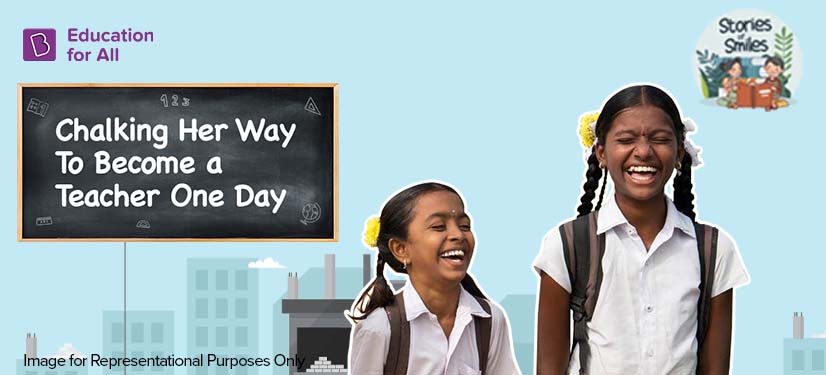 Often, the fondest memories of a student are from school, learning from a teacher who introduces them to a world full of possibilities. Rishika* Venkatesh, a Class 10 student from Telangana, too, aspires to one day become that teacher who imparts valuable lessons to children like her.
Rishika and her younger brother, who is studying in class 4, used to be regular students at the Zilla Parishad Higher Secondary School, Aziz Nagar. But, when the pandemic struck, they became bound within the walls of their home.
"We were asked to stay at home, and our classes were relayed through online channels. However, these classes were not as effective as our offline classes," Rishika says.
To make matters worse, both her parents, who worked as daily wage labourers, also lost their jobs and struggled to make ends meet. And, this subsequently took a toll on the children's education.
However, the NGO, Save the Children delivered hope to Rishika when they gave her a free BYJU'S subscription. On receiving the learning content, she was able to understand concepts better, that too, in a language that she could understand.
"The app is something that we could never even dream of affording. But since I got it, I have been regularly learning from it," shares Rishika.
Now, Rishika keeps her dream of becoming a teacher alive. She also wishes to make her future classes as fun and interesting as the ones she loves to attend.
Talking about the BYJU'S app, she says, "The app has many features including objective-type questions and self-evaluation question papers. The animations in the app helped me understand the concepts better. With BYJU'S, I could continue my studies even during the pandemic."
Like for Rishika, we at BYJU'S Education for All are striving to make a difference in the lives of many more children who can benefit from our learning content. We want to make education accessible for children who lack opportunities and lead them to a brighter future.
*Name changed for the protection of identity
---
BYJU'S Education for All is on a mission to empower 10 million children by 2025 with education. Through the BYJU'S Give programme, you can contribute to this movement and help children with quality digital learning. You can donate an old device, which we will refurbish, and then use the money raised to buy a new device. In case you do not have a device, you can also donate to an NGO partner, who will use the funds to buy devices for children.
In both cases, we will load our BYJU'S Think & Learn premium content onto these devices and distribute them to children in need.
Also read: Boosting Harshita's Dream of Becoming a Civil Engineer