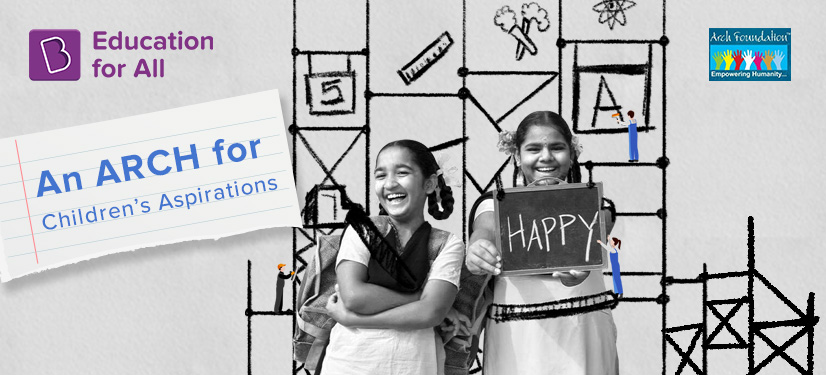 While millions of children across India still lack access to quality, thousands of NGOs are trying to rectify the same. One such organisation truly hopes to be an ARCH for these children.
An ARCH is a symmetrical structure designed to support the weight of a bridge, roof, or wall above it. Similarly, the ARCH Development Foundation aims to provide the same support to design, build and maintain the bridge between a company's CSR goals to its realisation.
"We started this organisation to provide end-to-end support to organisations through various CSR interventions. We work primarily under four main verticals – education, research, livelihood and volunteering, and education forms almost 75% of our projects," says Sonkee Shah, Founder & CEO, ARCH Foundation.
Vadodara-based ARCH Foundation has a vast network of government schools across India and is working towards uplifting children with education. They also make sure the children of these schools are well-versed with the latest digital advancements in learning.
Boosting Education with ARCH Foundation
As mentioned earlier, ARCH Foundation works under four main verticals, education being the primary one.
Under education, it has several projects like iLearn, Pahel, Project Umang, Anandi, and Brighter World Labs (BWL), among many others.
The iLearn initiative aims to address and overcome problems of child labour, forced school dropouts, lack of interest, and low self-esteem. ARCH Foundation is doing this by building blocks for a better and brighter future through education and self-development.
It ensures that children are connected with learning and are familiarised with online platforms like Zoom, which helps further their education, even at home.
Along similar lines, when children were removed from access to education, ARCH Foundation launched Project Umang.
"Under Umang, we are focusing on developing an ecosystem in the school which caters to the holistic development of children in the government schools, and also the capacity building of teachers, and help them work effectively. We are running this programme in five states," Sonkee shares.
Apart from its numerous educational initiatives, it also runs various research and livelihood development programmes that cater to the underprivileged women of society, among others.
"Whichever programme we start, we ensure that it is not just a short-term exercise. We ensure the project is sustainable for at least 4-5 years. We ensure that at least 75% of the activity is sustained," she says.
Digital Education with BYJU'S Education for All
BYJU'S Education for All has partnered with the ARCH Foundation to further its educational mission. Through this partnership, we hope to empower children with the power of education.
"Many students have started using the app. We are sure the students can benefit from the interactive content that helps them better grasp various concepts. The app helps them take a step towards learning," Sonkee shares.
Through our NGO partners, we hope to reach millions of children across India with the power of learning. Together, we hope to define a bright future with their education.
---
BYJU'S Education for All is on a mission to empower 10 million children by 2025 with education. Through the BYJU'S Give programme, you can contribute to this movement and help children with quality digital learning. You can donate an old device, which we will refurbish, and then use the money raised to buy a new device. In case you do not have a device, you can also donate to an NGO partner, who will use the funds to buy devices for children.
In both cases, we will load our BYJU'S Think & Learn premium content onto these devices and distribute them to children in need.
Also read: Ensuring Freedom Through Education: The Story of ALIG Society