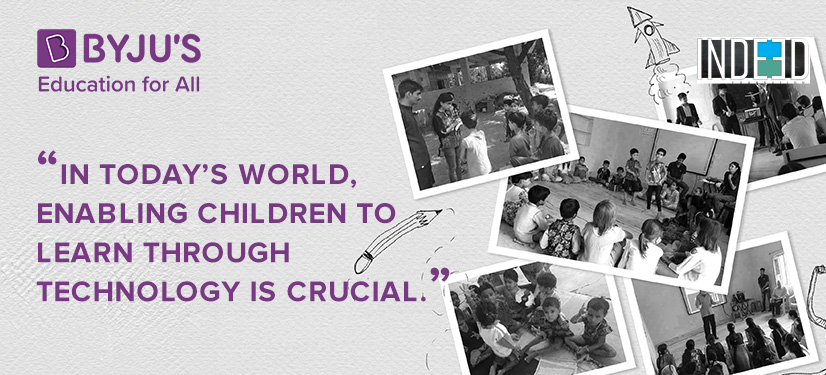 Working tirelessly to support first-generation learners in peri-urban and rural areas of Jodhpur, Rajasthan, IN-DEED Foundation has been a pioneer in blending technology into learning for underprivileged children to 'learn well'. For the past few years, their volunteers as mentors in the classrooms have been aiming to bridge educational disparities via technology-driven changes in teaching and learning.
Sher Khan, a dedicated Project Associate at In-Deed Foundation, shares with BYJU'S EFA team, his experience of working with children and what he learnt in the process. 
In today's world, enabling children to learn through technology is crucial. Making online content accessible to them is essential for their success and for driving positive change in society.
Tell us about your experience of working with children.
It has been a great experience working with them. I have learnt plenty of new things. I have learnt that children are curious innately and understand things faster when they are taught with examples and stories. 
What are some of the challenges that these children face?
The majority of the difficulties these children encounter are brought on by their parents' financial constraints and the consequent lack of resources. Some children initially had trouble using the online application. But now that they know how the system works, they can get around without any problems.
How does the BYJU'S Education For All initiative impact children?
The children that I work with are super excited to learn via the online content made available to them. The parents and teachers are also happy that children are being given such wonderful resources to learn for free.
Khan emphasized that education is crucial if we desire change or anything new. Reinforcing the concept of blended learning of books and online, he concluded that although books are a vital part of education, access to online education and information is crucial in today's society, since it will allow children to advance in their future.
With the help of partner organisations like IN-DEED Foundation, BYJU'S Education For All intends to ensure that every child has access to a quality education. Read about more such efforts here at BYJU'S Social Initiatives.