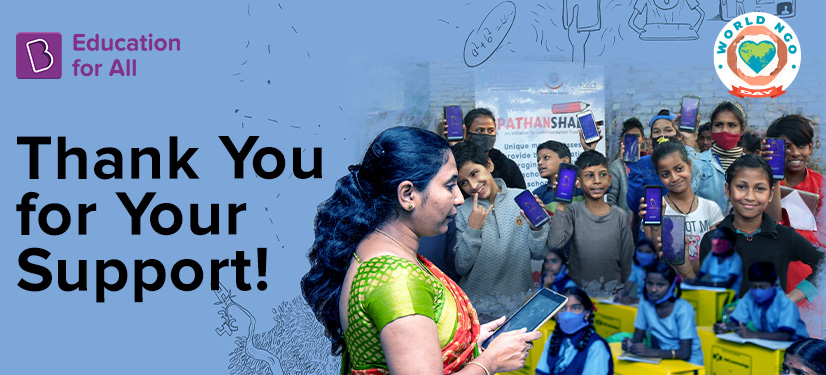 Across the world, millions of people are severely impacted by the lack of resources and development, which further impact the next generations as well. But several non-government organisations and non-profits, like our partners for BYJU'S Social Initiatives, have been working towards improving their lifestyles and livelihoods over the years. Their noble causes have helped several underserved families, stray animals and shown them a ray of hope for their immediate future.
World NGO Day is celebrated every year to celebrate the efforts of thousands of NGOs worldwide.
BYJU'S Education for All is also highly driven by our NGO partners in making our mission possible. So, here's a small video by our employees as a tribute to the undying efforts of these NGOs to make the world a better place.
BYJU'S Education for All has partnered with over 175 NGOs to extend its goal of reaching 10 million children by 2025. With the support of our NGO partners, we have reached over 5.5 million children across 400+ districts with the power of education.
Through our partnership, the beneficiaries of these NGOs have received free BYJU'S courses with which they have been able to practice and grasp concepts better. Our collaboration with each of these NGOs has been phenomenal and has played a crucial role in making education accessible to underprivileged children in India.
With our continued efforts, we are sure to reach many more children with education, and ensure that no dream goes unseen.
So, here's a big 'Thank You' from us at BYJU'S Social Initiatives to all our NGO partners, for all their efforts in supporting our mission.
---
BYJU'S Education for All is on a mission to empower 10 million children by 2025 with education. Through the BYJU'S Give programme, you can contribute to this movement and help children with quality digital learning. You can donate an old device, which we will refurbish, and then use the money raised to buy a new device. In case you do not have a device, you can also donate to an NGO partner, who will use the funds to buy devices for children.
In both cases, we will load our BYJU'S Think & Learn premium content onto these devices and distribute them to children in need.
Also read: A GOALL for Education: EFA's Journey in 2022