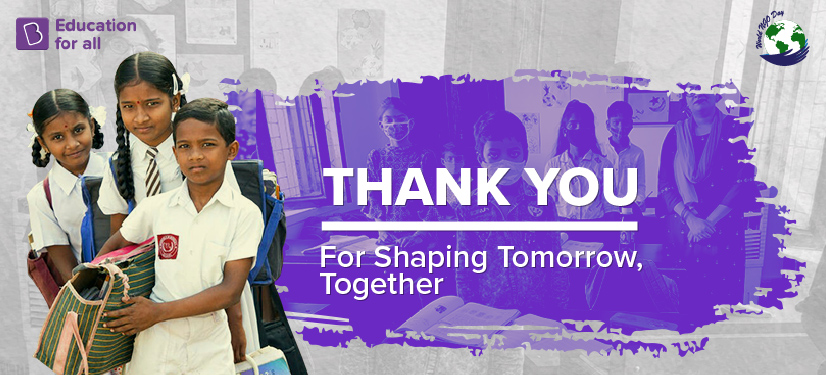 World NGO Day is celebrated every year on 27 February to honour NGOs for their efforts in helping those in need. Be it the children from the most remote areas or the slowly deteriorating environment, these NGOs have been vital in making a difference.
This year, we wanted to thank our NGO partners, without whom we'd be unable to complete our mission at BYJU'S Education for All. Here's a small video that we made as a tribute to their efforts in shaping children's futures, together.
At BYJU'S Education for All, we aim to reach 10 million children by 2025. So far, we've reached about 3.5 million students across the country. This wouldn't have been possible without the support of our 110 NGO partners. Their efforts have enabled us to reach children with our BYJU'S Think & Learn Premium Content.
In today's world of competition, education plays a huge role in the lives of children. It is essential that we ensure that children from different socio-economic backgrounds do not miss out on opportunities due to the lack of resources.
Together, with the support of our partners, we are hoping to reach children with access to quality education through BYJU'S Education for All.
We hope that we can define a future of hope for these children, together.
Here's to doing more to bring about changes that the world needs!
---
BYJU'S Education for All is reaching out to underprivileged children across India. We are on a mission to reach 10 million children across India with quality learning content.
Through the BYJU'S Give programme, you can contribute to this mission and help children with quality digital learning. You can donate an old device, which we will refurbish, and then use the money raised to buy a new device. In case you do not have a device, you can also donate to an NGO partner, who will use the money to buy devices for children.
In both cases, we will load our BYJU'S Think & Learn Premium content onto these devices and distribute them to children in need.
Also Read: From Kashmir to Kanyakumari: Ensuring Education for All