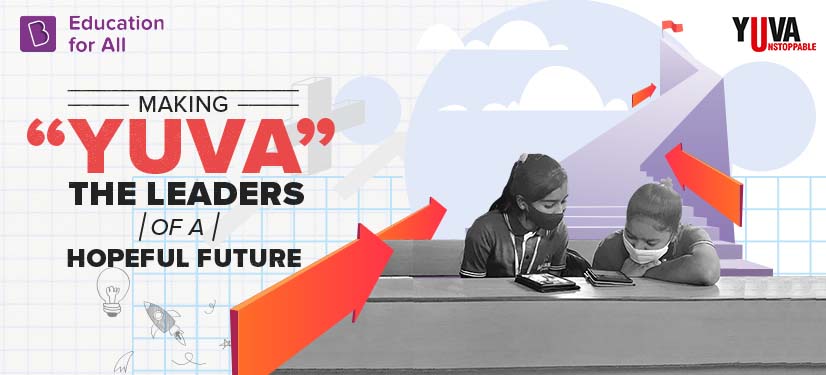 The plight of his former nanny who was 82-years-old, and weighed just 27 kilograms, shook Amitabh Shah, the founder of Yuva Unstoppable, who had just returned to India from the USA. During his stay, he learnt that she was beaten by her son and given tobacco as dinner, which gave her the illusion of "not being hungry".
Hurt by the brutal condition of the woman who took care of him as a child, he decided to help her and dropped her off at an old age home.
"While I was at this old age home, I met her roommate, Savitha Ba, who was told that her son would pick her up in two days. However, he hadn't visited her in two years and she asked me if I was sent by him to pick her up," Amitabh shares.
Realising that this was the plight of many people, he decided to make frequent visits to the old age home with his friends. They soon found themselves making visits to orphanages and schools. They were also slowly joined by volunteers from different walks of life who together started a movement that came to be known as Yuva Unstoppable in 2005.
Two years into the movement, Amitabh went to Yale to pursue an MBA but rejected a Wall Street offer to work on the real streets of India. With his army of volunteers, he continued to expand the fast-growing NGO, with a key focus on building educational infrastructure.
Transforming Educational Infrastructure
"By 2013, we were teaching kids subjects like maths, science, English, among others. But some of the volunteers pointed out that these school children did not have sufficient toilets and lacked WASH (Water, Sanitation, and Hygiene) facilities," Amitabh says, adding, "We also found that a majority of the plastic waste in school dustbins were those of chewing tobacco used by children."
So, Yuva Unstoppable introduced a School Transformation Programme which included sanitation (separate toilets for boys and girls), improvement in access to water (separate drinking and dishwashing areas), educational painting, Smart/Google Classrooms, tablets, nutrition and immunity booster kits, Behaviour Change Communication (BCC), among others.
Another programme, the Educational Scholarships Programme, aims to empower deserving students to complete their higher education. In addition to financial aid, Yuva Unstoppable also provides children with a platform to interact with prominent personalities from various fields and receive career counselling from them.
"At present, we are running a programme to transform 300 schools into model schools in the Haveri district in Karnataka. The programme will adopt key principles for improving the learning environment and outcomes for students as shared in NEP 2020 & NCF 2005," Amitabh shares.
This programme is called the Young India Philanthropic Pledge (YIPP), where the NGO encourages young people below the age of 45, with over $100 million in net worth to pledge 25 percent of their wealth to charity.
Apart from this, the volunteers have also been involved in immense COVID-19 relief – feeding the hungry, supporting the frontline workers in their efforts, vaccination drives, and more.
With the strength of its 150,000 volunteers, Yuva Unstoppable has impacted over 6 million beneficiaries, including 3 million children since its inception. It has also transformed about 3000 schools across 18 states.
Yuva Unstoppable + BYJU'S Education for All
BYJU'S Education for All, which is on a mission to empower children with digital education, has partnered with Yuva Unstoppable to further this mission. Children between grades 4-12 have been benefiting from this content.
While devices were donated by many organisations, they were loaded with BYJU'S Think & Learn Premium Content. The loaded devices were given to student beneficiaries. Moreover, with the new hybrid learning systems, Amitabh believes that children can greatly benefit from BYJU'S classes, even if things go into lockdown.
"At any point in time, if there is any other lockdown, these huge learning gaps can be avoided. So along with essentials like food, clothing, and shelter, every child should have a digital device and BYJU'S Content," Amitabh says.
---
BYJU'S Education for All is reaching out to underprivileged children across India. Through the BYJU'S Give programme, you can contribute to this mission and help children with quality digital learning. You can donate an old device, which we will refurbish, and then use the money raised to buy a new device. In case you do not have a device, you can also donate to an NGO partner, who will use the money to buy devices for children.
In both cases, we will load our BYJU'S Think & Learn Premium content onto these devices and distribute them to children in need.
Also Read: An "Umbrella" to Safeguard the Dreams of Children