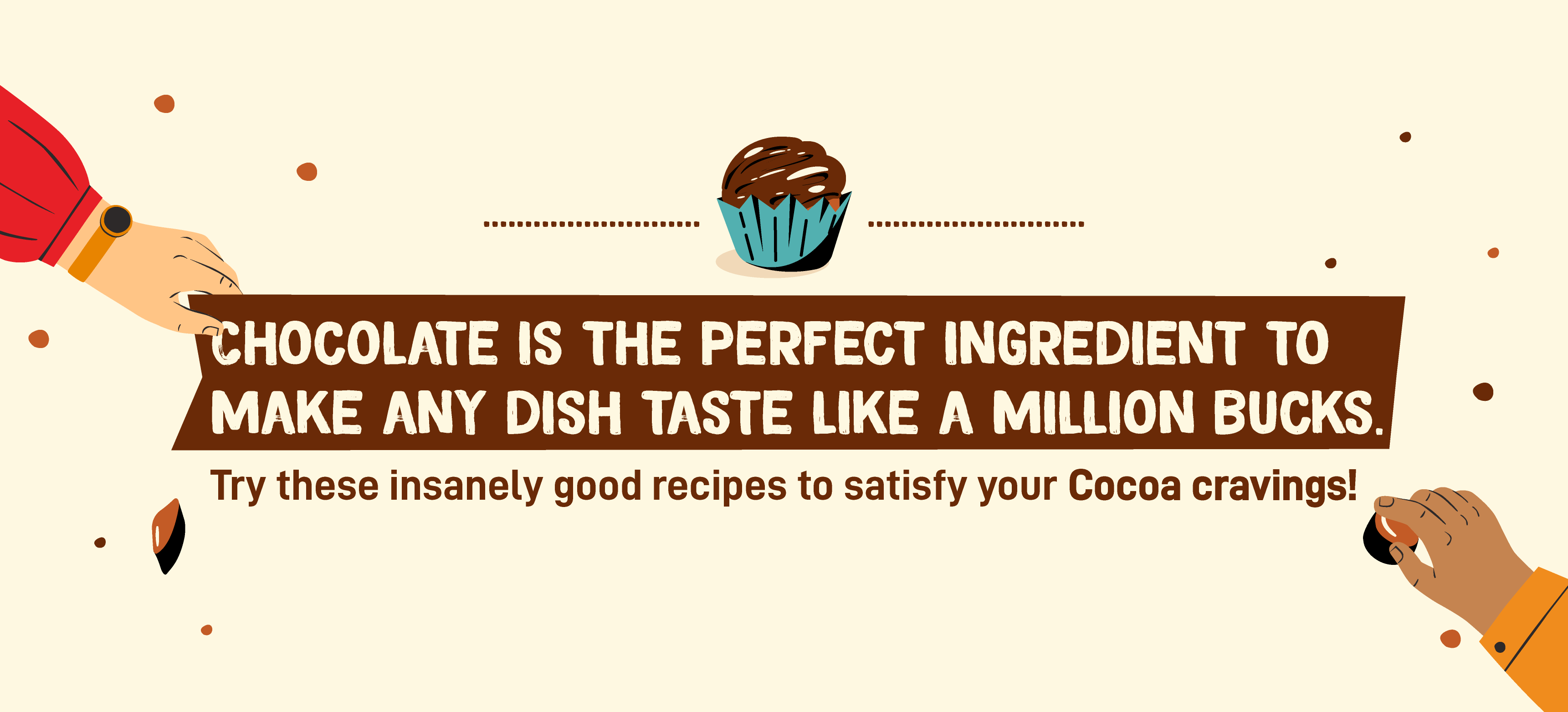 On World Chocolate Day 2023, we wanted to treat you to something delicious. Can you guess what it is 😋
People say that less is more, but when it comes to chocolate, we believe that the more, the merrier! Chocolate is a delicious and versatile ingredient and the possibilities for decadent chocolate desserts are as endless as the imagination. Whether you prefer your chocolate sweet, rich, bitter, spicy, fruity, or even salty, there is a dessert for you. 
Craving the yummy goodness of chocolate already? This World Chocolate Day, we have rounded up some easy-to-follow yet delicious chocolate recipes for you that can be made all year round.
For something more than just your basic chocolate cake, check out these 5 easy chocolate desserts that are yummy to the last bite!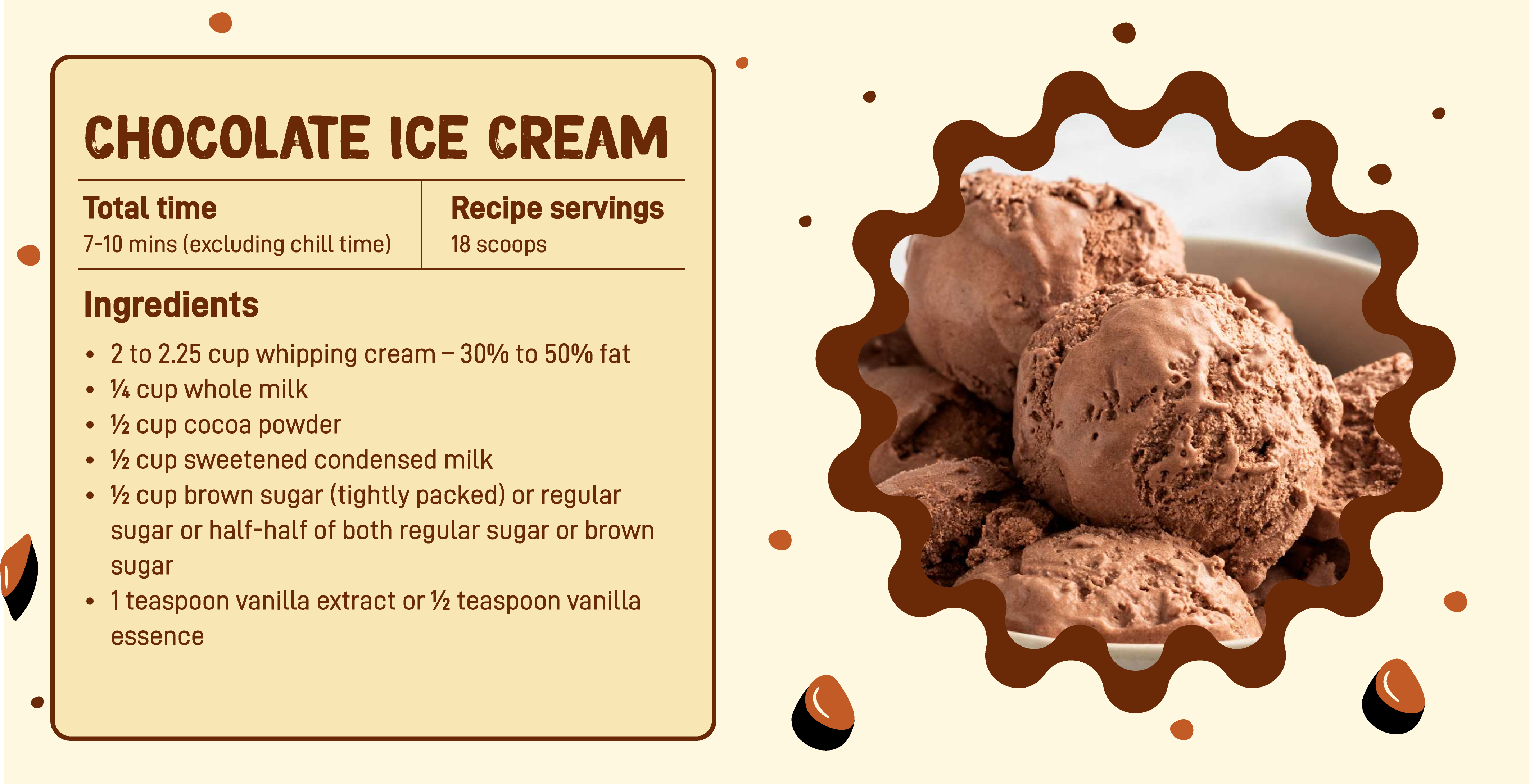 Method
Take ¼ cup of milk in a pan and add ½ cup of tightly packed brown sugar. Remember to use whole milk or else the milk may separate or curdle.

Keep this pan on a stovetop on low heat and with a whisk or spoon, stir continuously till the sugar dissolves. 

Add ½ cup of cocoa powder to this mixture and mix well.

Add the ½ cup sweetened condensed milk and 1 teaspoon vanilla extract. Mix well and let this chocolate mixture cool to room temperature.

Take 2 to 2.25 cups of the chilled whipping cream in a stand mixer and begin to whip it on high speed, till stiff peaks form.

Gently fold the chocolate mixture into the whipped cream. Do not mix, just fold it until the chocolate and cream mix well together.

Freeze for 8 to 9 hours or overnight in an air-tight container.
Also read: 7 Must-try Summer Recipes To Keep You Cool On A Hot Day!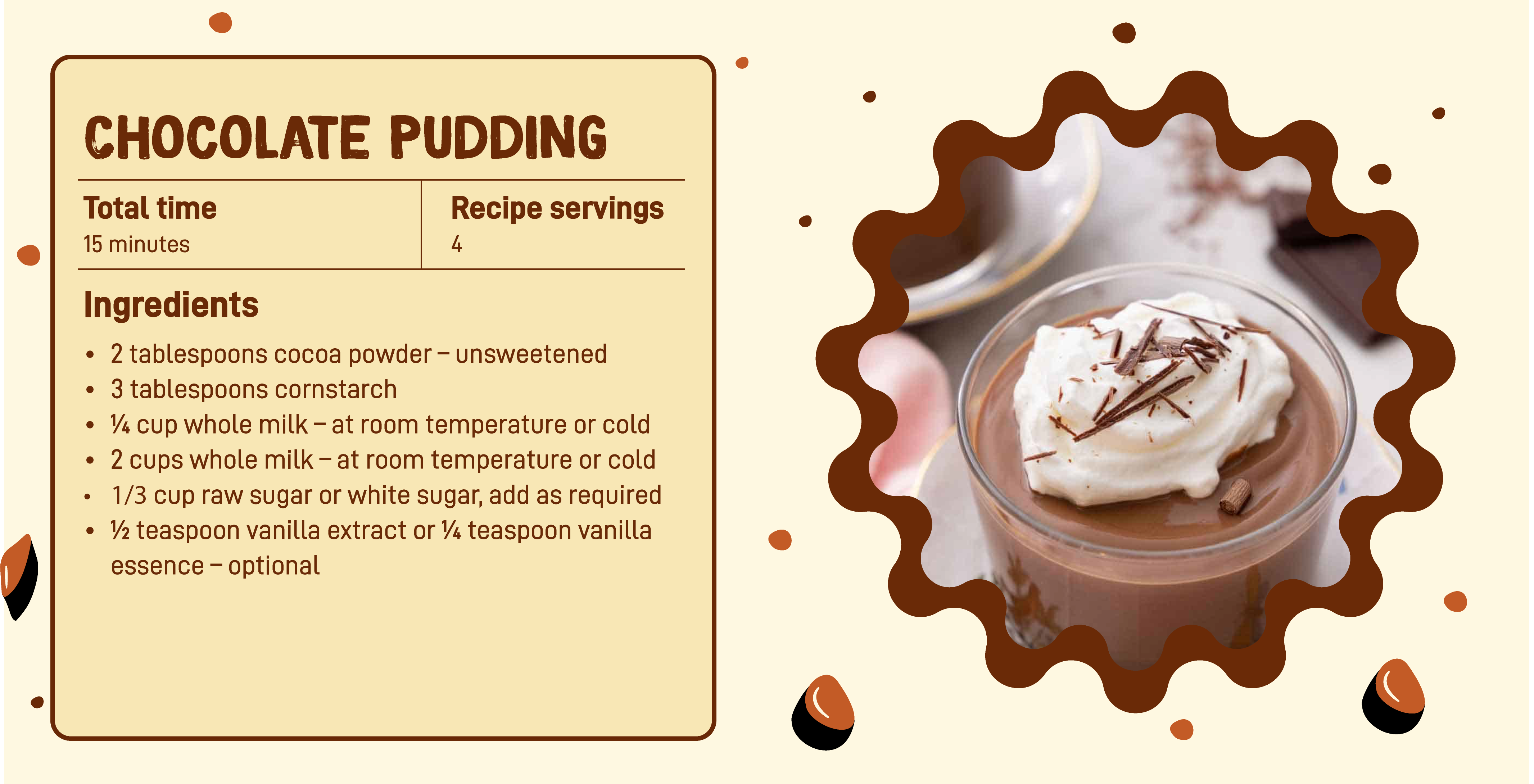 Method
To make cocoa powder slurry
In a bowl take cocoa powder, cornstarch, and milk. The milk can be cold or at room temperature. 

Whisk to a smooth slurry. Set aside. There should be no lumps.
To make chocolate pudding
Take milk in a heavy saucepan. Heat the milk on a medium-low flame till it is warm or slightly hot. Do not boil.

Once warm or lightly hot, add the sugar. Mix and stir until all the sugar is dissolved.

Over low heat add the cocoa powder and corn flour slurry. Stir and mix with a wired whisk.

Mix very well and simmer the pudding mixture on low heat. Stir continuously till the pudding mixture thickens.

Cook till the chocolate pudding mixture forms a thick coat on the back of a spoon. Switch off the heat and add the vanilla extract or essence.

Immediately pour the chocolate pudding mixture into small to medium heatproof glass or steel bowls and let them set in the fridge for 4-5 hours.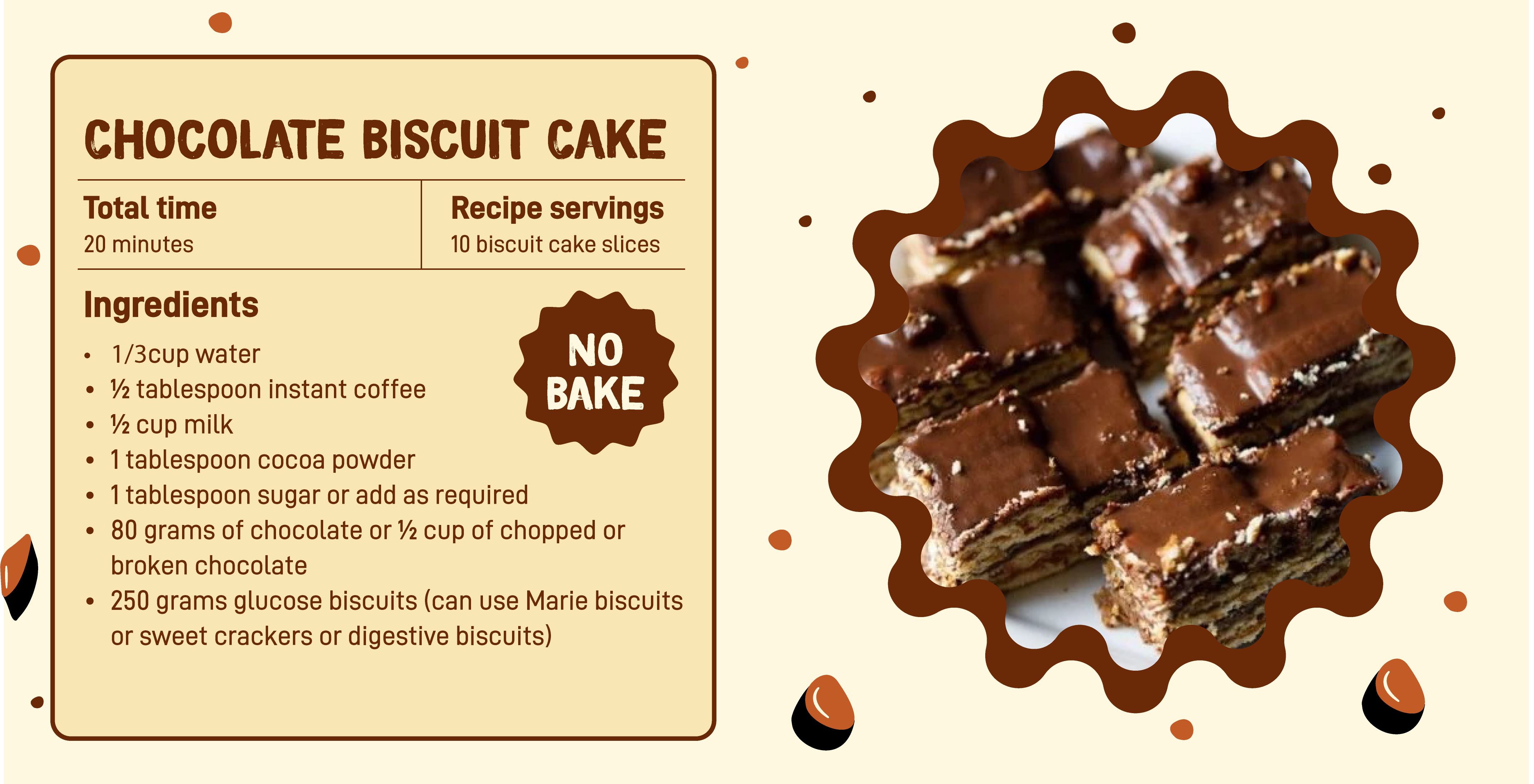 Method
Take warm or slightly hot water in a bowl and add ½ tablespoon instant coffee and mix well to make a coffee solution.

Take milk in the same saucepan and add 1 tablespoon of cocoa powder. Mix very well to make a solution without any lumps.

Put the saucepan on low flame and add 1 tablespoon of sugar. Whisk it till it dissolves.

After 2 to 3 minutes, switch off the flame and add the chopped chocolate. Mix to a smooth glossy consistency to make a chocolate sauce.

Dip the biscuits in the coffee solution and place them in a pan lined with parchment paper.

Pour the chocolate sauce on the biscuit layers and spread it evenly but gently with a spatula.

Similarly, make layers of biscuits and chocolate sauce according to the size of the pan.

Seal the pan with a lid and keep it in the fridge to set for 4-5 hours.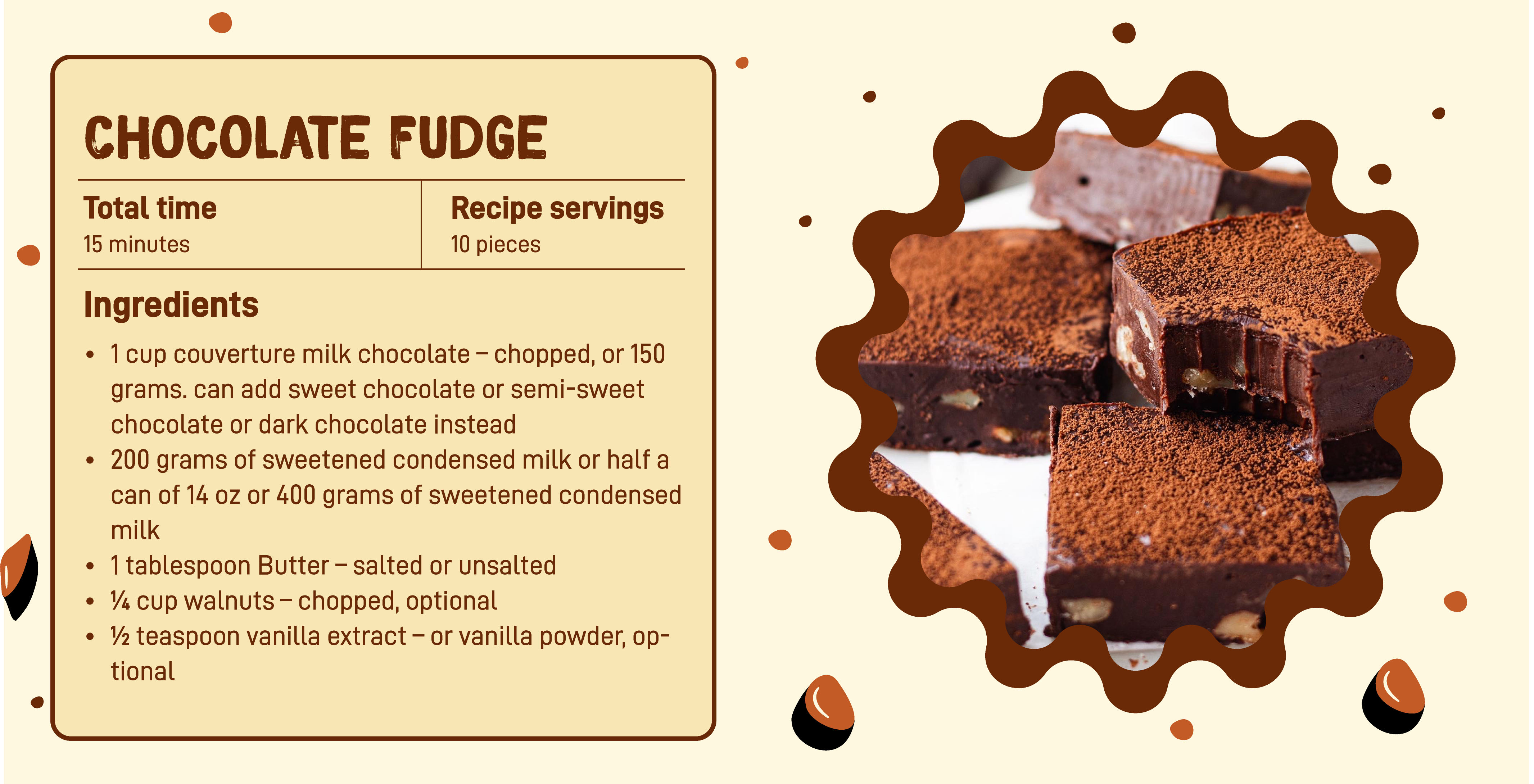 Method
Line an aluminium foil or parchment paper in a 6 x 6-inch square pan. Make sure it covers all the sides and there's some extra on the top.

Take chopped chocolate in a bowl or a small frying pan. Add the condensed milk and butter. You can use either salted or unsalted butter.

In another saucepan or pot heat 1 to 1.5 cups water till it starts boiling. Lower the heat and place the previous small frying pan or bowl on the pan to create a double boiler setup.

Once all the chocolate is melted, turn off the heat. Quickly add chopped walnuts and vanilla extract or powder. Mix very well.

Pour the entire chocolate fudge mixture into the pan that you lined initially.

Once the chocolate fudge has cooled to room temperature, cover the pan and refrigerate the fudge for 3 to 4 hours or overnight, till it sets completely.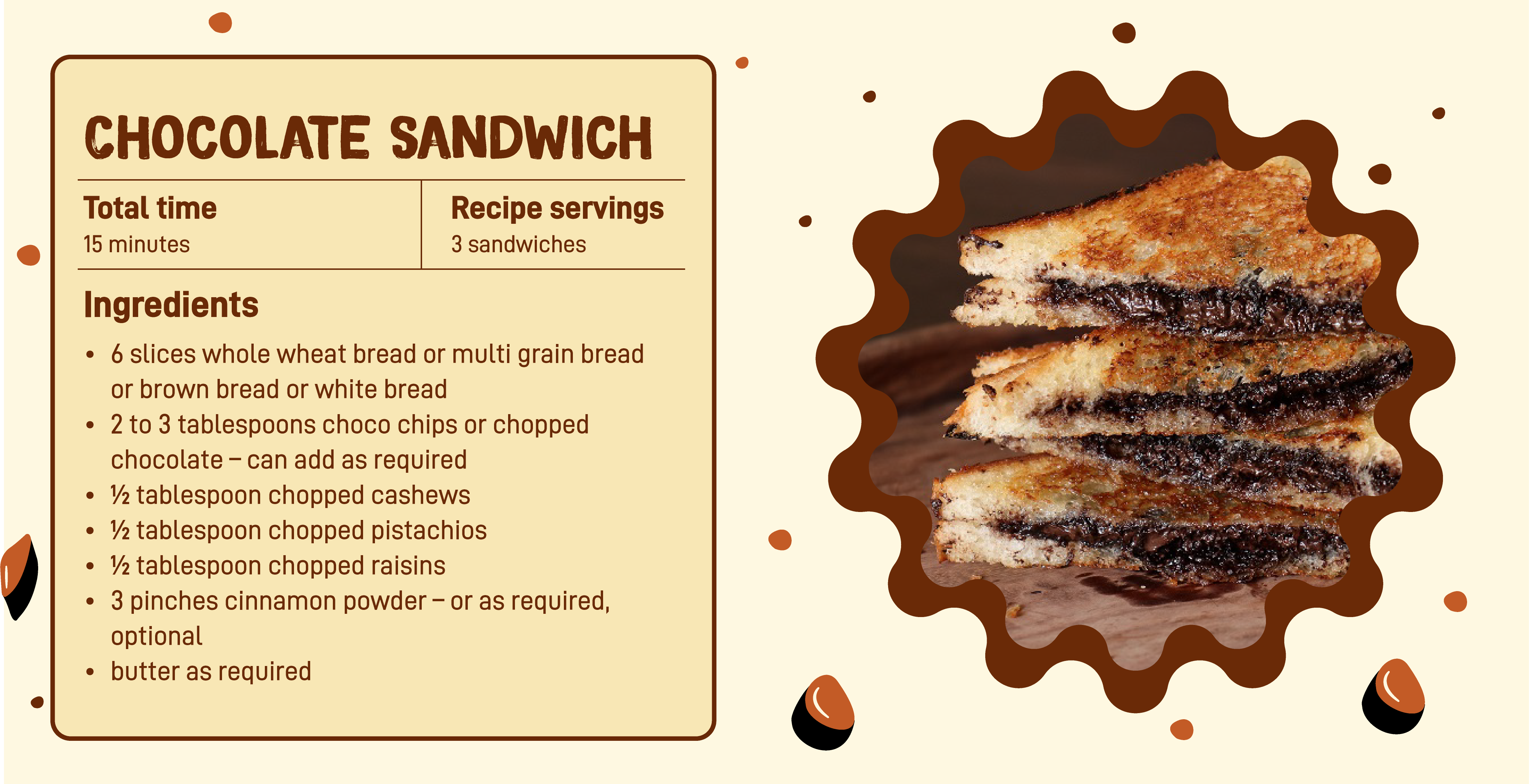 Method
Take the bread slices. Slice the edges if you want. Spread some softened butter on each slice. You can use salted or unsalted softened butter.

Now place the choco chips evenly on the bread slice. Do not add too much, otherwise, the chocolate will melt and ooze out of the bread while grilling and toasting.

Sprinkle the chopped dry fruits on top. You can also add slices of fresh fruits, like apples, pears, or bananas, as a topping on the sandwiches.

Sprinkle a pinch of cinnamon powder and cover with another buttered slice.

Grill or toast till the bread becomes brown and crisp.
Also read: What's your pet's personality type?
Give these easy-peasy recipes a try and we bet your chocolate cravings will be satisfied and happiness will be multiplied. 🍫💕
Do you have a favourite chocolate dessert recipe of your own? Share with us in the comments below!
Liked what you read? Head to Life at BYJU'S to learn more about our work, people, and the stories that make us unique. To explore job opportunities, check out Careers at BYJU'S.