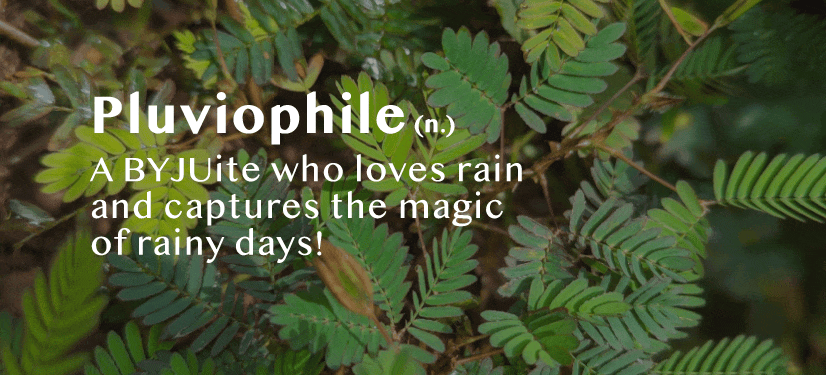 As the upcoming World Photography Day coincides with the beloved monsoon season, we are reminded of the fleeting beauty it brings. Each raindrop's gentle drizzle orchestrates a mesmerising symphony, vividly depicting nature's harmony. Amidst this enchanting atmosphere, we embrace the profound beauty found in even the smallest elements of nature making it irresistible to capture the rain in its purest form. 
During this season, BYJUites fueled by creativity and passion, transform into photographers, capturing the enchanting beauty of rainy days. From droplets on windows to rain-soaked landscapes, our talented BYJUites have found inspiration in the midst of rain's embrace. 
Ahead of World Photography Day 2023 we explore the world through their lens and witness the rainy season's wonders through their eyes. The talented photographers are adept at seizing these fleeting instances, where the sunlight breaks through the clouds, creating breathtaking rainbows in the sky from different parts of the country. 
Also Read: National Handloom Day 2023 | Indulge in art you can wear
Let's check out the top rainy-day pictures captured by the shutterbugs at BYJU'S:
Also Read: Independence Day and the evolution of freedom through the ages
As BYJUites navigate through their workdays during the rainy season, their cameras never stray too far. These photographs offer a glimpse into the spirited connections shared by our team, fostering a sense of togetherness that shines even on the cloudiest days.
From symphonies of raindrops to vivid landscapes, each photograph has immortalised the season's beauty. This rainy season, let us cherish the creative spirit that blooms within our workplace and celebrate the photographers among us.
Love taking pictures in the rain? Share some of your work with us. Our comments section awaits your stunning photos!
Like what you read? Head to Life at BYJU'S to learn more about our work, people, and the stories that make us unique. To explore job opportunities, check out Careers at BYJU'S.