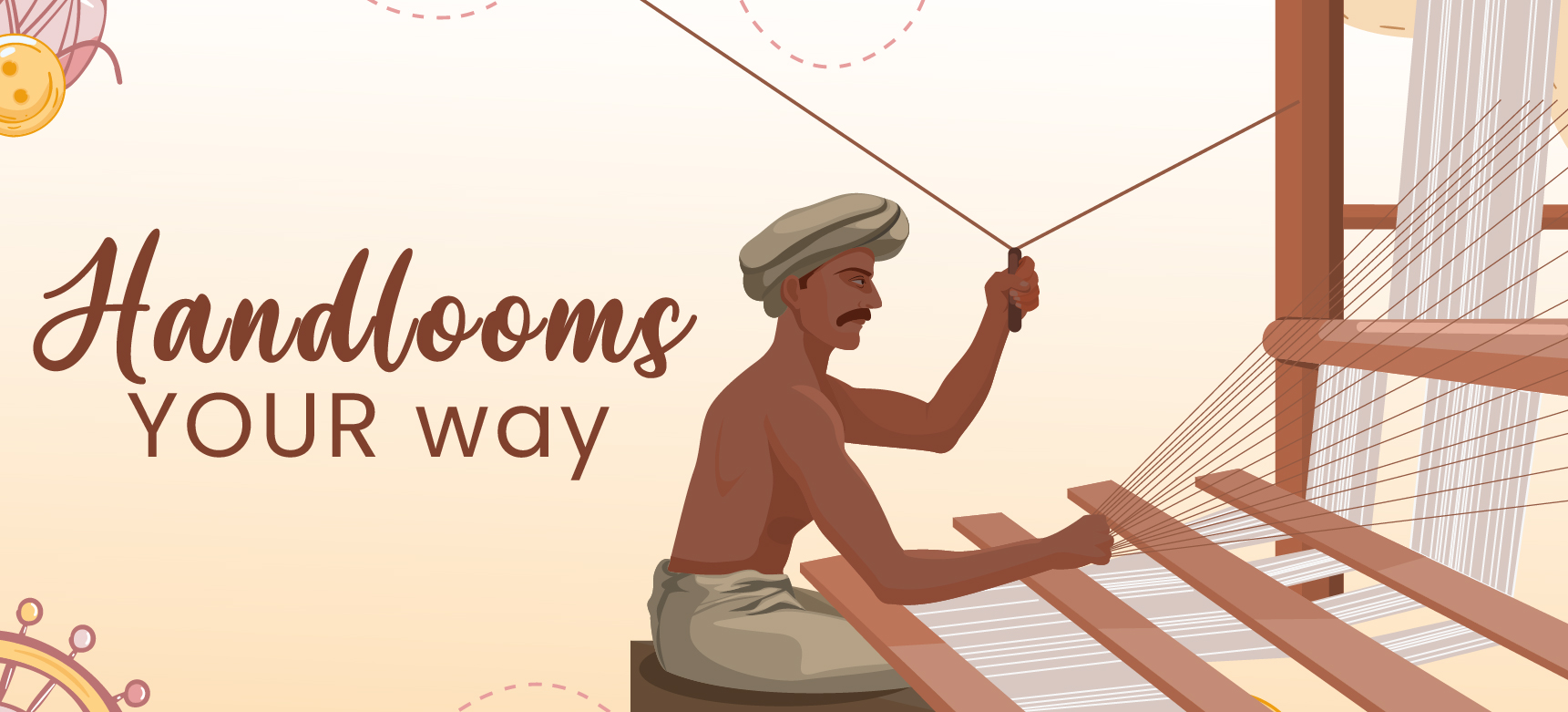 National Handloom Day 2023 is here again, in all its magnificent glory. The purpose of this special day is not to push you to wear handlooms for just this one day and go back to wearing mass-produced fast fashion brands that will ultimately choke the earth. 
Handloom fabrics hold a revered place in India's rich cultural heritage. On 7 August, we honour India's treasured handloom weavers and handloom industry, and recognise their contribution to India's socio-economic development. National Handloom Day strives to provide better prospects for the weavers and artisans, so they are economically stronger and can feel a sense of pride in their art.
National Handloom Day: History and importance
In 2015, Narendra Modi, the Indian prime minister, declared 7 August as National Handloom Day. It's no coincidence that this specific date was picked, because on this day in 1905, the Swadeshi Movement was launched, which called for the boycott of foreign goods.
This makes 2023 the 8th National Handloom Day
Handlooms are at the heart of our Indian culture. Let's vow to embrace handlooms, and not just for special occasions. Style them the way YOU see fit. An elegant handloom cotton saree, casually draped, can be perfect for brunch with friends. A handloom shirt can be teamed with shorts for a day at the beach. Don't tuck away your luxurious handloom silk sarees for weddings; wear them to dinners. 
And now, more than ever, it's easy to pick up a handloom piece. And while you're shopping for handloom sarees online, check out how these BYJUites have chosen to wear their handlooms!
Also Read: Company culture | How do you measure it and why is good work culture essential
Roshni Nair
Senior Academic Specialist (Physics)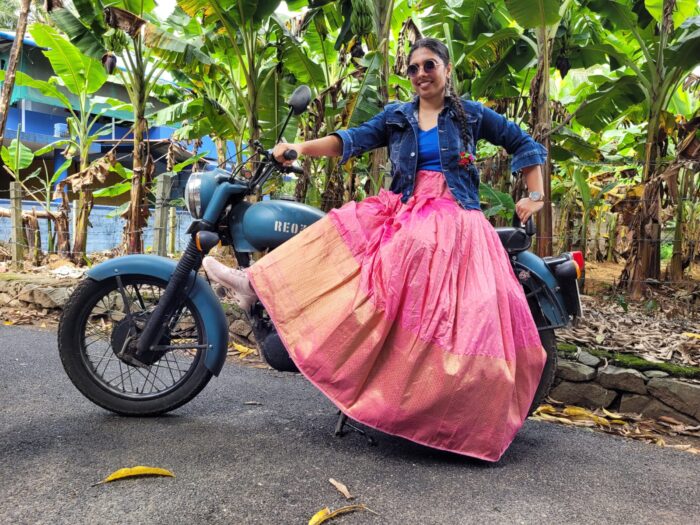 The handloom Banarasi skirt that I am wearing is actually one of my mom's favourite sarees. I had to attend my friend's wedding recently and was drawing a blank on what to wear. Mom handed me this saree and asked me to style it my way. I repurposed it into a lehenga.
I will never forget the way her eyes sparkled with joy when she saw the finished outfit. And plus, everyone complimented me at the wedding!
I love mixing traditional and modern pieces, which is what I have done here, giving the classic saree a Gen Z vibe.
Why do you find handlooms appealing?
Because they never lose their charm. They are always in vogue. Even after decades, you can wear them with the same panache.
How do you suggest we promote handlooms among young Indians?
Handlooms are an integral part of our rich tradition; we must hold on to them. For the younger generation, whether millennials or Gen-Z, I think if we create clothing that they are more likely to wear, like skirts, shawls, jackets, palazzos, and other trendy styles, they might be tempted to experiment. Adding handloom pieces to our home décor is another great way to include handlooms in our daily lives.
Bhakti Jaiswal
Assistant Manager, Social Strategy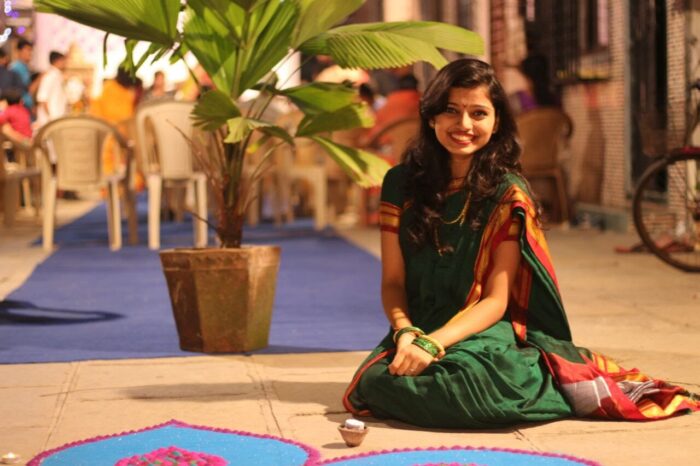 Elegant and vibrant, my mother's green Nauvari saree is an ageless beauty and ideal for special occasions. It drapes gracefully, and the striking red and gold border makes it even more stunning. 
The rich green colour symbolises growth and new beginnings, making it the perfect choice for my debut dance performance. As I glided across the stage, the saree invoked a sense of cultural pride. It was not just a garment anymore; in that moment, it was a symbol of my heritage, a reflection of my mother's love, and a source of empowerment as I embarked on this journey of dance.
Why do you find handlooms appealing?
In an age of mass-produced fashion, handloom clothes stand out as sustainable and eco-friendly choices. Supporting handloom weavers helps preserve traditional skills and contributes to the socio-economic development of rural communities.
I have a special love and respect for handloom Nauvari sarees. They have a timeless appeal that transcends generations. These sarees are intricately woven by skilled artisans, preserving age-old weaving techniques passed down through centuries. Each Nauvari saree is a labour of love, taking hours of dedication to complete, making it an artisanal masterpiece. Their texture and vibrant colours are unmatched!
Nauvari handloom sarees are deeply rooted in the cultural heritage of Maharashtra and carry a sense of pride and identity for Maharashtrian women. Wearing them is a way of celebrating one's heritage and connecting with ancestral traditions.
How do you suggest we promote handlooms among young Indians?
By weaving together tradition, sustainability, and innovation, we can aim to capture the hearts of young India. Utilising social media platforms and influencers, we can showcase the elegance and versatility of handlooms, inspiring the younger generation to embrace their cultural heritage. Collaborations with young designers can reinvent the handloom style, making it more contemporary and appealing to modern tastes. 
Workshops and events can be organized at educational institutions to educate youth about the handloom process and its eco-friendly benefits. Tie-ups with fashion shows and celebrities can generate buzz and endorse the environment-friendly aspect of wearing handlooms. 
Additionally, incentivising local weavers and providing marketing support to small businesses can ensure the survival and development of this heritage craft, ensuring their timeless charm lives on.
Anuja Rathi
Senior Academic Specialist, Student Experience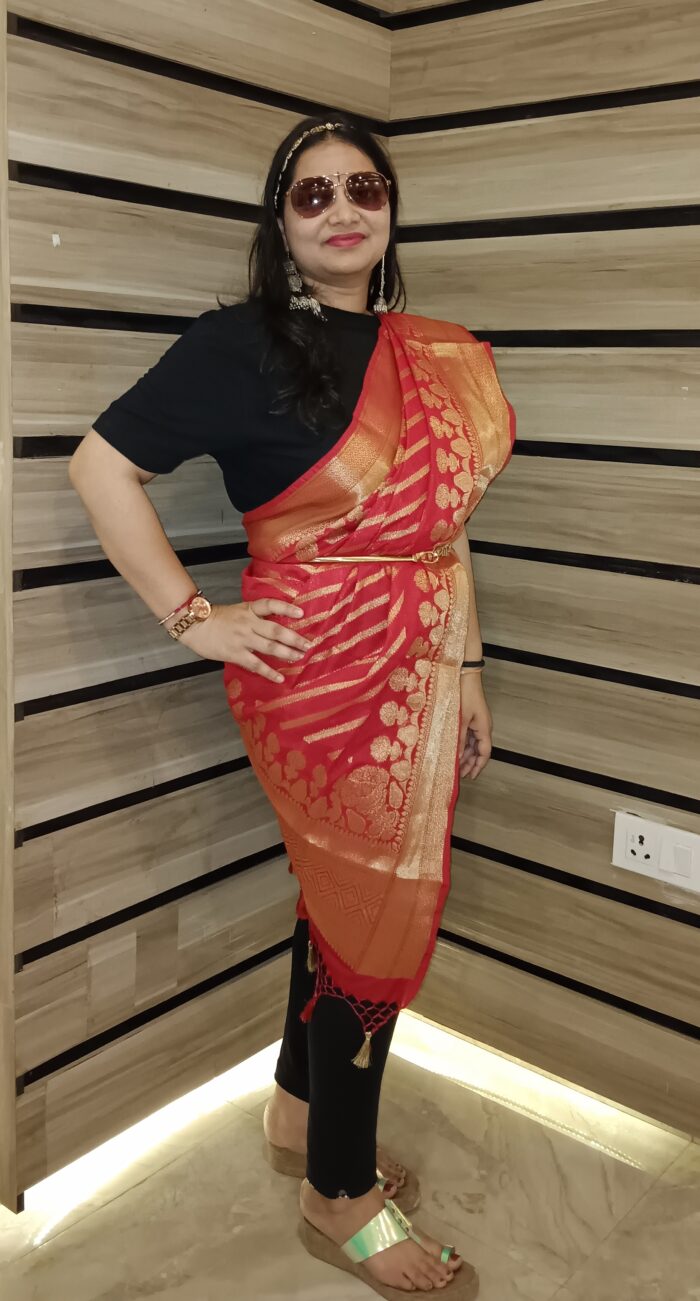 I'm wearing a gorgeous Banarasi handloom saree, which is famous for its intricate designs and excellent craftsmanship. Each piece is crafted with dedication and takes days to finish. 
While the saree is beyond beautiful, it also means a lot to me. I am emotionally attached to it because my mother gifted it to me when I got a job at BYJU'S. 
I love to change my look and experiment with my outfits. And I love draping sarees in different ways, so they look unique every time I wear them. This time I tried to take the fusion route, and I think it looks fantastic!
Why do you find handlooms appealing?
Handlooms are not just fabric, they connect people from all over the country and bring them closer. In sporting handloom outfits from different Indian states, we are actually taking a piece of culture from that part of India and making it our own. Whether it's a khadi handloom saree, a Bomkai saree, a Bengal handloom saree, or a Karigari saree, handloom products have the power to bind us as one.
And I know that some people think handlooms look dated, but that is not true. They are evergreen, comfortable, stylish, and look great on everyone. We just have to style them per our sensibilities.
How do you suggest we promote handlooms among young Indians?
Handlooms are a part of our culture. Banarasi silk sarees, for example, have been doing the rounds since time immemorial. It is our duty to safeguard this rich legacy and protect it from declining into extinction. 
Young Indians understand the importance of traditions. They have great ideas and a phenomenal grasp of fashion, which they can apply to handlooms. They just need a nudge and we will see them flaunt handlooms in the contemporary world.
Also Read: A workplace oasis for mothers at BYJU'S | World Breastfeeding Week
Apurva Bhatankar Patil
Lead Project Manager, Marketing, Tynker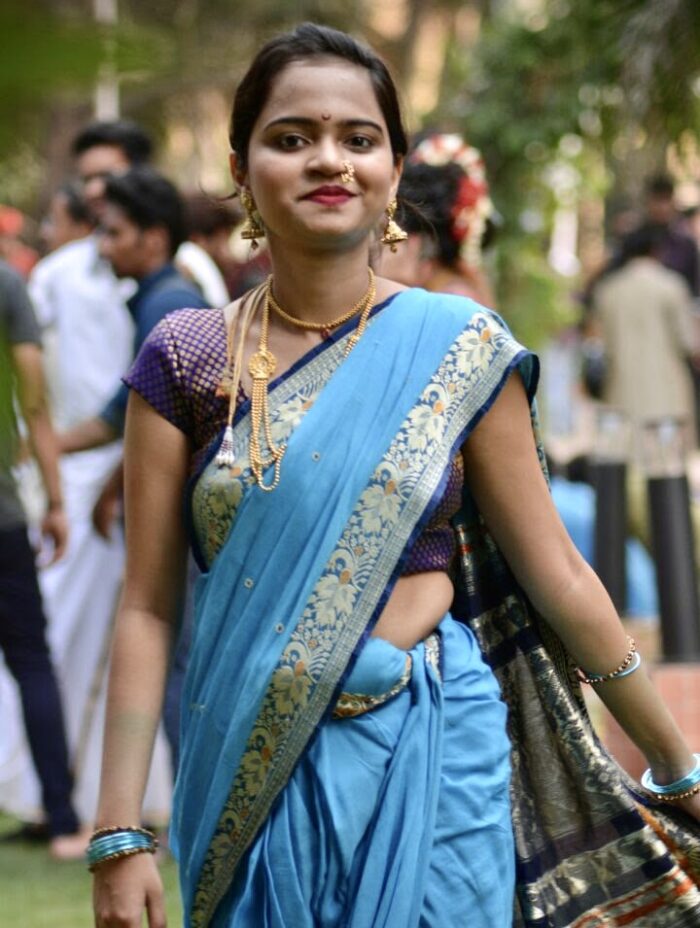 I am wearing a pure cotton Nauvari, a traditional Maharashtrian outfit. Its name is derived from the Marathi word 'nau' meaning nine, and 'vari', meaning yards, denoting its length. 
Its warm earthy hue resonates with the rustic charm of rural Maharashtra. This 'kashta' style drape is commonly worn by women in Maharashtra. 
The theme at my college fest was "India's cultural diversity". I immediately thought of this saree! It was so fascinating to see all my friends dress up in clothing that represents their state, and that too in handlooms. Even though we all looked so different from each other, we felt like one unit. 
Why do you find handlooms appealing?
I find handlooms captivating as they are more than just some pieces of fabric. Each thread is a testament to the artisan's hard work, perseverance, and incredible skills. Handloom sarees are unique; they carry the essence of the place they come from, the stories of the weavers, and their cultural significance. 
Just looking at a handloom emporium fills me with joy!
How do you suggest we promote handlooms among young Indians?
Social media influencers and the fashion industry at large, need to speak actively about Indian handlooms, promoting their significance to younger generations. Fashion designers can experiment with trendy styles, featuring handloom fabric: Khadi pantsuits, Chikankari crop tops, Banarasi blazers, Paithani skirts, etc. This should entice millennials and Gen Z!
These fashionable options can be marketed all over the world, offline and online. This will be a great way to expand our horizons and give everyone a taste of our glorious culture.
Devdas Prajapati
Creative Manager, Brand and Strategy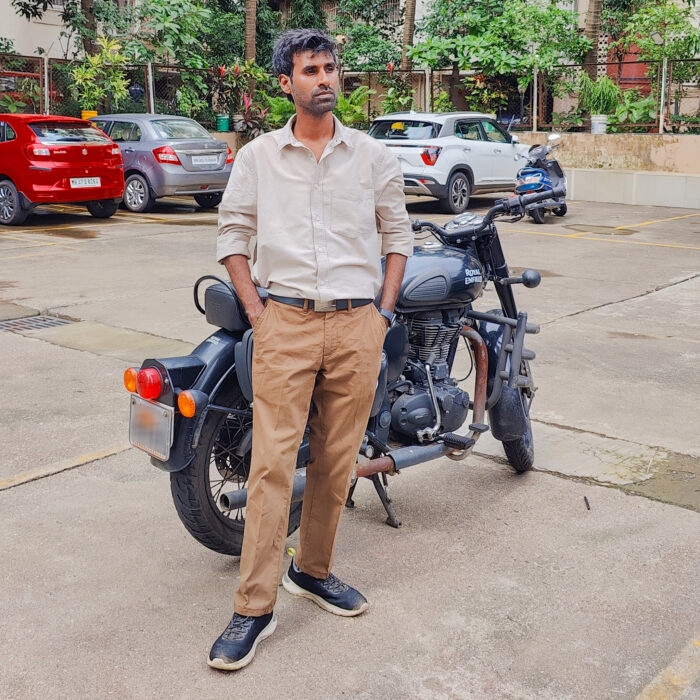 The cotton handloom shirt I am wearing is one of my favourites. It is simple, classy, and instils me with confidence every time I put it on. The visible threads of the fabric make impressive micro patterns and add to the soothing texture.
I have styled my shirt with chinos and sneakers, because I love the casual vibe and the comfort of this look. I believe in suave no-fuss pieces that I can wear for any occasion, without having to plan too much. Handloom shirts give me the freedom to style them in a way that not only highlights them but also brings out my personality
Why do you find handlooms appealing?
Since I have always lived in Bombay, I find that handlooms are perfect for the weather here. Whether it's hot or humid, the handloom fabric keeps me relaxed and comfortable. Plus, there are so many types of handlooms and designs that I am spoilt for choice.
How do you suggest we promote handlooms among young Indians?
The price point of fast fashion is enticing, allowing us to build envious wardrobes. Nobody wants to repeat their outfits anymore, for god forbid if we were to post the same "fit" again on Instagram! What we don't realise is that these same fabrics are harming the environment and making the earth a huge landfill.
I think it's high time that we advocate the value of quality over quantity. Handloom fabrics are sustainable, eco-friendly, gentle on the skin, pleasing to the eye, meticulously made, and create a sense of nostalgia and pride when you wear them. Young India understands the need to save the planet and our culture. Using social media, we can just make them more aware and drive home the point.
Sushmita Garai Singh 
Mentor, Student Success Specialist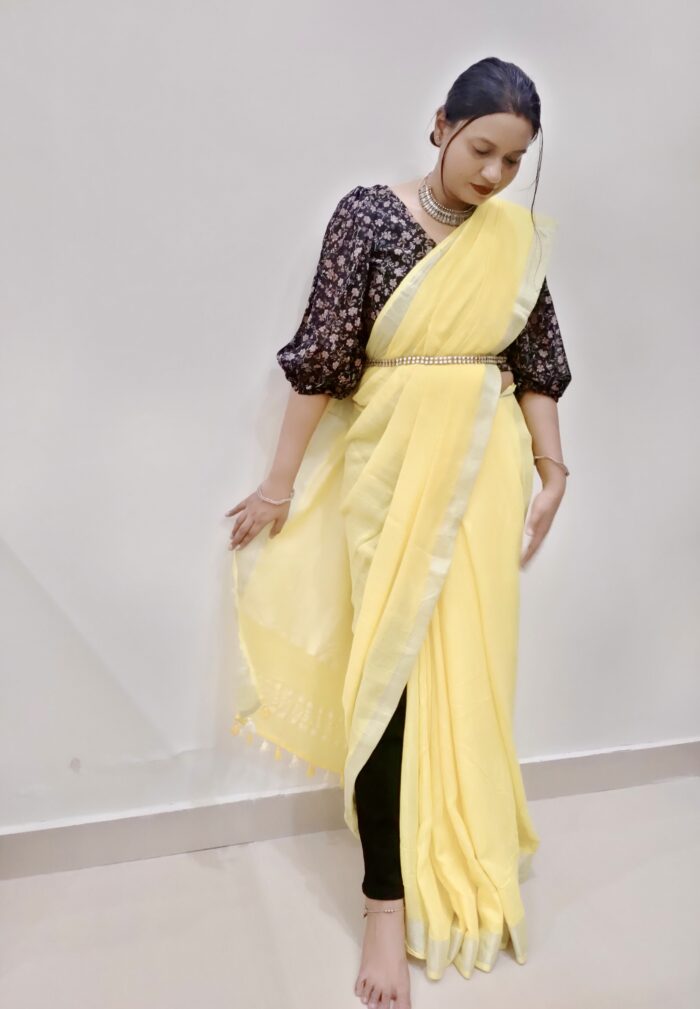 One of my closest friend's mother gifted me this saree in 2017, when linen handloom sarees were all the rage. I was excited to have it be a part of my collection, as I love sarees, especially handloom. 
I wore it for a friend's haldi ceremony. There was no time for an elaborate wrap, so I draped it quickly, and it still looked exquisite. My friend was the star of the show, but I got so much attention and that made me feel special. Just goes to prove that simplicity is the ultimate sophistication. 
I styled it differently here: floral print crop top, pants, embellished belt. I believe that we should wear handlooms however we want. They should merge with our persona and reflect our mood. I didn't want to look traditional today, I wanted a more fusion vibe and it was so easy to achieve. Looks great, feels fab!
Why do you find handlooms appealing?
Handlooms have been a part of our culture since ancient times. Machine-made products are no match for the science behind the handloom. 
Every Indian state has its own speciality and the handloom fabrics are tailored to their climate. For example, my Bengal handloom saree is lightweight and made of breathable linen, making it ideal for the humid weather. It is easy on the skin and keeps the wearer completely relaxed even when it is extremely hot. 
How do you suggest we promote handlooms among young Indians?
As humans, we have the tendency to look to our past for answers. Handloom fabrics are the way forward to building an environment-friendly wardrobe for the world. True, they are delightful to behold, but we also need to remember that they are the source of livelihood for millions of local artisans. Most of these weavers are women; the handloom industry is presenting them an opportunity to preserve and showcase their art for the future, while giving them financial independence.
Through influencers, social media, and on-ground campaigns, the younger generations need to be made aware of these factors. Once they understand the value of handlooms, they will be more enthusiastic about sporting them. 
Also Read: Top 5 tiger reserves in India | International Tiger Day
Lisa Barat
Senior Associate, Student Experience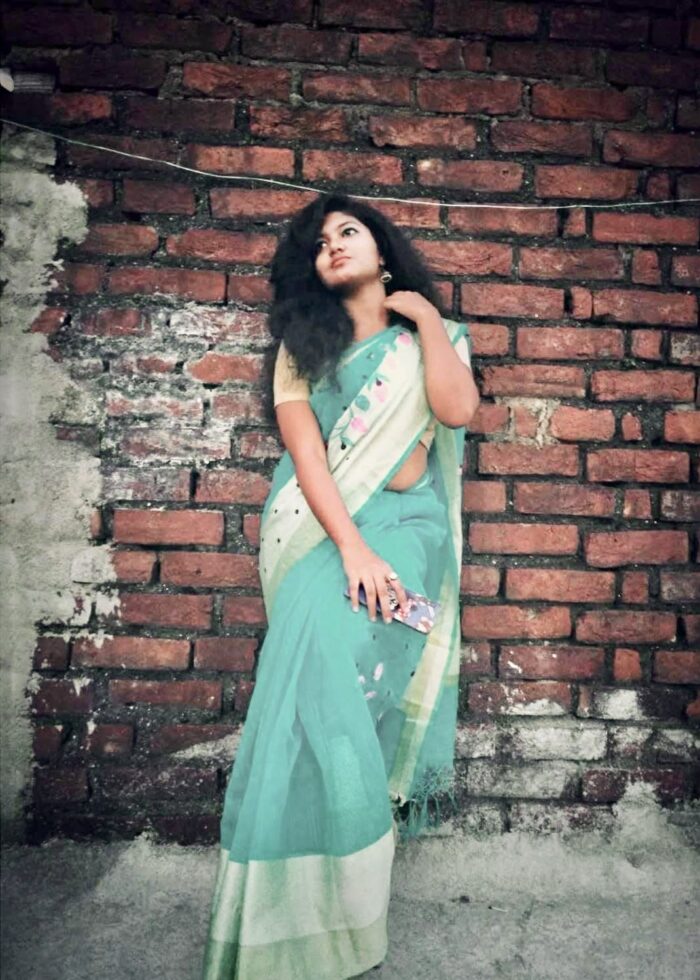 I am wearing a cotton handloom saree in this picture. It was shot right in front of my ancestral home, which is over 100 years old. As much as the house is a part of our heritage, as is the saree.
The picture was taken during Durga Puja, and as any Bengali will tell you, it is a special time for us. Bengalis hold their sarees in high regard, especially handloom sarees. Dressing up for Puja (and other festivals) in our most beautiful sarees is sacred to us. We wait an entire year for this special occasion, to pray, to reunite with our friends and family, to dress in our finest handlooms, and build core memories. 
Why do you find handlooms appealing?
Bengali girls and sarees go hand in hand. We wear them not only for Durga Puja, Saraswati Puja, at weddings, birthdays, college fests, but also on dates, to restaurants and pubs. If you are a Bengali, a saree is your best friend and will never go out of style.
Being a true blue Bengali, I love my sarees, and I have a special corner in my heart for handlooms. They're my go-to for almost every occasion. There's so much variety in handlooms that you are bound to find something that will work for the event you have planned. 
How do you suggest we promote handlooms among young Indians?
Handloom textiles are more than cloth. They are the threads that weave together a tapestry of cultural identity, sustainability, and economic empowerment. In order to ensure the survival and growth of this traditional craft, it is crucial to promote handloom products to our youth, ensuring that our legacy stays strong for generations to come. 
Encouraging young Indians to wear handloom garments and decorate their spaces with handloom home décor pieces will help to preserve the unique craftsmanship and diversity of our culture.
Did you think that art was meant only for the walls of a museum? Think again! Handlooms are literally art you can wear. Indulge yourself, flaunt art, display culture, own your heritage. Happy National Handloom Day.
Like what you read? Head to Life at BYJU'S to learn more about our work, people, and the stories that make us unique. To explore job opportunities, check out Careers at BYJU'S.
(This story has been put together by Storyweaver, Neha Dua)