Friends are the family we choose. And Friendship Day is the time we get to celebrate the bonds we share with our dear friends aka dost, yaar, buddy, companion, partner etc. 
So, this Friendship Day, BYJUites celebrated their work buddies with a fun 'Meme your Mate' contest. This was followed by the exchange of super cute, exclusive Friendship Day postcards. And to bring the week to a close, we had a rib-tickling session of laughter yoga for BYJUites and their friends and family. What better way to boost the positive work environment, right?
Read on to find out more about the Friendship Day celebrations at BYJU'S.
Meme Your Mate Contest – By the BYJUites, for the BYJUites
Friendships and memes go hand in hand. Isn't it? Is your friend even a friend if they don't tag you in at least one meme a day? This Friendship Day, we reversed the tables and asked BYJUites to turn their buddies into popular memes.  Yes, you read it right. We organised a fun contest where BYJUites got a chance to create memes on their work buddies. The entries left us in splits. Look for yourself!
Read more: Just Meme It! BYJUites will Leave you in Splits with These Hilarious Memes
Spread cheer with Friendship Day Postcard
WFH would not have been the same without our friends from work. So, this Friendship Day, BYJUites also sent cute, customised postcards to their work buddies who make Life at BYJU'S cheerful and complete. 
Check out the super cool postcards.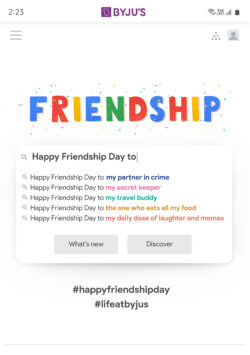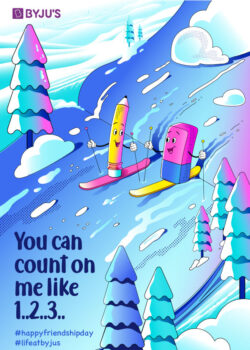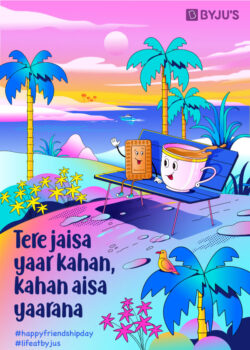 Ending the celebration on a laughing note
Laughter is a great form of stress relief, and that's no joke. The Friendship Day celebrations at BYJU'S concluded with a fun laughter yoga session conducted by experts from Zariyaa —  a company that works towards holistic well-being and health. 
BYJUites, along with their friends and family, laughed their hearts out during the session. The workshop not only proved to be a much-needed respite from the everyday monotony but also helped fuel a happy work culture at BYJU'S. The giggles and guffaws surely uplifted everybody's mood.
A happy employee creates a happy work culture. And that is all that matters to us. 
How did you celebrate Friendship Day? Do let us know in the comments section below.