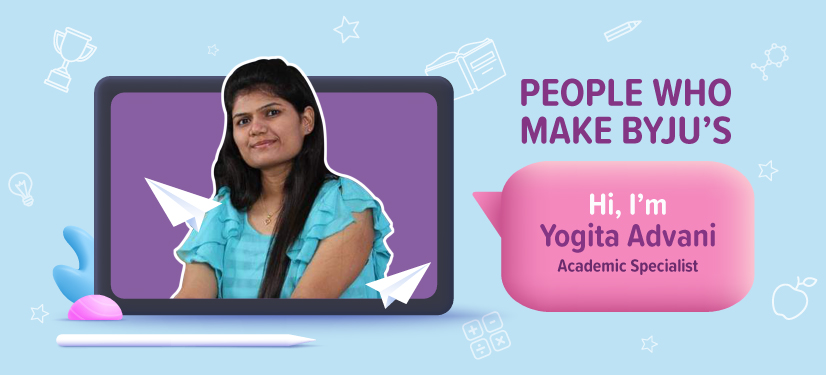 With an engineering degree from the Sarvajanik College of Engineering & Technology in Surat, Gujarat, Yogita Advani joined the corporate workforce (like most of her batchmates) in 2012. However, her encounter with teaching during her college days inspired something in her. She felt that she could make a difference through her teaching skills; something that Yogita was really passionate about. 
The Academic Specialist at BYJU'S says, "After briefly working as an engineer, I wanted to switch to teaching. However, I had no prior experience and was unsure of how and where to start. But engineers are problem solvers. I just had to translate that knowledge to my passion for teaching students."
Also read: Want To Be a BYJU'S Teacher? Get All Your Questions Answered By Our Academic Specialists
The role of a teacher – and how it's evolving
Yogita knew one of her top skills was communication, and that could be used well in a teaching career. With this in mind, she completed her B.Ed and joined a school as a primary teacher. "A major reason why I find this profession extremely fulfilling is that I get to learn a lot from my students, which helps me become a better version of myself," quips the BYJUite.
However, she feels that teaching as a profession has come a long way and has evolved over time. "The job of a teacher has evolved from being an information provider to an enabler of new ideas," says Yogita. "The reason I eventually trained as a teacher really is as simple as this: I wanted to defeat the fear of maths in children and instil a love for learning the subject. I would give real-life examples in my class that helped students overcome maths anxiety. In a way, my job with the young learners is to get them excited to attend my sessions. If I achieve that, I know I've made a difference in their lives." 
What's more interesting is that Yogita's love for learning and teaching made her take up multiple roles, from traditional classrooms to that of an online teacher with edtech platforms. And ultimately, these experiences helped her bring diverse skills to the table as an Academic Specialist at BYJU'S. "Young learners personify curiosity and innocence. At BYJU'S, we give our students a space where they can explore and learn to stay curious. This way, they become stakeholders in their learning process," she adds. 
Also read: Meet the Unstoppable Women of BYJU'S Taking Charge of Their Career Comeback
Big dreams come from small towns
While it was Yogita's determination that pushed her to switch career paths, it was a strong support system at home that guided and motivated her through the process. 
"After I quit my engineering job," shares the BYJUites, "I took a sabbatical to upskill and appear for the B.Ed examination. This was a turning point for me, and during this time I realised how important my family support has been; my career would not have progressed without it." 
"I come from the small town of Mathura in Uttar Pradesh, where women don't have as much exposure or the means to build a career. But fortunately, I've had the support of my in-laws to pursue my passion of becoming a teacher. In fact, my mother-in-law and husband would share the load at every step of the way. I don't think my career would have taken flight without their support," she explains.
Yogita believes that when it comes to working mothers, there's really no handbook for striking the right balance. The only thing that has helped her ride the seesaw of motherhood and her career was staying positive and being assertive and asking for help whenever needed. 
"When you become a parent, you shoulder dual responsibilities. In this situation, having a team that supports you and a work environment where you don't have to choose one responsibility over another, becomes integral. Thanks to BYJU'S Child Care Leave Policy and employee benefits for moms, I am proud to say that I am straddling two worlds, and quite successfully at that," adds the techie.   
Like this story? Head to Life at BYJU'S to learn more about our work, people, and the stories that make us unique. To be a part of our Student Experience Team, check out Careers at BYJU'S