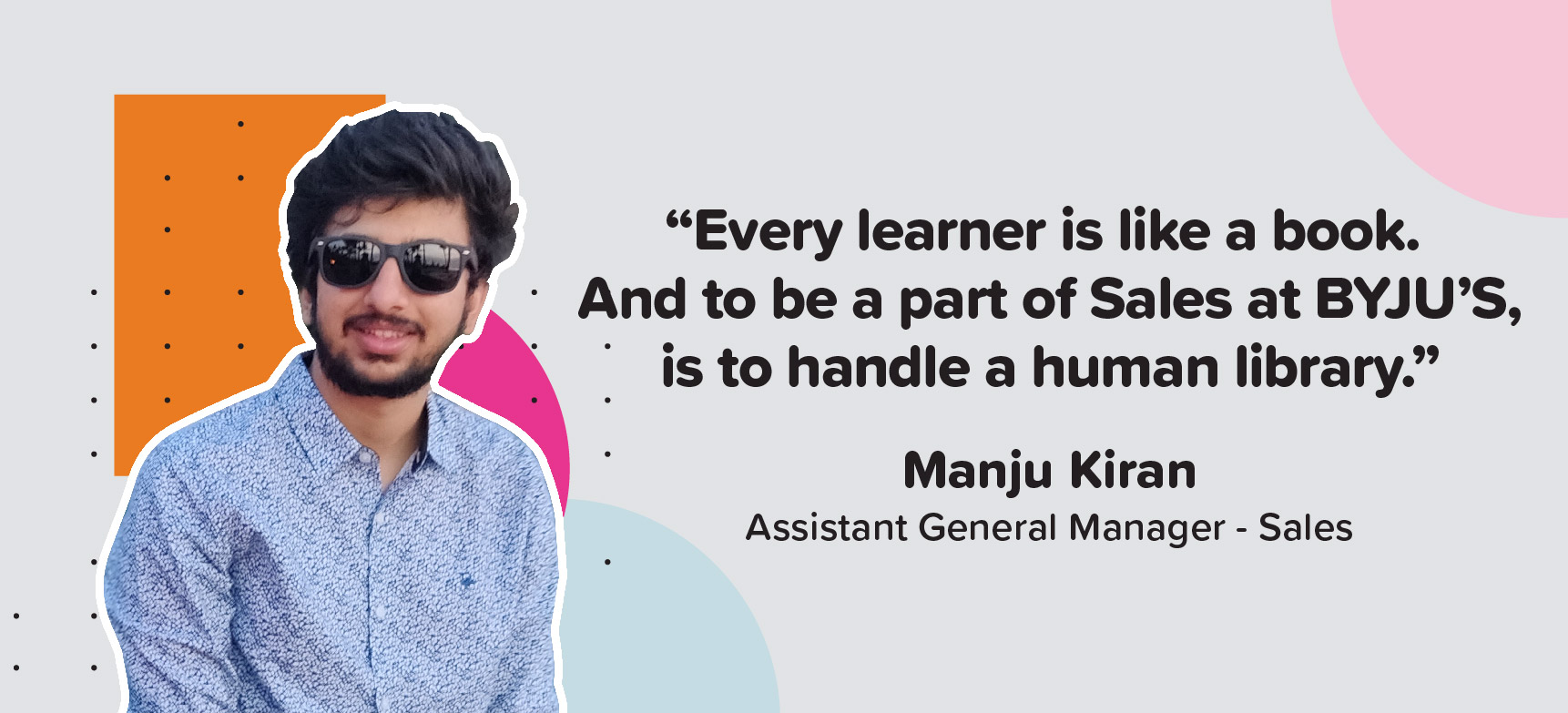 "From Operations, Marketing, to Content and Product, as an Assistant General Manager (AGM), I've been given endless opportunities to act as a bridge between Sales and other teams of BYJU'S," says Manju Kiran, Assistant General Manager, Sales. 
In this edition of A Day In The Life Of – our employee series where BYJUites offer a glimpse into their typical workday – Manju Kiran shares his evolution from Business Development Associate (BDA) to AGM, exploring new opportunities, finding his passion, and never-stop-learning excerpts from his life. 
Also Read: Spreading wings of freedom through education: BYJUites on celebrating 74th Republic Day 
Walk us through the journey that led you to BYJU'S 
After completing my Engineering, I wanted to explore and follow my passion. My friend recommended BYJU'S to me, describing it as an organisation that not only gives you an array of opportunities but also the right exposure. And now that I've been a part of the BYJU'S family for five years, I can confidently say that I have found my passion! 
What is your typical day like as an AGM? 
My role as an AGM is multifaceted. In a nutshell, it involves coaching, training, mentoring, and most importantly, being there for my team at all times. From researching industry trends to setting up new teams, keeping track of the Sales pipeline, brainstorming with the strategy team, and making amends to optimise efficiency, are a part of my job. 
One major challenge you faced and resolved during your BYJU'S journey? 
People knew BYJU'S as a learning app with interactive educational videos but didn't know that we also offer curated tests and personalised learning tools, along with excellent mentors. 
In order to build awareness, we needed well-trained associates, who would take the learner through our learning products. To this end, we launched Counselling Deck, a new portal that made training easier for our Sales Associates, plus helped them resolve learners' queries. 
The portal was the ultimate guide for a new Sales Associate. Sample videos, product descriptions, FAQs, and ways to conjure perfect pitches, it was a one-stop solution for our Sales team to connect better with learners. 
Tell us about your Sales interaction with learners 
When I began working at BYJU'S, I was keen on improving my networking skills. As a Sales Associate, one gets the opportunity to do so, by interacting with and understanding learners from various walks of life. 
I've connected with learners and their families, which helped me understand their passion, what drives them, and the challenges they face. This made me empathetic to their situation, and I was able to advise them on the best educational products and solutions, per their requirement. 
How important is it to be a team player in Sales?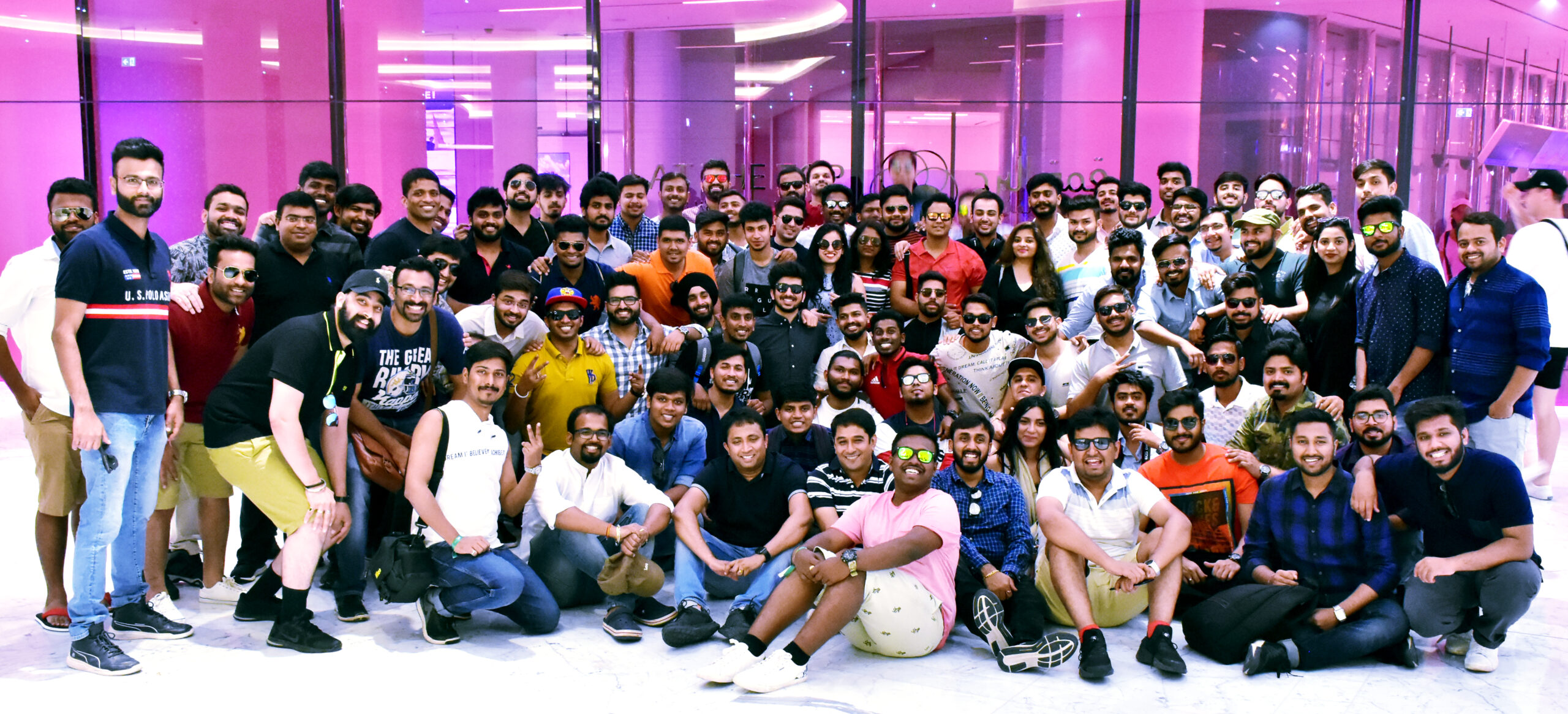 In Sales, the market is ever-changing, new challenges arise every week and so do new solutions. It is best to go to your seniors for advice but you also need to interact with fellow-BYJUites to brainstorm for better solutions, innovations, learnings, and guidance. 
It goes unsaid that I have learnt and continue to learn a lot from my mentors, but the knowledge I have gained from my peers is precious. I attribute a huge part of my journey at BYJU'S to my peers, who embraced me when I was new to the field. 
Also Read: "We are dynamic, agile, and new-age": Indraneel Kumar Das on the most exciting part about his BYJU'S Tuition Centre journey
What is your favourite BYJU'S memory? 
My first-ever promotion, from Associate to Manager, is a moment I'll always cherish. I was promoted after completing just one and a half years as an Associate. And that's how it works at BYJU'S; if you are dedicated, you will always be given opportunities to level up. 
Do you have any tips for those aspiring to join BYJU'S?
In order to be a part of BYJU'S Sales team, you need to have an open mind and a hunger for knowledge. You should know how to put yourself in others' shoes and understand how they think and function.
Sales is more than a profession. It is a life skill that you need, to excel in any field. Being a part of BYJU'S Sales team not only adds value to your career graph but also helps you become a well-rounded individual. 
Like what you read? Head to Life at BYJU'S to learn more about our work, people, and the stories that make us unique. To explore job opportunities, check out Careers at BYJU'S.