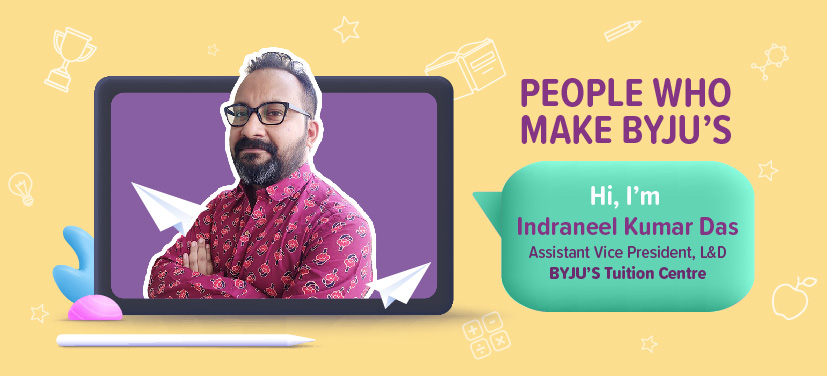 If you had to describe Indraneel Kumar Das in one word, it would be: Independent. It started with his boarding school (when he was eight) and has continued over the past three decades.He has lived and worked in a city that was not his hometown, making him more responsible and helping him experience true freedom. 
"I think my childhood experiences have prepared me for such challenging roles, where a lot of independent thinking and decision-making is required," says the Assistant Vice President of Learning and Development at BYJU'S Tuition Centre. Indraneel and his team are responsible for developing and enhancing the skills of the talented BYJUites who are part of BYJU'S Tuition Centre (BTC). 
Also Read: BYJU'S across generations: Gen X, Millennials, and Gen Z on bridging the generation gap
Exploring a unique work culture
Over the past year, Indraneel has designed, developed, and deployed, learning systems to train and upskill fresh talent at BTC. "We are not just providing great learning experiences to our students through our cutting-edge products, but also extending that idea of creating a culture of learning to all BYJUites too," he adds.  
The culture at BYJU'S is dynamic and agile, something that attracted Indraneel in the first place. "That, combined with the desire and dedication to create a love for learning not only among students across the country, but also within the organisational ecosystem is commendable. It's a great place to learn, innovate, and grow," says Indraneel. 
After working with several multinational corporations over the last eighteen years, it was a desire to create something from scratch that prompted Indraneel to join BYJU'S. "I joined BYJU'S when BTC had just been launched. The challenge to create new processes and functions, to experiment and take risks excited me. It was time for me to explore a fresh, dynamic, and fast-paced culture," explains Indraneel. 
Also Read: "The future of learning is already here": BYJU'S Tuition Centre's Academic team breaks down its unique approach | International Day of Education
Being adaptable and creating a sense of ownership
It's definitely been an exciting journey for Indraneel so far. Spearheading the learning and development initiative at BTC, he judiciously formed his team. "We have scaled the L&D vertical from zero and have reached thousands of BYJUites, helping them put their best foot forward to ensure students have the best learning experience," he says. 
"Adaptability is the need of the hour. As an organisation with a tremendous growth curve, BYJU'S is continuously evolving for the better," says Indraneel, adding, "For anyone who loves to experiment and take bold risks to ensure the best possible outcome, BYJU'S is the place to be. With a strong focus on innovation and taking ownership of your work, it's a great organisation to learn and grow."
Hailing from a small town in Bihar, he believes that staying connected to his roots is as important as exploring newer and challenging roles at work. "Whenever possible, especially over the weekends, I spend time with my family, growing our own food at our organic farm. It's rejuvenating and takes me back to the small town I grew up in," shares Indraneel. 
Also Read: Spreading wings of freedom through education: BYJUites on celebrating 74th Republic Day
Like what you read? Head to Life at BYJU'S to learn more about our work, people, and the stories that make us unique. To explore job opportunities, check out Careers at BYJU'S.