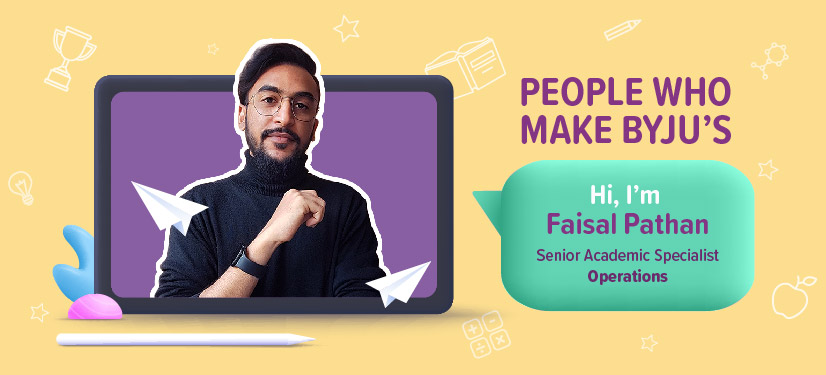 "In this rapidly evolving world of technology and education, we, at BYJU'S aim to kindle the flames of curiosity, fuel the engines of critical thinking, and unlock the boundless potential of every learner." 
Meet Faisal Pathan, Senior Academic Specialist, whose engineering background and familial roots in education led him to the fascinating world of technology and learning at BYJU'S. Embark on a captivating journey with him, through his two-year tenure at BYJU'S, where he continues to teach Science from grades 4-8 and Chemistry from 9-10. He also works on innovative projects that make a real impact on learners. 
Also Read: How Sandeep Changlani is channelling his passion for education to drive academic strategy at BYJU'S Tuition Centre
Contributing to BYJU'S cutting-edge projects 
Starting his journey at BYJU'S as an Academic Specialist, the 25-year-old is now leading a team of Academic Specialists and also tutoring learners. Amidst the diverse range of projects he has been a part of, there is one that holds a special place in his heart. 
Faisal expounds, "Apart from the daily tutoring responsibilities, my team has been entrusted with Doubt Solving Classes, a one-on-one personalised online session that enables learners to communicate their Science, Maths, and Social Studies queries with their tutors, in a language they're comfortable with. We believe that education should never be limited by language, as a learner's curiosity transcends all boundaries. We are always in contact with parents, so they are aware of their child's progress, plus we're forever open to their requests and enquiries." 
Work culture and teams
For someone who is fresh out of engineering college, starting their professional journey as an Academic Specialist might seem overwhelming. But if the work culture is conducive, nothing is daunting. 
Faisal highlights the unique work culture at BYJU'S and the inclusive opportunities available to all. "I was nervous Initially, but the specialised training, mentorship, and supportive work environment helped me gain confidence and allowed me to ease into the role. My manager and trainers were incredibly supportive and invested in my vision. I was also given challenging projects and opportunities for cross-collaboration with other teams, including Hiring and Content. 
BYJU'S provides opportunities to all, including those who took a hiatus and want to resume their careers, like mothers who may have taken a break to raise their children. 
Also Read: Innovation Day | Reimagine learning every day: BYJUites celebrate the power of innovation
Working as BYJU'S Academic Specialist 
BYJU'S holds the belief that learning and unlearning are integral parts of our everyday lives. For those aspiring to join BYJU'S Academic Specialist team, Faisal Pathan shares some valuable advice: 
Make sure you're up-to-date on the latest research and developments in the field of education 

Be comfortable with technology and new digital tools and platforms 

Polish your communication skills, because you will work closely with not just your own team but also Product Managers, Designers, and Engineers 

Be flexible and adaptable to change, since the EdTech industry is constantly evolving  

Be passionate about education and have the desire to make a positive impact on the lives of learners. This will help you stay motivated and committed as an Academic Specialist at BYJU'S.
Like what you read? Head to Life at BYJU'S to learn more about our work, people, and the stories that make us unique. To explore job opportunities, check out Careers at BYJU'S.