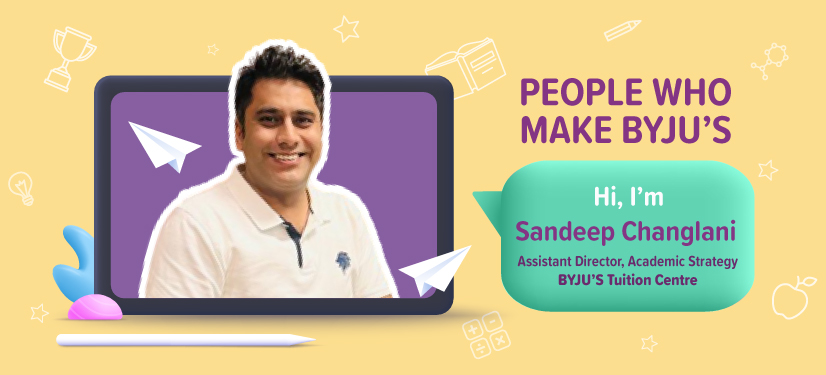 Right after his graduation, Sandeep Changlani began teaching at a renowned institute in his hometown, Kota. "I was fortunate enough to find an opportunity to teach Science and Maths so close to home. It was an enriching experience that enhanced my academic prowess and enabled me to understand the nuances of building systems to optimise learning outcomes," says Sandeep. 
Close to a decade later, Sandeep channelled his experience as a teacher to launch and build BYJU'S Tuition Centre. "When I joined BYJU'S in October 2020, I was spearheading projects like Aakash BYJU'S Digital. Eventually, I joined BYJU'S Tuition Centre as one of its initial team members," says the Assistant Director of Academic Strategy. 
"It was almost a personal achievement when we went from the ideating BTC to creating hundreds of centres in less than two years," he adds. 
Also Read: Innovation Day | Reimagine learning every day: BYJUites celebrate the power of innovation
Building BYJU'S Tuition Centre
While Sandeep was not new to creating and scaling learning systems, it was the first time he was about to undertake a task of this magnitude. "I still remember my early conversations with the senior leaders who had this desire to create a team of India's best teachers for BYJU'S Tuition Centre," he says. 
And create he did! Along with his team, Sandeep built a dynamic and talented team of teachers, who are spread across the country. "From being a teacher myself to putting this team together, it has been a great learning and growth journey," he says, adding, " My responsibilities also included designing and optimising the curriculum to align with students' and parents' expectations. The curriculum is streamlined and customised based on the region, grades, and board." 
Creating such cutting-edge learning systems also exposed Sandeep to newer technologies and methods. "I got the opportunity to implement automation to enhance learning outcomes and create a holistic learning environment at BYJU'S Tuition Centre." 
Also Read: International Day of Women and Girls in Science | BYJU'S techies shatter stereotypes in STEM
Unique challenges demand unique solutions
The future of learning is blended and includes the best of online and offline modes of delivery. But this comes with its own set of challenges. "We had to figure out how to align the centre's curriculum to what the students were learning at school at any particular point. This is an age-old problem in the coaching industry and solving it allowed us to scale to hundreds of centres across the country," shares Sandeep. 
The solution had to be as unique as the problem — a solution that had never been attempted before. "We leveraged student data to determine the area where a particular curriculum would be better suited, based on the kind of schools in that area and the demographics," he says. 
Using that information, Sandeep and team have created a customised solution, unique to every centre. "Every BYJU'S Tuition Centre is managed centrally and is thereby uniform in its approach but customised in terms of curriculum to optimise students' learning outcomes," he adds.  
It is this opportunity to create solutions to challenging problem statements that drives Sandeep. "That's the beauty of working at an organisation like BYJU'S, where you get the opportunity to experiment, learn, and grow while addressing some key challenges," he says. "It's important to be patient and trust your team and the processes you believe in." 
Also Read: Creating impact and embracing new challenges: Why Suraj Marpak decided on a career shift to BYJU'S
As a parting note, Sandeep shares some tips on how to excel at one's career at BYJU'S Tuition Centre. "You need to have a teacher's mindset and a passion for educating others in order to understand the students better. Besides having the relevant subject matter experience, it's important to have a business-positive acumen and a knack to solve complex challenges," concludes Sandeep.
Like what you read? Head to Life at BYJU'S to learn more about our work, people, and the stories that make us unique. To explore job opportunities, check out Careers at BYJU'S.