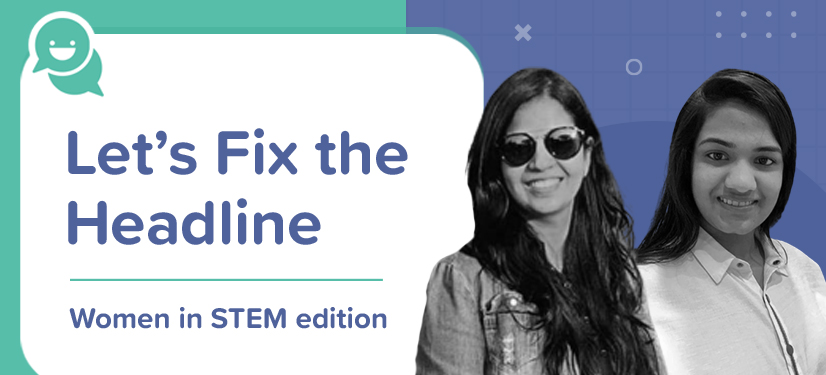 Statistically speaking, less than 30% of tech roles in India are held by women. This is according to the World Economic Forum's Global Gender Gap Report. And according to the same report, it will take another 132 years to achieve gender parity in the global workforce. 
Another survey points out that 95% of children in India have a male role model in STEM (Science, Technology, Engineering, and Mathematics). Clearly, we need more women in the STEM workforce, and while the gap is reducing (from 2019 to 2022, there has been a 6.9% increase in the number of women in the global tech workforce and the number of girls taking admission to engineering courses in IITs have tripled since 2017), we still have a long way to go. What doesn't help is the bias associated with girls and women. 
Also Read: Creating impact and embracing new challenges: Why Suraj Marpak decided on a career shift to BYJU'S | Why Edtech?
From 'STEM is a masculine field' to 'Women lack the technical skills', we've heard it all. But several women in STEM have shattered the proverbial glass ceiling and tackled biases head-on. From Annabelle Huang to Jennifer Doudna and Laura Boccanfuso, women have been making headway in the tech world for some time now.   
This International Day of Women and Girls in Science, we speak to two dynamic BYJUites — Kirti Pandey and Samta Bansal — who are making a mark in their own way. They discuss their experience handling these biases headfirst and smashing the stereotypes, one at a time. 

"Growing up, I've seen my mother seamlessly balance work and family. When my sister too started working, the idea that work and life can be balanced, was reinforced," says Kirti. "I always wanted to create an impact with my work. Honing my skills in multiple tech roles over the last decade has only solidified the belief that this is something I'm good at and something that I want to continue doing."  
The Senior QA Engineer joined BYJU'S over a year ago and has since been part of several projects where she left her mark. "It's important to judge people on their skills and not their gender. I've heard people talking about how they don't want female coders, developers, and QAs in their team, because they feel that women won't go that extra mile or that they lack the necessary skills," she shares. 
Creating a safe and inclusive work environment is essential for the growth of the employees and the organisation, believes Kirti. "I'm glad to have found that at BYJU'S, where I'm given adequate flexibility and ownership," she says, adding, "A safe workplace entails having proper protocols when the work hours stretch, instead of forcing a woman to leave early after handing over the project details to a male colleague. I've experienced this previously."
Also Read: Moving up the ladder: Newly promoted BYJUites share their impactful journey
Introducing women-forward policies only encourages more women to join the workforce and is the need of the hour. Kirti says, "I'm grateful for the Period Leave at BYJU'S. Typically, taking leave due to period cramps is frowned upon without any empathy. It's unfair that women have to keep proving themselves at every turn, especially in the tech domain, and taking leaves for periods can set them back. The no-questions-asked leave policy here is a saviour." 

Samta Bansal feels it's important for women to speak up, especially when they're the only ones in a team full of men. "If you don't put your point across, you'll always be underestimated. Being confident and carving a niche with your skills can help in getting recognised for your work," says the Software Engineer. 
A lack of recognition prompted Samta to quit her previous job and join BYJU'S. "I felt alienated; my manager hardly knew me or my skills. I witnessed partiality first-hand when my male colleagues were preferred over me and that hurt, because I was doing the same work and putting in the same number of hours, if not more," she recalls. 
But quitting shouldn't be the answer, feels Samta. "I wish I had been more vocal. I urge everyone to voice their needs and be heard," she says. "While I'm happy to have joined BYJU'S and found a great team that recognises my work and motivates me to keep learning and growing, I make sure to voice my views." 
"It's not right that we have to keep proving our skills and worth as women. And it's essential, especially in the tech domain, to give it your best and keep improving your skills," says Samta. "Aiming to be at the top of your game and dedicating yourselves to your tasks, without worrying about being scrutinised on the basis of gender, should be helpful," she adds. 
Also Read: Exploring freedom of innovation at BYJU'S: Assistant General Manager, Manju Kiran's tryst with Sales
Stereotypes and biases plague women at the workplace, no matter the domain. But it is in the so-called male-dominated fields where the stereotypes can hinder their ability to perform. Creating a safe and inclusive workplace that recognises skills and talent over anything else, is something we're proud of at BYJU'S. And while there's still some time before global gender parity is achieved, we take pride in celebrating the grit and resilience of these powerful women. 
Like what you read? Head to Life at BYJU'S to learn more about our work, people, and the stories that make us unique. To explore job opportunities, check out Careers at BYJU'S.