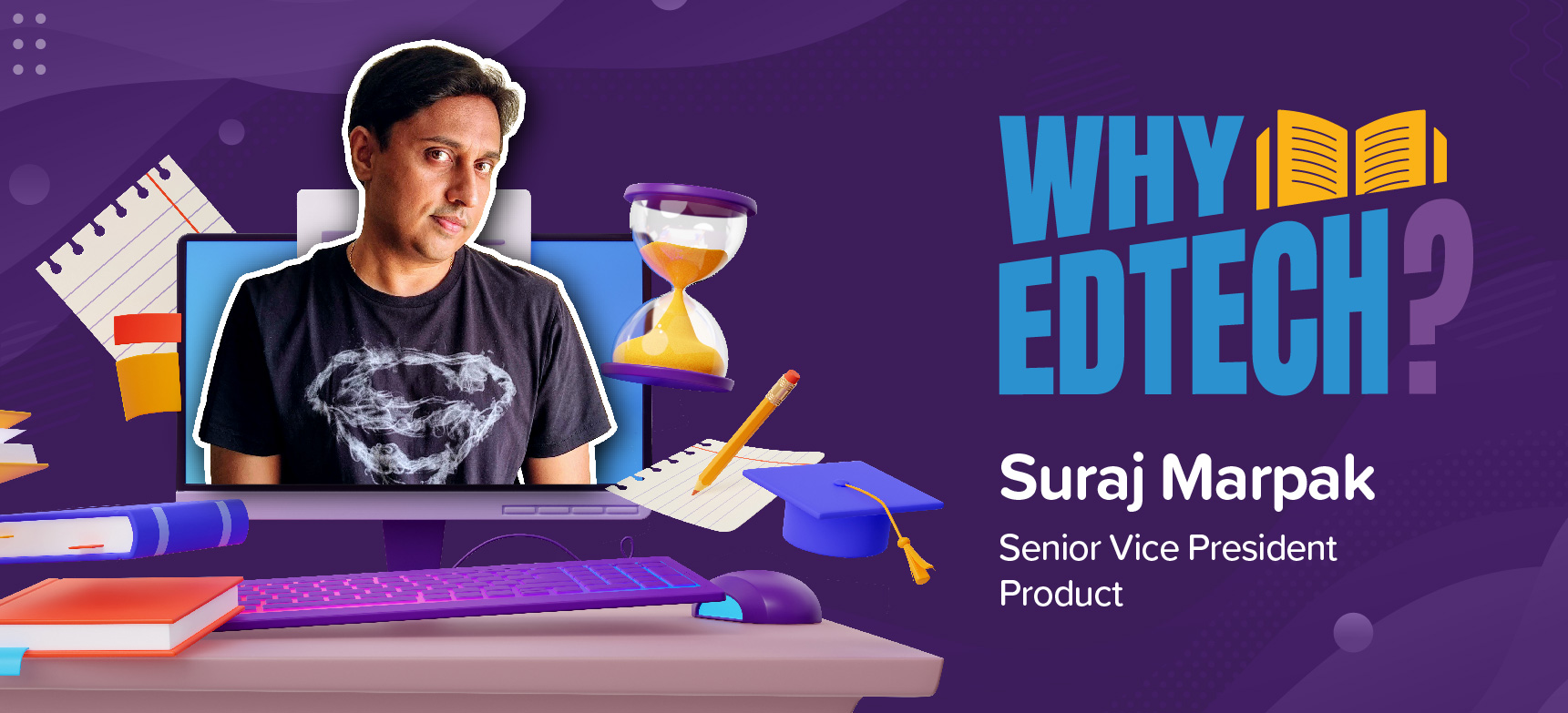 After working with leading tech and e-commerce companies for over 18 years, Suraj Marpak was ready for his next big challenge, and to embrace a whole new domain. That's how he stepped into the edtech world, and is hoping to take BYJU'S to greater heights. 
"Education is the key to driving India's future growth. I feel motivated and driven to work at a place that creates long-term impact and addresses broader social and economic problems," says Suraj. "With the stupendous growth that edtech witnessed and the unflinching mission and vision of BYJU'S founders to educate India, this felt like the right place to be," he adds.
In our new series, Why Edtech?, we take a deep dive into why BYJUites chose to pivot to the edtech sector and what prompted them to join BYJU'S and become part of our innovative and talented team. 
Also Read: Moving up the ladder: Newly promoted BYJUites share their impactful journey
Desire to create impact
Besides a desire to create impact through our cutting-edge learning products, Suraj also wanted to help shape and enhance a strong Product culture. "It is a great prospect to do so in a newer and growing organisation like BYJU'S. I wanted to take up this challenge and work alongside some very talented people to make it a reality," says the Senior Vice President of Product. 
"What also drew me towards BYJU'S was the scale of growth and the impact it has on the world. Education is largely also determined by access. If we can reach a girl child in the most rural areas and give her a map to world-class education, then we are solving a great problem," he says. "And I'm glad to play my part in enabling that through my BYJU'S journey." 
Learnings from past experience
With a diverse experience in Product behind him, Suraj's BYJU'S journey also involved some unlearning and relearning. "I have grown a lot in my previous stints, and have learnt some very important lessons that have aided my career growth. I hope to bring those learnings to my role at BYJU'S," he shares. 
Also Read: Exploring freedom of innovation at BYJU'S: Assistant General Manager, Manju Kiran's tryst with Sales
Among other things, Suraj's experience led him to believe that a dynamic and evolving work culture drives growth. "I hope to influence my teams in such a way that it unlocks their optimum potential. Every BYJUite has the talent and opportunity to participate and grow through this unique journey, and I want to help them achieve that."  
Developing founder's mentality
What matters most, believes Suraj, is the alignment with the mission and vision of the founders. "While there's great scope for creating impact, it's important to have that founder's mentality," he says. "BYJU'S founders are educators at heart and their unyielding vision to educate the world is a great prospect to align yourself with," adds the BYJUite.  
"Technology has not impacted education so much as it has over the last decade. And to work at a place that drives these technological innovations to understand learning, motivation, and education as a whole, to create immersive experiences is truly outstanding," says Suraj. "And if you want to be part of an organisation that is disrupting how education is imparted and has a futuristic vision, then BYJU'S is the place to be," he concludes.
Also Read: "We are dynamic, agile, and new-age": Indraneel Kumar Das on the most exciting part about his BYJU'S Tuition Centre journey
Like what you read? Head to Life at BYJU'S to learn more about our work, people, and the stories that make us unique. To explore job opportunities, check out Careers at BYJU'S.