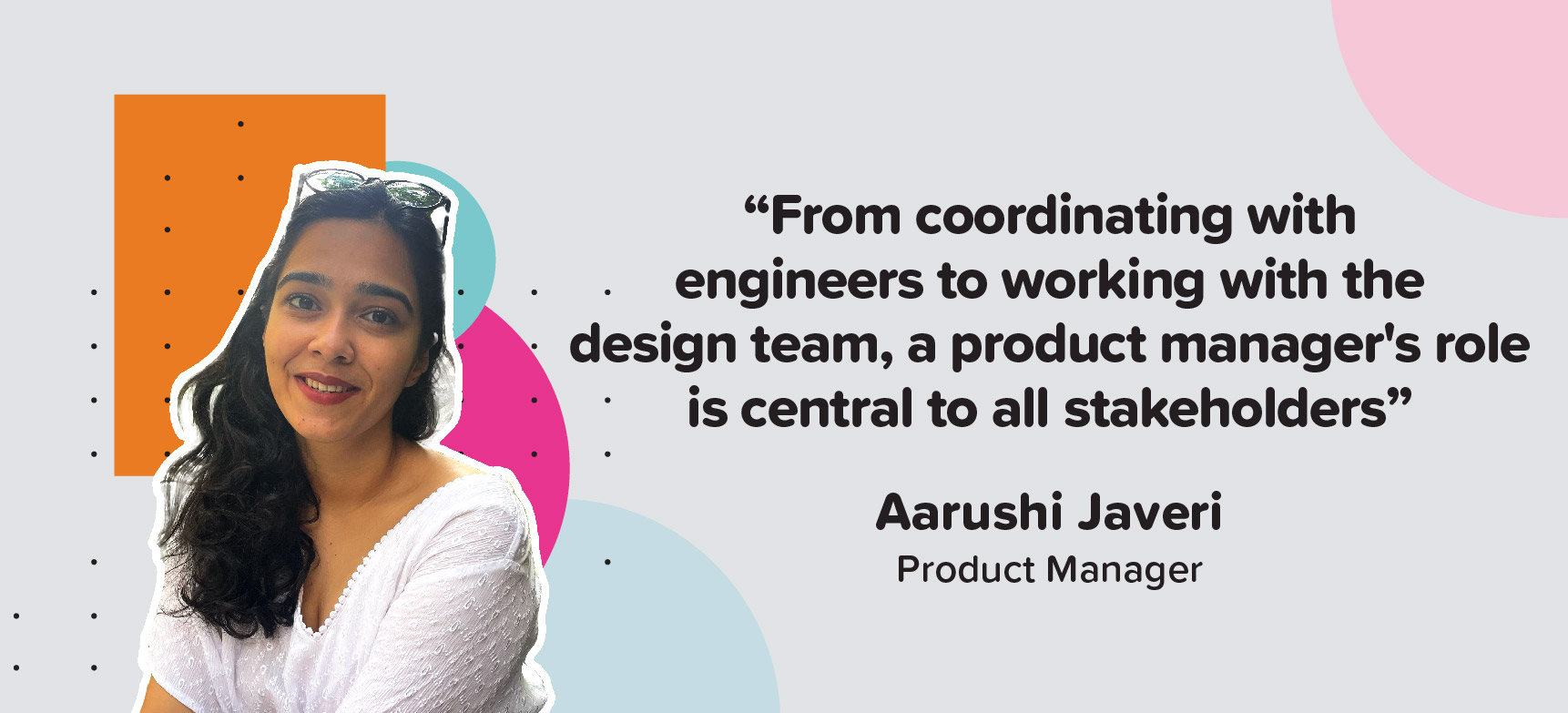 "Never let the fear of striking out keep you from playing the game. These words have stuck with me throughout my career," says Aarushi Javeri, a Product Manager at BYJU'S. 
The enterprising BYJUite, who hails from Chennai, has been multifaceted throughout her professional journey.  She started her career in business and sales and gradually worked her way into marketing operations and relationship management. In between, the 28-year-old also tried her hands at renting properties, hosting guests, and curating one-of-its-kind experiences for travellers. 
These are experiences, says Aarushi, that have shaped her career and put her on the path that she is on today! In this edition of A Day In The Life Of – our employee series where BYJUites offer a glimpse into their typical workday – Aarushi Javeri gets candid about her inspiration, her team, and striving as a Product Manager at BYJU'S. 
Walk us through your journey and what brought you to BYJU'S? 
Unlike most product managers, I come from a business background. I started my career in sales and business development and then moved on to marketing operations and relationship management. 
My transition to a product role happened in my previous job where I was working as a relationship manager. It was during this time that I got the opportunity to interact with learners, develop new ideas and apply them to products. All these experiences helped me hone my skills and put me on the career path that I am on today. 
What does your typical workday look like?
From working with engineers to the design team and collaborating with the quality assurance team to the analytics team; a product manager's role is central to all stakeholders. A typical day for me starts with prioritising tasks, planning the roadmap for the product, making sure dashboards are up and running and making tweaks to the product. 
Also, we look into competitor analysis to understand what others are doing with their products, figure out what the market needs, and then design those flows on the app. 
What's one thing about you that might surprise us?
For about five years since 2015, I was a travel host and rented out properties in collaboration with a popular travel and tourism app. As part of this business, I curated unique experiences and organised staycations. Be it food tours or historic cycling tours, I have hosted over 100+ people travelling from across the world in Chennai.  
Making five types of Indian bread, learning how to cook an Indian meal, and breakfast crawling were among the many other experiences I organised for travellers. 
I have always been an enterprising person by nature and this trait helped me conjure up new experiences for travellers and organise unique stays for them. As a travel host, some of my best learnings were from this experience; I began to understand people, their requirements and also how to plan inventory management.
Also Read: Filmmaking to BYJU'S: How This VFX Supervisor is Channelling His Experience Into Cutting-edge Learning Products
What keeps you excited about your role?
My team! They've been very supportive and I am surrounded by go-getters. Even though we all have different personalities but when it comes to working together our wavelength matches. 
Any tips for those aspiring to join BYJU'S?
I would always say, think about the learner first. As a product manager, you have to be collaborative and expeditious. It is also vital to stay focused and attentive at all times. 
Also Read: Teacher By Chance, How Avinash Dhanoa Discovered her Passion for Education
One thing that helps you unwind and stay energised? 
I am an ardent reader of fiction novels and I believe you learn all your important life lessons from them. I'm also very particular about health and fitness. In my leisure time, I love to hit the gym and dive into the pool. That's a large part of what keeps me going.
Head to Life at BYJU'S to learn more about our work, people, and the stories that make us unique. To explore job opportunities, check out Careers at BYJU'S.