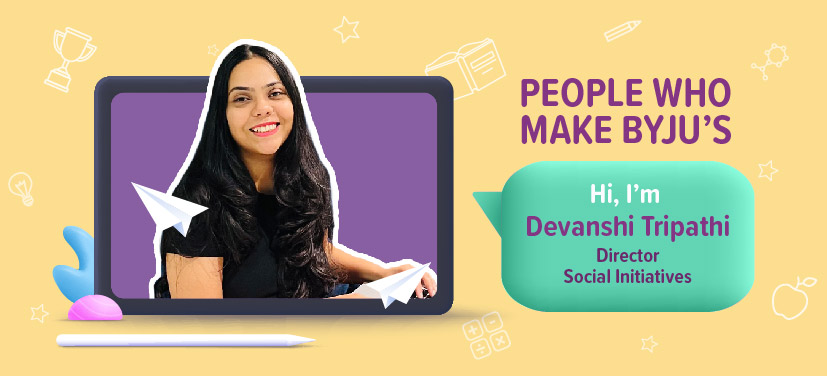 "When you start your career at BYJU'S, you realise that you're not the only one here who wants to create an impact. You can expect the support of passionate and dynamic people throughout your time here."
Meet Devanshi Tripathi, Director of Social Initiatives team at BYJU'S. Through a career that's spanned more than a decade, and a variety of companies, she brings a unique perspective to the table, along with a passion to empower underserved communities through social development.
"I've always been inclined towards working in the edtech sector. In fact, within the development sector, education is one of the themes that interests me the most. I believe education enables people with the knowledge, skills, and values they need to lead a better life. And when I came across this role to lead the Social Initiatives team, and BYJU'S being the pioneer in edtech, it seemed like a match made in heaven," she tells us. 
Building better-together
Ever since Devanshi was in college, she was passionate about working in the social development sector. After completing her undergrad in economics from Symbiosis International University, pursuing an MBA in rural management came naturally to her.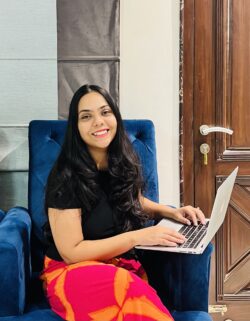 "Early in my career, I worked with the National Rural Livelihood Mission, which is a government programme that focuses on financial inclusion of women through self-help groups across the country. Later, I moved on to a startup that imparts skill development courses to the youth from underprivileged backgrounds. It took dabbling in different fields and learning a lot along the way, to figure out how to turn this passion into genuine impact," quips the BYJUite. 
These experiences gave her diverse exposure on how to engage with interesting technology, ideas, and people. And with this unique perspective, Devanshi joined BYJU'S in August 2020.
Also read: How BYJUites are empowering girl children through education and volunteerism | International Day of The Girl Child
Ensuring learning never stops
As the Director of Social Initiatives, her role includes leading key social initiatives, overseeing day-to-day operations of the social programmes, and creating partnership with NGOs.
"I joined during the pandemic;  we had just launched our flagship initiative, 'Education For All'. Schools were shut across the country and a copious number of children were deprived of opportunities to learn. It was a tough time for parents, especially those from underprivileged backgrounds who were unable to teach their kids. That's when we partnered with NGOs to provide BYJU'S content free of cost to children from rural areas to ensure learning never stops. And now we aim to reach 10 million learners by 2025," she explains.
Helping others learn and grow
As a leader, mentor, and life-long learner, Devanshi takes pride in helping others learn and grow. While the passion for social impact keeps her motivated at work, helping her family run their multi-cuisine restaurant in Bangalore fuels her passion outside of work.  
"This was my first experience at setting up a business. The idea behind it was to create a comfortable space for people and their furry friends. I have two pets and I remember I had to leave them at home whenever I went out to socialise with friends and family. That's where I got the idea to open a pet-friendly restaurant," she says. 
As an entrepreneur, one of the biggest lessons she has learned is grabbing opportunities that come your way and keep learning. "That's probably my biggest piece of career advice. At every step of the way, I've been encouraged and supported to follow my interests at BYJU'S. That's what's so exciting. You can make choices based on your own interests, and at the same time create a fulfilling and engaging work life."
Like what you read? Head to Life at BYJU'S to learn more about our work, people, and the stories that make us unique. To explore job opportunities, check out Careers at BYJU'S.