Great inventions don't happen overnight. They are made possible by enterprising people with innovative ideas. At BYJU'S, this translates into a culture of diversity and infusion, with people from different backgrounds and varied skills coming together to revolutionise the learning experience for students.
People Who Make BYJU'S – our brand new series on employee stories – spotlights these people and captures their stories of learning and growing with BYJU'S.
For Tannishtha Sanyal, Principal Director of Content at BYJU'S, working in the field of education wasn't a whimsical decision. It was a path paved by her passion for teaching, earnestness to make a difference through her work, and the drive to make sure that her efforts have a larger impact. 
Even though the BYJUite cheekily confesses that "the career path kind of chose me", there is more to the story of how she landed the role at BYJU'S. It all started when she had just begun her professional journey. The techie, with a degree from IIT Bombay and a Masters in Education from Harvard, was working as a business analyst by the day and volunteering at a government school by the weekend. 
What started out as a philanthropic effort, however, took a more serious and focussed turn when she traced her way to BYJU'S, creating learning experiences that impact a much larger community of students.
Get to know Tannishtha and her role in BYJU'S better in this instalment of People Who Make BYJU'S.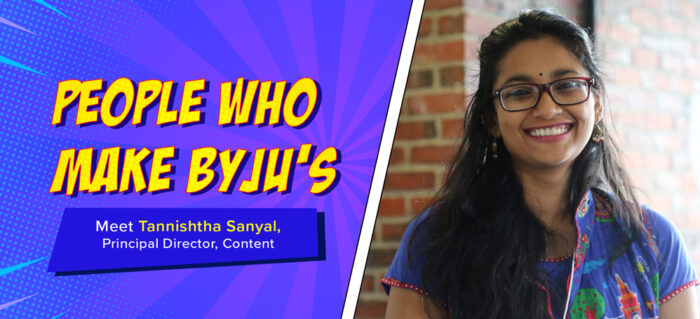 And if you are interested in a career with BYJU'S, drop in a mail at recruitments@byjus.com.
Read more: When you work with smart folks, you get smarter: Sarvjeet Singh, Lead iOS Engineer
From designing apparels to creating design strategy for Edtech, Priyanka's art canvas feeds her obsessions
Happy 9th anniversary, BYJU'S: Here's to Reimagining the Future