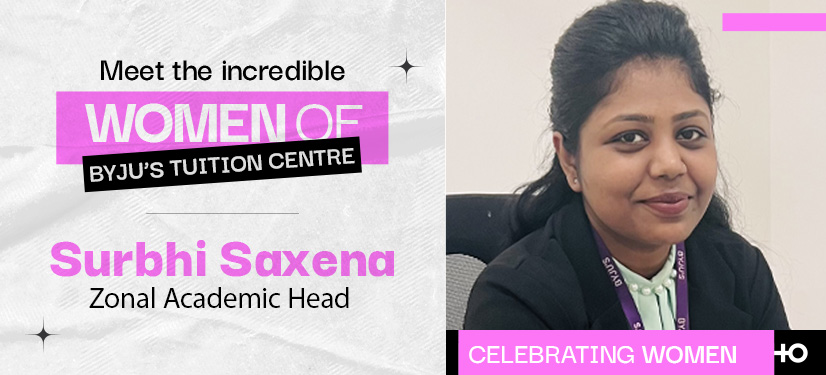 Just a year after joining BYJU'S Tuition Centre (BTC) as a faculty member for Chemistry, Surbhi Saxena was promoted to Zonal Academic Head (Gujarat and Rajasthan region). Her passion and drive to create a seamless learning environment at the centres led to her rapid rise. "I was overjoyed at the promotion! It's a great feeling when your talent and hard work are recognised," she says. 
The recognition of her talent, and the trust that her seniors have bestowed on her, are the biggest achievements in Surbhi's BYJU'S journey. "BYJU'S is a place of equal opportunities. Your gender doesn't matter as long as you have the acumen and skills to handle the position," she adds. 
In our new series, Women of BTC, we highlight inspiring and powerful stories of female leaders making their mark at BYJU'S Tuition Centre. 
Also Read: Women empowerment through education: Can technology-led learning increase women's workforce participation?
On a learning curve
After spending several years teaching at a coaching institute in Kota, Surbhi got to explore tech-enabled learning through BYJU'S. "While I was confident in my teaching abilities, it was the first time I learned how technology could be leveraged to deliver learning outcomes. A whole new world of possibilities opened up for me. 
My seniors at BYJU'S taught me how to assume more responsibilities in a leadership role, and helped me grow and advance in my career. The support and freedom you receive to put your ideas forward, is unparalleled," she says. 
What does Surbhi feel is the best part of her job? "The ability to share my knowledge and skills, with not just the students and teachers, but also my seniors. Your designation doesn't matter as long as you have a great idea that can potentially help overcome a challenge. You will be heard and your idea will be implemented." 
Also Read: BYJUites on strong female role models and how they have shaped their lives and career
Skills, ownership, and more
An important part of her BYJU'S journey is Surbhi's focus on ownership of her centres. "Being responsible for several BTCs in Rajasthan currently, a sense of ownership has organically developed. I feel responsible for all my students and faculty members and my focus is always on how my centres can deliver the best learning experience. The ownership that we're given to take critical decisions for our centres only makes the journey that much more special," she shares.  
It is this skill that she feels is important for anyone looking forward to becoming a part of BTC. "Besides ownership, it is necessary to be patient. It's important to form bonds with the students, and sometimes the parents, to enhance the child's learning journey. This requires diligence and dedication, which are essential qualities for anyone at BTC." 
Above all, it's essential to have a positive outlook as that enables one to embrace all kinds of challenges, she tells us "The two-teacher model provides ample flexibility to our students, parents, and teachers. BTC also follows a blended learning model, adding to the freedom of all faculty members. All you need to succeed is the right mindset," Surbhi concludes. 
Also Read: How this single mother is helping students reach their learning goals at BYJU'S Tuition Centre
Do you feel inspired by Surbhi's journey and want to become a BYJU'S teacher like her? If it interests you, please apply here and join the learning revolution.
Like what you read? Head to Life at BYJU'S to learn more about our work, people, and the stories that make us unique. To explore job opportunities, check out Careers at BYJU'S.