In India, where every year on average, around 1.5 million students graduate with an engineering degree, as per data shared by the HRD ministry, this is a question on most people's mind. What after the engineering degree? The tried-and-tested IT route or something different? Thankfully, for Anand Sondhiya, this question has been more of rhetoric.
The brain behind the brilliant sound effects in many of our videos and learning products, Anand finds himself straddling the best of both worlds in BYJU'S, as he combines his knowledge of audio engineering with his passion for music.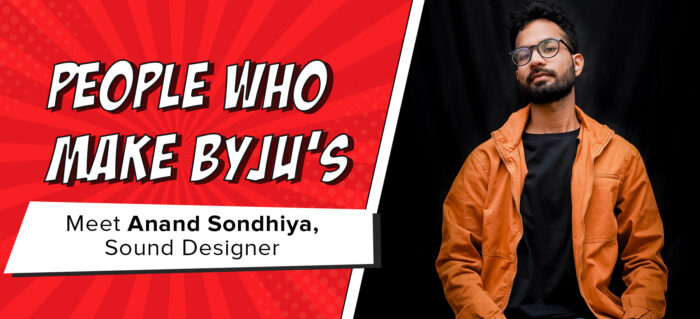 "Engineering was a no brainer for me," recalls Anand, "Growing up, I was really interested in electronics and the science behind it. As a child, I would spend hours dismantling old toys. In fact, my father and I would repair most things in our home. We would pull these gadgets and things apart and then sit together and try to fix it ourselves."
This is one of my fond childhood memories, he adds, explaining, that's how I got interested in the technical aspect of things and eventually chose to pursue engineering. But a degree in electrical, electronics, and communications engineering is only one half of the story. Anand is also deeply vested in music.
A self-taught artist, he learnt to play the guitar while in school. And by the time he was in the final year of his college, he had started expanding his horizon by picking up skills in audio editing software. All of this, by simply watching YouTube tutorials! 
"When I started, I didn't have any knowledge of the industry. I just started with exploring and recording and experimenting with things," he tells us. Interestingly, this was also around the time when Electronic Dance Music – popularly known as EDM – had also started gaining recognition in India. "Until then, we knew somebody plays the instrument and somebody records it, but electronic music was different, it was made on a computer," quips Anand.
The rise of EDM, coupled with Anand's love for music and knowledge of electronics, led to a path where the techie could dabble in both: use his core skills and still create music that makes our learning programmes fun, engaging, and effective.
Also Read: Know All About BYJU'S HR School: A Hands-On Experience For Young HR Professionals
A sneak peek into BYJU'S sound design team
Remember the sound of Balrog from The Lord of the Rings? An unforgettable character from a cult-favourite movie, the mythical creature is brought to life in the battle scenes by the incredible sound effects. Similarly, had it not been for the chilling roar of the T-Rex in Jurassic Park, it might have been a tad bit difficult to visualise a creature that has been long extinct.
But have you ever wondered, how these hyper-realistic sounds for mythical (or extinct) creatures are created? For Balrog, a simple trick of dragging a breezeblock along a wooden floor did the job. T-Rex's sound, on the other hand, was created by mixing a tiger's growl, a baby elephant's trumpet, and the sound of an alligator.
Sound effects – sneaky little tricks as they might be – are essential to the whole audio-visual experience. Sometimes, foley sounds – artificially created using everyday objects like envelopes, combs, and even manipulated animal sounds – might even go unregistered but they are crucial to the whole auditory experience.
At BYJU'S, the team of SFX (sound/special effects) artistes use a range of techniques to create the background sounds that are an essential part of our learning programmes. Anand, who comes with a unique blend of interest in EDM music and technical know-how, particularly relies on his sense of timing and taste in music to create hyper-realistic sound effects for the BYJU'S videos.
"The first BYJU'S video I worked on showed a penguin walking on ice. And there was another one showing a train coming," he shares. "There was this whole animated scene going on. But the track had no audio in it. My task was to create the sound for the video."
"So, I started working on this 4-5 minutes long video and created all the sounds that I thought should be there in it. I even recorded sounds on the guitar and downloaded various other sounds, and then filtered out the best ones. I was just given an empty canvas, and the freedom to create whatever I wanted. This helped me offer a glimpse into my own taste in music," he adds.
From creating sound effects to playing for his own band
With SFX, the scope for creativity and innovation is vast. If one artiste takes a particular approach to create a sound effect, someone else might opt for something completely different.
"You can really play around with the sounds. I can manipulate this (taps the table) to make it sound like footsteps. I can manipulate multiple sounds and make them sound like what is happening on the screen. That's what SFX designing is all about – what you have and what can you do with it," explains Anand.
But manipulating various sounds to match the visuals on screen is not the only talent that Anand has to his credit. The self-taught guitarist, taking his passion for music to the next level, also formed a band – called NAZ (short for the three bandmates, Nidhi, Anand, and Zibran) – during the lockdown and performed close to 10 gigs in a month's time.
"We started doing gigs, we even got a contract for a month," says the BYJUite, "but personally for me, a huge milestone was getting invited to Mood Indigo, which is the cultural fest of IIT Bombay, to judge one of their competitions. "It is one of the biggest cultural fests in Asia and since I am from an engineering background, it was a big thing for me," he adds.
Also Read: 5 Years, 1 Flash Mob, Countless Experiences: Manswi Garg On What Makes BYJU'S An Exciting Workplace
Tips for a creative career
From pushing his creative limits at BYJU'S to exploring the scope as a professional guitarist, Anand hasn't shied away from trying out new things or expanding his skill set. In fact, his advice to college graduates starting out in this industry is rooted in this very experience – "if you have the skills, opportunities are bound to come your way", he says.
"I don't have formal training, I learned to play the guitar on my own and learnt all the software watching YouTube tutorials. So this whole thing that if you don't have a degree, then you can't do the job. When I broke the cycle, I was very proud of it," he quips.
In his words, there is really no better alternative to hard work and practice. "Anybody can learn from YouTube, this is also a disadvantage," shares Anand adding, "The only way to make it big is by developing skills that differentiate you from the crowd."
Watch: A Chartered Accountant's Road To BYJU'S And Why It's The Best Risk He Has Taken
Head to Life at BYJU'S to learn more about our work, people, and the stories that make us unique. And to explore open roles, check out Careers at BYJU'S.