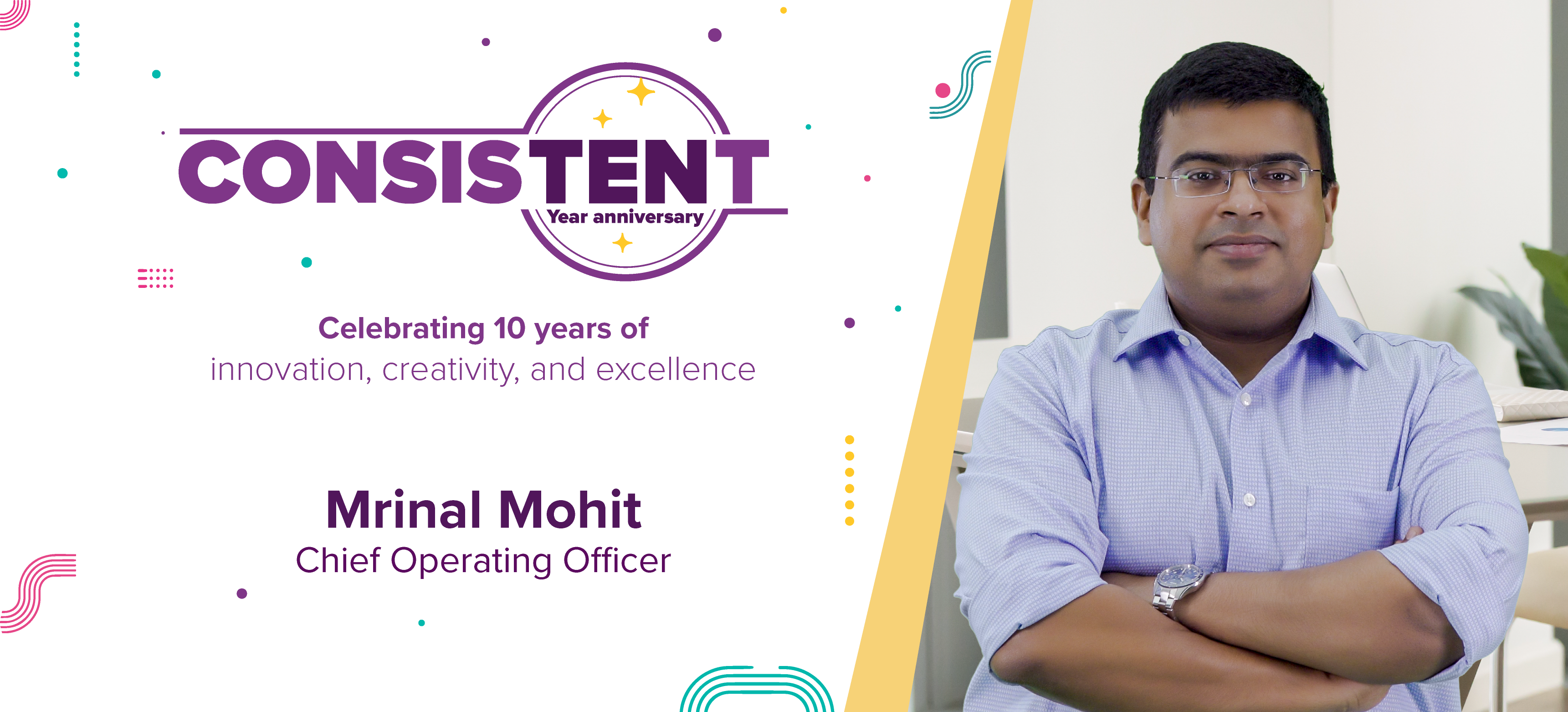 "If you have set out on a mission, the first step is to get the right people on board. Getting the right talent and retaining it is one of the key things if you want to create a company of this kind, or of any kind for that matter," says Mrinal Mohit about building and scaling up one of the world's largest edtech companies.
In the seventh episode of ConsisTENt — a series where we feature BYJUites who have been instrumental in fuelling our mission and shaping the way students learn — Mrinal Mohit, our Chief Operating Officer, sheds light on his learnings while building one of the world's largest edtech company and how these lessons have helped him grow as a leader.  
Also Read: Anita Kishore on How BYJU'S is Setting New Benchmarks in the EdTech Industry
Journey into edtech
Mrinal's journey with BYJU'S began when edtech as a sector was yet to pick up the pace. In fact, the use of technology to make learning more immersive and engaging was itself at a nascent stage. At that time, Mrinal recalls reaching out to Byju Raveendran and requesting him to come and conduct coaching sessions in Delhi. Byju was already a well-known CAT teacher in the student circuit at that time. 
"He told me, 'I don't know anyone in Delhi. I'm a single-man army. I just can't come and take classes in Delhi,'" recalls Mrinal. "I asked him what he needed. He said, 'Get me a hundred students for a free workshop and then we'll see.' We were able to spread the news to some two-hundred odd students for his workshop. When I saw the massive impact of good content and a good teacher during that workshop, I decided to join his journey in building this company," adds Mrinal.
Reinventing learning
What started with Byju and his core team has since become a mission driving the learning revolution. This journey of 10 years, coming up with new and innovative products and reaching millions of students, has been fuelled by one sole purpose: to make students fall in love with learning. 
Shares Mrinal, "As a student, I was always good at mathematics. But when Byju sir taught the same basic concepts of maths, which you generally learn in Classes eight or nine, I realised how you can think differently and the whole learning process can become more interesting."
Realising the power of quality content in facilitating concept-based learning was a key lesson that Mrinal derived along the way. He shares an interesting anecdote to drive home his point.  
"We used to conduct classes using VSAT back in the days, and when it rained, the satellite wouldn't work," the BYJUite recalls. "What surprised me was that whenever the signal would go out, there would be pin-drop silence in class. That's when I realised people were more interested in the content they were consuming, rather than what they were missing. That day I earned the conviction that content is king."
Also Read: From Stadiums to the Screen, Santosh Kumar Traces his BYJU'S Journey Over 10 Years
Building the world's largest edtech company
Having been there throughout the journey, Mrinal says one of the key factors to building and scaling a brand like BYJU'S is to develop a deep understanding of the strengths and qualities of everyone in the team. "All of us come from diverse backgrounds, but we have learned to align ourselves in our mission. This is very critical when you are growing a company at such a fast pace. The fact that you know the top management is completely aligned, provides a lot of acceleration and comfort to people across the teams," adds the BYJUite.
If making everyone a part of the mission is the recipe for growth, keeping up with the changes is also vital for a leader to successfully guide his team to success. Especially for an organisation like BYJU'S, the transition has followed three stages, starting with "survival", followed by "sustenance", and finally (also the stage we are in), "enterprise". 
"In every step of the way, you need a different style of working," quips Mrinal adding, "The survival stage needs a lot of conviction. Sustenance needs a lot of discipline and rigorous execution. But when you are in the enterprise phase, that's where you need vision and organisational development. I feel I have also been able to change my team management style as this company has moved through all the three phases." 
Also Read: Start Small, Dream Big: Shrimn Nishit on Why it's Important to Build a Strong Foundation for Success
Liked what you read? Head to Life at BYJU'S to learn more about our work, people, and the stories that make us unique. To explore job opportunities, check out Careers at BYJU'S. 
(The story has been put together by our Storyweavers, Shreesha Ghosh and Sutrishna Ghosh)