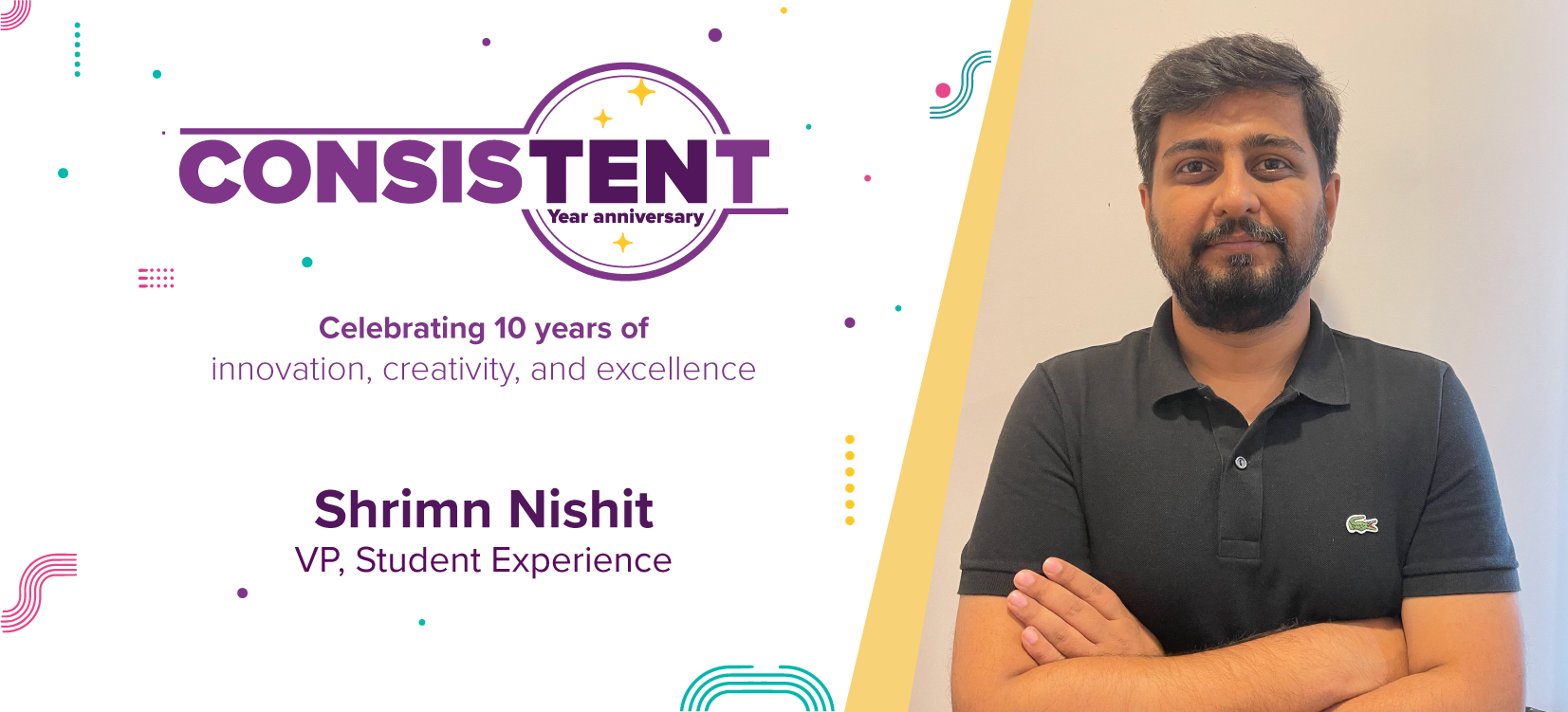 "As a family, we have become much bigger now. We never thought that we would become what we are today. A small office in Koramangala with some 20 odd people. That's all it was. And now there are many many offices, thousands of people — it's been an amazing journey," says Shrimn Nishit.
In the fourth episode of ConsisTENt — a series where we speak to BYJUites who have been with us since the beginning — we bring you Shrimn Nishit, the VP of Student Experience who shares with us his early days at BYJU'S, how the company has evolved over the years and the things that aspiring BYJUite should keep in mind.
Watch
Watch: From CAT Classes to Building BYJU'S Logistics Backbone; Mohnish Jaiswal's Incredible Journey
Nishit joined BYJU'S as a Business Development Trainee back in 2011. Since then, he has dabbled in multiple departments at the company. From meeting parents to taking workshops, managing teams and handling businesses, the list goes on.
"I always tell my friends and colleagues that I have done everything here except maybe creating products and working with the tech team. It's interesting to note that the excitement I had, back in June 2011 and what I have now in 2021 is the same. Everyday. And that's the fun of it." 
A look back at the early days of BYJU'S
Nishit's journey with BYJU'S started back in college when he was asked to become the Student Coordinator for the Manipal batch.
He recalls, "I remember my father coming to me and asking, 'You've actually joined a Coaching Institute as a full-time job?' He was in disbelief and asked me to show him my offer letter. It was really difficult for me to convince my parents at first. I told them, 'Let me do this for one year and we'll see,' and they agreed. And the rest is history. I remember back then people asking me, what is this B-Y-J-U-S. Is it an acronym?  And all that. From that to the brand name being on top of the Indian jersey… that tells you how much the brand has evolved."
Also Read: Opportunities for Growth and Learning are Phenomenal at BYJU'S: Devashish Pundlik
It's hard for Nishit to pick one favourite project as he has been involved in several initiatives. While some of it has worked, some have not and some others didn't take the shape the way it was expected. And that, he says, is what makes working at BYJU'S different. The more experience you gain, the more exposure you get, the more will be your understanding of what you need to deliver. 
We ask Nishit to share some tips for beginners at BYJU'S. And he says that the key is to keep it simple. 
"

Don't think about what you would do in 10 years. Keep very small goals. Have small aspirations. Goals can be set for a day, a week or a month. Don't think about what will happen. Will I become a manager in five years? Would I lead a team? And will I be learning new things? Of course, you will do all that. Because in a vibrant organization like ours, the opportunity is abundant. If we had a bunch of things to do in year one, we have a larger bunch of things to do in year 10. And we might have many more things to do in year 15 and in year 20. Believe in them, believe in yourself. Do the basics right and things will fall in place."
Like what you read? Head to Life at BYJU'S to learn more about our work, people, and the stories that make us unique. To explore job opportunities, check out Careers at BYJU'S.  
(The story has been put together by our Storyweaver Fathima Ashraf)