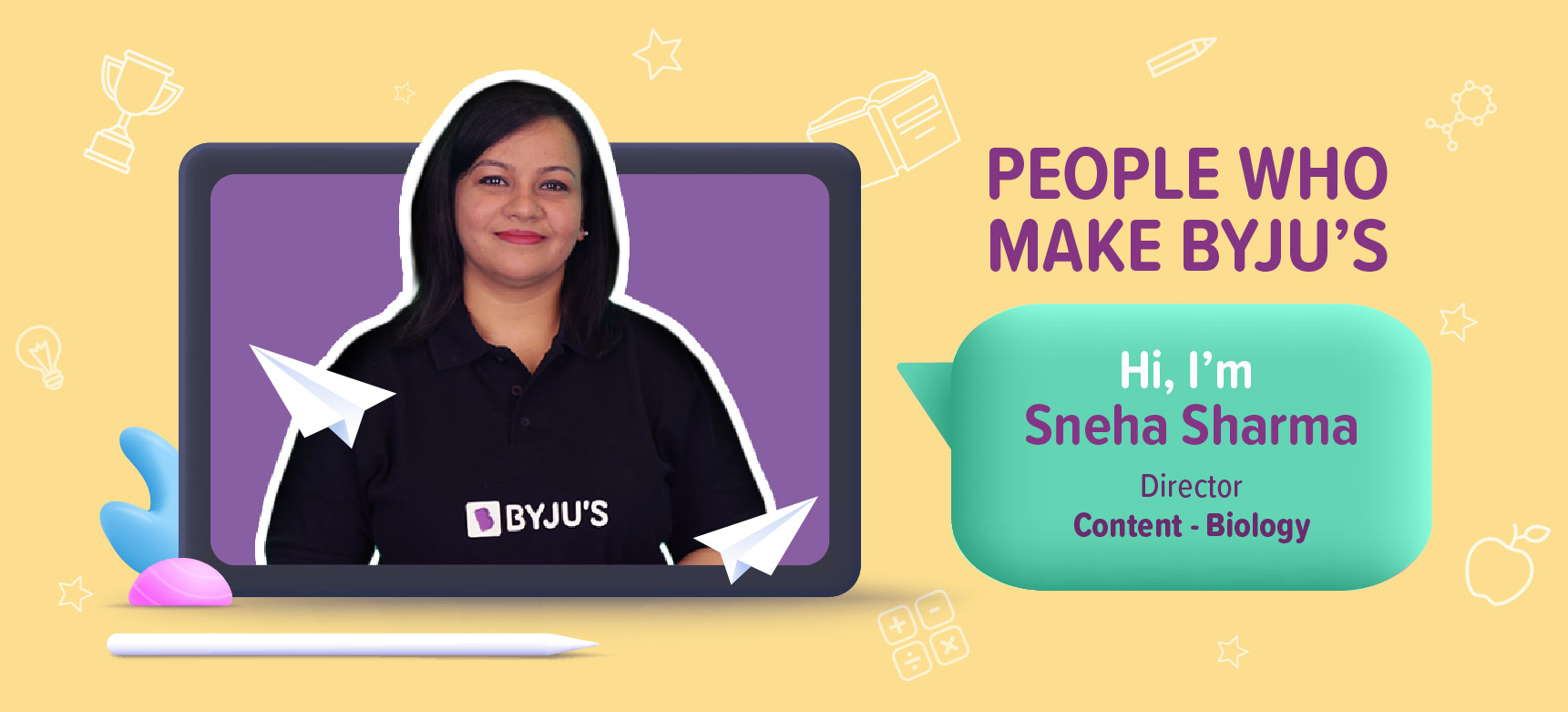 "From complicated to interesting, biology, as a subject, evokes different emotions among people. At BYJU'S, we believe that there are no boundaries to learning; it should be exciting and accessible to everyone. This is why the BYJU'S content team is  constantly looking for innovative ways to make learning more fun and relatable." 
Meet Sneha Sharma, Director, Content – Biology, who is passionate about Science and education. Her journey to become an educator began a decade ago, after being a Molecular Parasitology research student. Joining BYJU'S two years ago, Sneha has been instrumental in bringing her unique brand of enthusiasm to the world of edtech.

In this edition of People Who Make BYJU'S, Sneha shares her journey as biology Content Director and the transition from classroom teaching to teaching in front of the camera. She discusses the creative process of tutoring at BYJU'S and her goal to bridge the gap in education accessibility.
Also Read: From Engineer to Academic Specialist: Faisal Pathan on blending education with tech
Behind the lens: The driving force
Sneha sees BYJU'S as a platform that offers a unique opportunity to bridge the education gap with the help of technology. She thinks that BYJU'S interactive videos fuse modern technology and education, providing the best learning experience.
"Physics had a lasting impact on me in school, since my teacher was great. I could grasp concepts easily and I still remember them, because of the way the subject was taught." She truly believes that teachers and their teaching methodology make all the difference in the world.
Sneha explains the importance of teaching a subject like biology on video, "To teach the functioning of the heart, it is important to go beyond the diagram. With videos, students can witness the actual phenomena and see for themselves how the heart beats, blood flows, and pressure changes. This way, I'm not just teaching biology but also the physics behind it, closing the gap in their understanding of scientific principles, and that was the biggest driving force for me." 
Lights, camera, content! 
How does the content team stay current and innovative, in the fast-evolving space of audio/video? 
Sneha shares, "At BYJU'S, we have our finger on the pulse of biology, continuously seeking out the latest research and advancements in the field. With our unyielding commitment to staying up-to-date, we're able to provide learners with the most relevant and accurate information available. We blend storytelling with facts to keep them engaged." 
Behind the scenes
Behind every interactive educational video created at BYJU'S, there's a team of experts working together to create an exceptional learning experience. From subject matter experts and content team to animators, each team member plays a crucial role in bringing the video to life. 
Sneha takes us through the process of selecting the content for her tutoring videos. "The team works collaboratively to ensure that every video is tailored to meet the learners' needs and challenges. The scriptwriters craft an engaging script that captures the essence of the content and pedagogy, while animators work their magic to create stunning visuals and animations. Finally, editors review and refine the video, ensuring that it meets BYJU'S standards." 
We create engaging content that comprehensively covers the syllabus and caters to diverse learning speeds. We update our content regularly to make learning fun and accessible. The aim is to stimulate young minds with interesting and relatable content." 
Also Read: How BYJU'S Science Content team is educating a new generation of learners across the globe | National Science Day
Being a part of the BYJU'S Content Team  
In the digital age, learners have access to numerous sources of information, resulting in a plethora of questions. Sneha provides important tips for those seeking to join BYJU'S Content team 
Know your audience and the subject matter

. It is crucial to have a thorough understanding of both.

Identify the most challenging area of the topic

and figure out how to present it creatively, so it is visually appealing and addresses the difficulties that learners face with that particular concept.

Streamline the content flow

, rather than displaying it in a cluttered manner. The content should be presented in a logical sequence that flows naturally from one concept to the next. Using images can also be effective in visually connecting with the learner.

Using real-life examples is crucial

. It's best to use stories or real-life scenarios to explain a concept. For instance, if teaching about fungi, using an example of stale bread can be more relatable.

Understand the learner's psyche

, including being compassionate and empathising with their learning struggles. 

Staying up-to-date with the subject matter is important

to ensure that learners receive accurate information and you can provide satisfactory answers to their questions. But if there is a question that you don't know the answer to, do your research and come back with a response. Your learners will appreciate that. 
Like what you read? Head to Life at BYJU'S to learn more about our work, people, and the stories that make us unique. To explore job opportunities, check out Careers at BYJU'S.