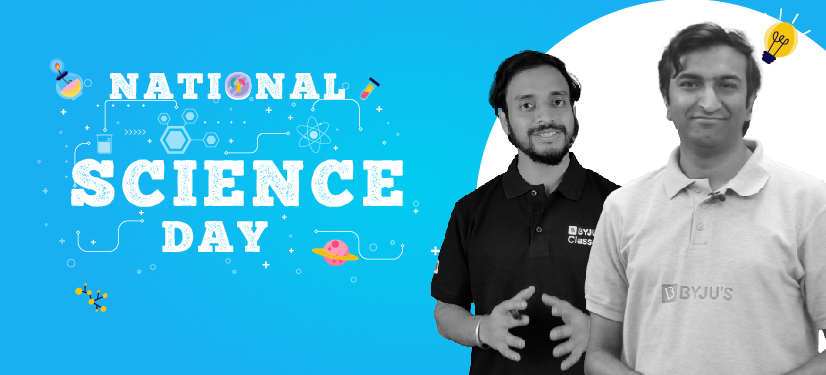 Drawing and labelling parts of the human body. Memorising the water cycle. Reciting the periodic table. This was Science for us.
The way it is taught and learnt has evolved with time, with the focus shifting from core domains to a more integrated approach. Thus, the need for a clear understanding of basic concepts is more important than ever before. And to create a seamless learning experience, experiential and immersive methods are the need of the hour. 
This is where BYJU'S has made its mark, and continues to do so. We strive to revolutionise the way concepts are taught, ensuring maximum student-content engagement. With constant innovation in our tech and content, BYJU'S has made it easier to understand complex concepts and made learning fun. 
This National Science Day, we take a look at some of these innovations across our content teams and how they're educating a new generation of learners. With our cutting-edge products, Science as a subject, is now more fun, engaging, and comprehensive, to students of all ages and across geographical borders. 
Also Read: How Sandeep Changlani is channelling his passion for education to drive academic strategy at BYJU'S Tuition Centre
Enabling a culture of learning
"Technology is a great enabler and at BYJU'S we have managed to leverage that to create powerhouse teams," says Ashish Shekhar. "We have the right balance of talent and enthusiasm with our teams of experienced teachers, engineers and tech talent, artists and designers. This makes it a one-of-a-kind setup that powers the cutting-edge content for our students.   
For example, earlier, students would just read about the process of wool production in textbooks. But now, with the help of gamification, we have been able to make the process interactive. From shearing the sheep to the final chemical processes, every step is now indelible from their minds, because of the immersive learning experience," adds the Senior Director of Curriculum and Learning Experiences. 
A Chemistry teacher, he is now busy recording his content in Hindi to make it accessible to a wider audience. "BYJU'S content is available in eight regional languages, besides English. Creating seamless content that can reach millions across the country and the globe is a true testament to our skills and proves how powerful content really is," says Ashish.
"After researching books and guidelines of India and other countries, we have realised that the basic ideas and concepts are the same. Chemistry is Chemistry, it doesn't matter where you're from and what board you're affiliated to. What matters is the role of the educator, and we have some great ones at BYJU'S." 
Ashish feels that BYJU'S open and honest culture and a sense of ownership drives all BYJUites. "We are able to bounce off ideas, create a prototype, and then scale it at record speed with our in-house teams. They're eager to learn and grow and that has helped us create unique and universal content, combining the best the world has to offer," he says. 
Also Read: Innovation Day | Reimagine learning every day: BYJUites celebrate the power of innovation
Asking the right questions
With a decade-long teaching experience, Pushpendu Mondal believes that to be a good teacher, one needs to be a good learner. "The pace of scientific advancement is higher than ever before. To stay abreast of all these changes, one has to keep learning and evolving. It is why my team and I are learners first," he says. 
A Senior Manager of Content Development at Aakash BYJU'S, Pushpendu began his BYJU'S journey in 2018. "When I was a student, we focused on core subjects. But now the spotlight has shifted to interdisciplinary education. Constant innovation and learning are key to succeed in this fast-changing environment," he adds. 
"The teaching methodologies that I was familiar with, as a student, may not necessarily work today. I had to visualise in my head what I read in books. But today, this visualisation process is much simpler, as we have the technology to create an immersive and interactive learning experience. A student learns better, quicker, and long-term," says Pushpendu. 
But there's also a flipside to this. "Technology has created an abundance of information, and everyone has access to it on the internet. And as teachers, our first priority is to guide students to receive the right kind of information." 
What matters most, Pushpendu believes, is asking the right questions. "If we understand the problem and ask the right questions to solve it, then we will. That is where BYJU'S succeeds. Our founders have asked the right questions and found the right solutions," he explains. 
Combining the knack for asking the right questions with a desire for experimentation is what sets BYJU'S apart. "We are not afraid to innovate and experiment in order to enhance our content, products, and students' learning outcomes. We are a dynamic team of learners and thinkers who want to create an environment of learning," says Pushpendu. 
Also Read: From Engineer to Academic Specialist: Faisal Pathan on blending education with tech
The role of a teacher in a student's life is irreplaceable. And BYJU'S Science teachers are some of the best in the world. With a zeal to learn, and innovate to nurture an environment of quality education, they are paving the way for a new generation of learners to become the leaders of tomorrow. 
Like what you read? Head to Life at BYJU'S to learn more about our work, people, and the stories that make us unique. To explore job opportunities, check out Careers at BYJU'S.