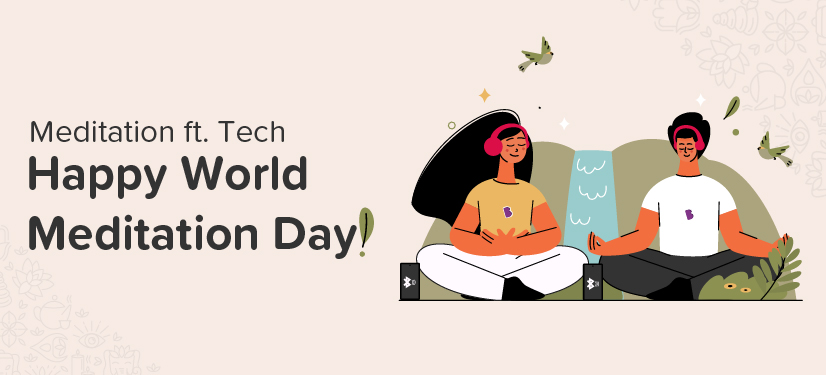 On this serene World Meditation Day, as the world pauses to unplug from chaos and embrace inner harmony, we find ourselves at a crossroads where meditation and tech apps converge. In our fast-paced, interconnected lives, finding moments of calm can be a challenge, but technology gifts us new avenues for personal growth. Let us embark on this transformative journey, discovering our digital zen and inviting technology-aided tranquillity into every aspect of our being.
We are aware that meditation alleviates stress, enhances well-being, and boosts productivity. But with the surge of meditation apps, technology has become our mindful companion. We can now immerse in remarkable apps tailored to our preferences, offering guided meditation, ambient sounds, serene visuals, sleep aids, breathing exercises, and meditative games to nurture inner stillness and relaxation.
Just as BYJU'S revolutionizes education, meditation apps emerge as potent tools for enhancing well-being and sharpening focus. With BYJU'S commitment to well-being, the fusion of education and mindfulness creates a harmonious environment for holistic growth. 
On this World Meditation Day, embrace the transformative power of the ancient practice of meditation in the digital age! Become the ultimate 21st-century Zen warrior, as we explore the enchanting realm where meditation and tech apps intersect, nurturing a harmonious lifestyle.
Also Read: Therapy at work | Exclusive interview with workplace therapist on mental health
Here's a curated compilation of the finest meditation apps from 2023, meticulously selected to support and guide you on your quest for harmony with yourself. 
Breethe – Meditation and Sleep
Ideal for individuals seeking a holistic approach to wellness
Unwind with Breethe, the app that offers a holistic wellness experience like no other. Immerse yourself in a diverse range of wellness solutions, from meditation and hypnotherapy to soothing stories, calming music, and immersive sounds. 
Breethe's comprehensive set of tools promotes relaxation, alleviates stress, and enhances overall well-being. Discover the practical and effective solutions that make this app stand out in the world of wellness. It's time to embrace serenity and rejuvenation, with Breethe by your side.
Headspace
Perfect for individuals interested in incorporating meditation into their daily routine
Elevate your meditation journey with Headspace. This popular app is your resource for cultivating regular meditation practice. Dive into guided meditation sessions, engage in exercises, embrace sleep aids, and enjoy helpful animations. 
From stress management to improved focus, Headspace has it all. With its user-friendly interface and comprehensive content, it is the go-to app for incorporating calm and mental well-being into your daily routine. 
Calm
Designed for people who want a delightful and fun meditation and relaxation experience
Get ready for guided meditation adventures to peaceful landscapes and enchanting realms with the Calm app. Let soothing voices and whimsical characters guide you through refreshing exercises and rejuvenating breathing techniques. 
Experience a touch of joy with delightful nature sounds, toe-tapping tunes, and captivating sleep stories that transport you to your happy place. This is a journey of relaxation and fun, where serenity meets playfulness. Discover a whole new level of unwinding with Calm.
Medito 
Suitable for both meditation beginners and those looking to deepen their practice
The Medito app is designed for both beginners and meditation enthusiasts, ready to unlock the full potential of relaxation. Dive into exhaustive courses and take on the engaging 30-day challenge. Drift off to dreamland with soothing sounds, calming stories, and peaceful meditations that will whisk you away to a mellow slumber. 
Choose from a galaxy of options, including walks, mantra meditations, and sessions tailored to tackle stress, anxiety, pain, and low mood. Medito believes that meditation should be accessible to all, so join this transformative journey and awaken your zen.
Atom – Being Present
Geared towards meditation beginners seeking a fun and wholesome experience
The Atom is for you if you are a meditation beginner. It combines fun features with the calming effects of meditation to supercharge your mental well-being. Begin an extraordinary cosmic odyssey of self-discovery, guided by expert instructors who lead you through enchanting meditations, uplifting breathing exercises, and soul-stirring gratitude techniques.
Ignite your inner radiance with positive psychology, personalised affirmations, and cosmic challenges. This app launches you into a world of cosmic consciousness and unlocks the universe of inner peace and positivity. 
The Mindfulness App 
Suitable for anyone looking to reduce stress, improve sleep, and achieve overall health
Explore The Mindfulness App and start your journey towards reducing stress, blissful sleep, and a healthier you with playful exercises, delightful meditations, and sleep-inducing tools. Boost your well-being with energetic workouts, fun challenges, and rejuvenating activities. 
Join this colourful world of focused relaxation and unleash your inner child for a joyful and entertaining path to improved health. Get enchanted with stress reduction exploration and light exercises, while the delightful meditations and sleep-inducing tools transport you to a world of calmness.
Also Read: 5 tips to boost productivity after you're back from a vacation
In this digital age, tech-enhanced meditation apps offer a unique blend of innovation and mindfulness. By embracing these apps, we can find inner peace, cultivate self-awareness, and navigate the modern world with calm confidence. Unlock the power of technology and set forth on a transformative journey towards a more fulfilled life. Let technology and meditation guide you on this extraordinary path to self-discovery!
We'd love to hear about your favourite meditation app! Please leave a comment below and let us know which app resonates with you the most.