He started learning about cars when he was just six years old! At 14, he designed an advanced car model with rare features and unique classification. He named his model 'Shakti – an epitome of power and speed'. Meet L Dhruv Sai Reddy, the 15-year-old whiz-kid who is a car designer, an author, and an occasional rapper.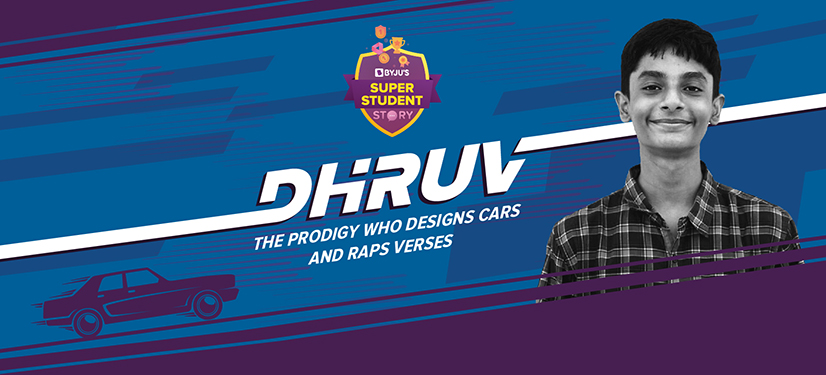 In a world where coders and designers are acknowledged even before they turn 10, it is not unusual to have a 15-year-old design a car model that could potentially change the future of the four-wheeler industry. Like most children interested in automobiles, Dhruv was bitten by the bug of car designing at a tender age when he first saw a classic Ambassador speeding into the narrow lanes of his neighbourhood. He says, "I was always fascinated by classic cars and that particular Ambassador had my heart in it. I was awed by its look and features and the fact that it was so rare in the market. It was then that I knew that I love cars and would be designing automobiles in the future." 
Passion perfect
Dhruv's love for cars encouraged him to sketch different designs. He would doodle them everywhere – from the backs of his notebooks to almost every surface he would find in his house. Eventually, he shifted to digital art and started sending his best works to numerous car designers, both local and international. He says, "Formula One races and car magazines fuelled my interest in automobile designing and helped me transform my ideas into life. I picked up digital designing courses and followed some of the top designers, including the famous Berk Kaplan." 
When the first lockdown hit, he took the opportunity to enrol in a design school while continuing his academic journey. By the age of 13, he was already ideating on his first car model – Shakti. "Shakti is a luxury car model that comes with modern automobile technology," he says. What motivated him to design Shakti? "I have seen how VVIPs of other countries travel on powerful state vehicles. Those cars are equipped with the latest technology and are meant for safety. This inspired me to design Shakti – a car that will change the future. I would like to present this car to our President," says Dhruv with confidence.
Donning several hats
While car designing has always been his dream, Dhruv is more than just a designer. He is also an author who recently published his book 'The Land of Cars' and a songwriter, who loves marrying words with powerful emotions. When asked whose work he admires the most, he was quick to point at Eminem, saying that his love for music grew after listening to Eminem's rap songs. 
Do what your heart tells you to do. Never doubt yourself or stop trying. And most importantly, never stop dreaming.
If you are wondering what this child prodigy is up to next, you would be surprised to learn about his next venture. These days, he is researching a certain type of self disinfectant glove that can kill any microbes within a short time. 
What inspired him to do so? He says, "The easiest way for any virus to enter into our body is through our hands. If we can stop the virus at the initial step itself, there will be very fewer chances for people to get coronavirus. That's what inspired me to research more on the types of gloves and how they can be made into a self-disinfectant one." He has recently filed to patent the gloves and make them available for people. 
BYJU'S – A learning buddy for life
When it comes to his academic journey, he is no less than an achiever. A topper of his class for successive years, Dhruv credits BYJU'S for shaping his learning style. Now studying in Class 10, Dhruv specifically loves the revision method on the app and his mentors for promptly clearing his doubts. He says, "The examples that back a concept in the app are easy to grasp and helped me learn Science and Maths better. With BYJU'S, I can always study at my pace and style and can revisit a chapter to clear doubts whenever needed."
While the current situation has prevented him from meeting his friends or playing outside, it has not demotivated him. Instead it has given him more time to balance his studies with hobbies. His mother, L Sai Deepa says, "Dhruv is always full of energy and ideas to do something new. You will find him learning something on the internet, finding problems and looking for their solutions. No lockdown can stop him from doing what he likes and we are happy about that."
The young achiever from Chennai signs off with this message, "Do what your heart tells you to do. Never doubt yourself or stop trying. And most importantly, never stop dreaming."
Dhruv's story is an inspiration to many. Do you as well have an inspiring story to tell us? Do leave a comment below.
---
Read more success stories of BYJU'S Super Students here: