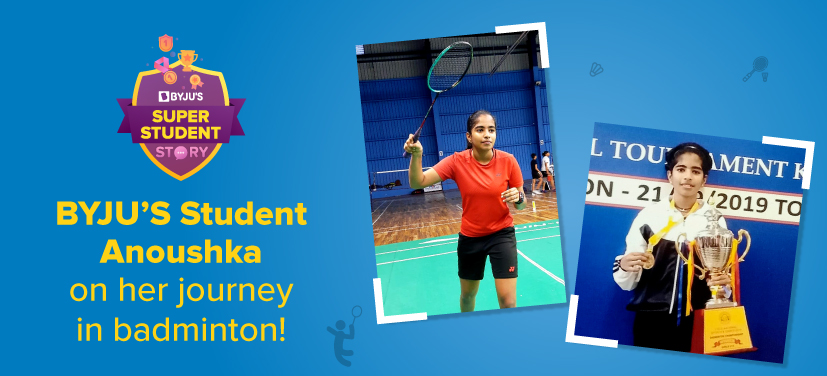 Sport is a marvellous example of how the human spirit combines strength, perseverance and determination to achieve spectacular feats, especially in events like the Olympics. Whether it's in ancient Greece or modern-day Tokyo, the world watches with bated breath when talent and hard work bear their fruits. 
Just as PV Sindhu picked up one of the seven medals for India in the 2021 Olympics, we have the story of a young player who has her eye on becoming the next-gen of excellence in badminton. 
Meet Anoushka R, a budding badminton talent from Coimbatore, Tamil Nadu. At just 15 years of age, she is a professional player who has her heart and mind set on conquering the swift shuttle. Here's her journey in the sport.
Focused on excellence
When she won her first competitive match, Anoushka knew badminton was the one for her. "I started playing the sport casually at the age of eight because my parents wanted me to be an active child," she says. "Initially I would just go to the local sports centre to play without much interest. But when I won my first match it got serious for me. It was a small tournament and I only won a few rounds but I immediately knew this was going to be my life's ambition."

Today, with medals in national tournaments to her name, Anoushka says it's the satisfaction of a good training session and a good match that keep her going. "The challenge of competing, growing your skills and the exposure you get from doing well keep me motivated to achieve more," says the 15-year-old.
Pillars of support
Despite putting in hours of rigorous training and preparing mentally and physically for matches, the humble teenager says it's her parents who work hard for her dreams to come true. "My parents are the ones who sacrifice a lot of their time and money for my badminton dreams. My mother in fact quit her job to support me during my training. She even learnt how to drive a car so she could take me to and from the badminton academy," Anoushka recounts, adding, "They wake up when I wake up and they sleep long after I do so they can keep everything prepared for my routine." She further says that making her parents proud is part of what strengthens her will to fulfil her ambition.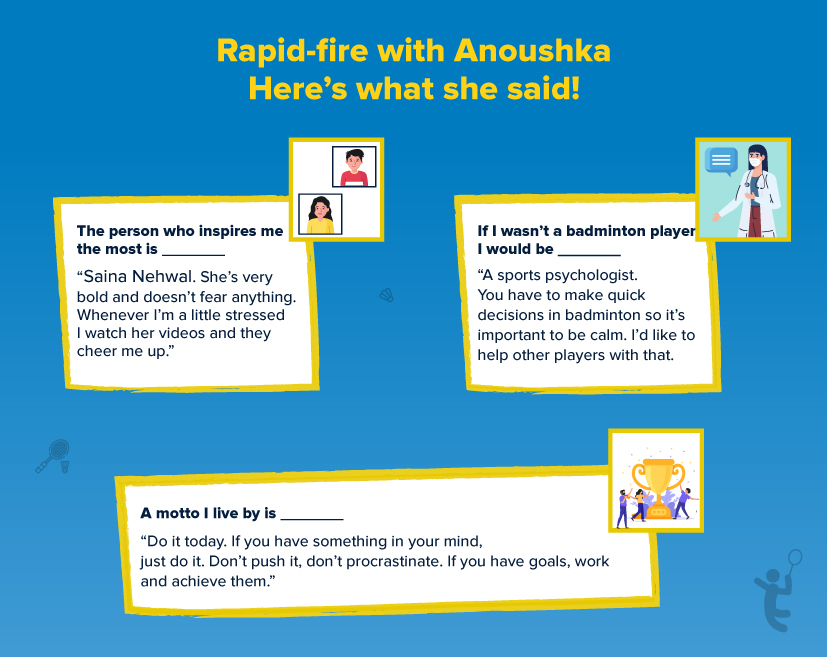 On the academic side of things, the support she gets from BYJU'S as her learning partner is what makes studies a smooth ride. "When I'm travelling by car between practice sessions, I just put on my earphones and listen to BYJU'S. It has helped me clear my understanding of concepts a lot." The badminton champ feels that the facilities for revision built inside the learning journeys help her the most. "I like the practice sheets and the questions that pop up after every concept. Answering those makes me feel like I've understood the topic. It just makes it easy and clear."
Stronger in spirit
For a focused player like Anoushka, the pandemic hasn't been easy. "All sports stopped in 2020 so my achievements stopped too," she chuckles. "It was really hard at first, but I've taken this time to work on myself and build other aspects of my personality."
What's a major change she sees in herself?  "If you would have called me earlier, I don't think I would have been able to speak like this," Anoushka says laughing, "but my academy held online sessions for us throughout the pandemic where we had to dance and speak in front of other people. That really helped me express myself." 
With regional tournaments slowly picking up, Anoushka is looking forward to getting back on the court in August and September.
Her parting message to other students? "Follow your passion, even if that means doing your favourite activity for one hour a day. It'll open up your mind for everything else that you have to do, including your studies."
Liked this? Read more here
How This Sixth-Grader From BYJU'S Became an Ace Fluid Acrylic Artist
BYJU'S Student Zaid Khan on Acing JEE Main 2021
BYJU'S Helps This Under-14 Cricket Champ Breeze Through Studies