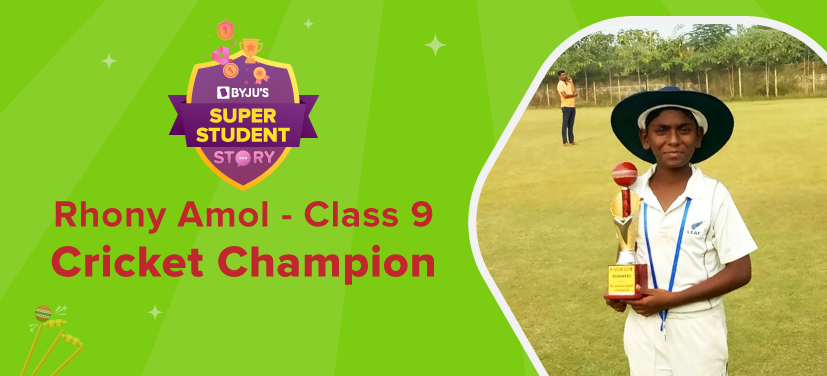 "No matter how good your game is, without discipline, you can't go to the next level!"
That's Rhony Amol, ex-under-12 cricket captain for the state of Andhra Pradesh and a current under-14 cricketer for the district of Guntur, Andhra Pradesh! Already an accomplished sportsman early on in his life, Rhony has shown impeccable team spirit, determination and hard work to hone his skills and represent his team at the state level. Team Storyweavers sat down with him to understand his philosophy about the game and to get a glimpse into a young aspiring cricketer's take on learning!
Falling in love with the game
Rhony's first brush with cricket is something most Indians can relate to. "Everybody in my family watches cricket at home. One of my earliest memories is sitting with all of them and watching matches," he says. "I just love the sport. By the time I was 8 years old, I started playing it too."
Being a captain himself, Rhony confesses that his favourite player is Team India's skipper, Virat Kohli. "It was watching him play that made me fall in love with cricket," he says. 
With encouragement from his parents, Rhony nurtured his love for the game by developing exemplary skills, resulting in him winning the "Man of the Series" and "Best Batsman" awards multiple times.

BYJU'S takes care of Rhony's academics
With his cricketing aspirations gathering steam, Rhony spent long hours in practice sessions to hone his technique. Later on, he enrolled with a cricket academy to take his talent forward. But this rigorous schedule meant that he needed a little help to keep up with his academic learning. That's where BYJU'S came in. 
"I take my BYJU'S tab with me when I go to the match ground so that I can learn there itself during my time off from practice," he says, adding that "I also like that some of the concepts in BYJU'S are explained through sports examples! All-in-all, BYJU'S simplifies my studies and helps me understand concepts quickly and easily."
It's also no surprise that for an ambitious cricketer like him, 'Quizzo' is Rhony's favourite feature in the app. "I love its competitiveness," he says, with a grin.
A message for students and parents
Rhony's philosophy about learning, be it in sport or academics, is simple. "If you want to achieve something, then hard work is the way to go." He also believes that support from family, especially from parents, is very important for students. "Both of my parents encouraged me to pursue my passion. They never once told me to stop playing before an exam and study instead. They trusted me to balance both and that made a huge difference."
 Team Storyweavers wishes Rhony all the very best for his bright cricketing career ahead! 
Is there something new you learnt from Rhony that you will include in your studies? Let us know in the comments below!
Liked this? Read more stories like this here!
Agricultural Waste into Paper? Here's How Ranjita Figured Out a Way to Help Farmers
How BYJU'S & Time Management Helped Ishika Score 98.4% in Her Boards
How Aanya Chaudhary shuttles between badminton and studies to achieve success