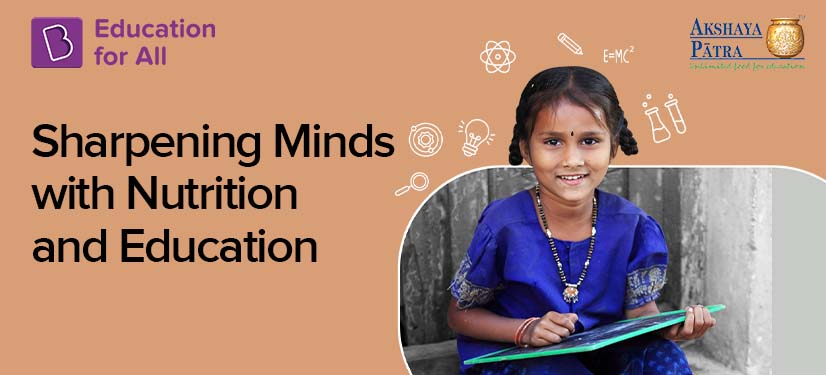 If you had to choose between eliminating hunger or getting an education, what would be your first pick? For about 3.3 million malnourished children in India, this is the dilemma. With hungry stomachs, their dreams and pursuits towards an education narrow to zero.
But here's an organisation that has been on a mission to eliminate their hunger first and help them with an education.
Headquartered in Bengaluru, The Akshaya Patra Foundation is a non-profit organisation founded in 2000. It has been nourishing children from underserved communities through its "Mid-Day Meal" programme to eliminate classroom hunger. Through the programme, it provides nutritious meals to children studying in Government schools and Government-aided schools.
"Our intent is to reach out and be present in every pin code of India, where we could help provide a child with a nutritious meal. We believe that no child in India should be deprived of education because of hunger," says Sundeep Talwar, Chief Marketing Officer, Akshaya Patra.
Akshaya Patra is feeding about 1.8 million children every day across 20,000 schools. It has 61 kitchens across 14 states and 2 union territories of India. In addition, about 17 new kitchens are underway and will be inaugurated in the next year.
Beyond Meals
In 2016, Akshaya Patra ventured into the education space to further boost its mission.  Under its flagship educational initiative, NEST (National Endeavour for Student Transformation), Akshaya Patra has been supporting children through four programmes.
"These programmes engage the education system, to enhance the quality of education, and create an environment, which contributes to excellent learning outcomes, while building an enjoyable schooling experience," says Sundeep.
The first programme called "Giving Every Dream a Chance" is largely a mentor-mentee programme that enables students to pursue their dreams and provides the necessary learning skills for the same.
Akshaya Patra wants to ensure that all their dreams – be it a policeman or a chef – come true. The students are connected to specific mentors based on their interests, with a scientist or a renowned musician, or anything that their passion dictates.
In 2018, Akshaya Patra started the AVSAR Scholarship Programme, which is primarily a scholarship programme. The non-profit reaches students with scholarships through corporate partners, and also connects them to existing government scholarships.
"We hope that the support we provide eliminates the dropout rate and nurtures the aspirations of underserved sections of the society," Sundeep shares.
In the last six years, Akshaya Patra has provided about Rs 5.4 crore worth of scholarships to over 6000 children.
Through the help of the Digital Education Programme with BYJU'S, we should be able to provide students with a platform, so that they can also prepare for the competitive exams, like NEET and JEE.
The non-profit also takes up school rejuvenation programmes, working hand in hand with the school administration to address various challenges faced at the school level.
"At the school level, we want to help the child have a better infrastructure to study," he shares.
At present, the focus of NEST is in five states – Karnataka, Tamil Nadu, Andhra Pradesh, Rajasthan and Delhi.
The initiative is coordinated by the SRO or School Relationship Officer who takes care of about 20 schools. These SROs regularly visit the school and take feedback from the children and teachers about the education programme. On a weekly basis, these SROs provide the data about the feedback and progress within these schools.
Digital Education with BYJU'S
BYJU'S Education for All has partnered with Akshaya Patra to uplift children and make digital education accessible. We hope to give children in need a chance to grow with quality learning resources.
"A significant percentage of the students studying in these government schools cannot afford education resources beyond what the government can provide. Our partnership with BYJU'S Education for All is an impactful step towards enhancing the education within the underprivileged communities," says Sundeep.
"The partnership gives them access, not only to high-quality education sources but also a more conducive and innovative way of studying," he adds.
We at BYJU'S Education for All are on a mission with our partners like Akshaya Patra, to reach 10 million children with digital education by 2025. While we're taking steps to get there, we still have a long way to go. But our efforts will never cease to continue to make children's dreams a reality.
---
BYJU'S Education for All is on a mission to empower 10 million children by 2025 with education. Through the BYJU'S Give programme, you can contribute to this movement and help children with quality digital learning. You can donate an old device, which we will refurbish, and then use the money raised to buy a new device. In case you do not have a device, you can also donate to an NGO partner, who will use the funds to buy devices for children.
In both cases, we will load our BYJU'S Think & Learn premium content onto these devices and distribute them to children in need.
Also Read: Twinkling Eyes and Curious Minds of Smiles foundation