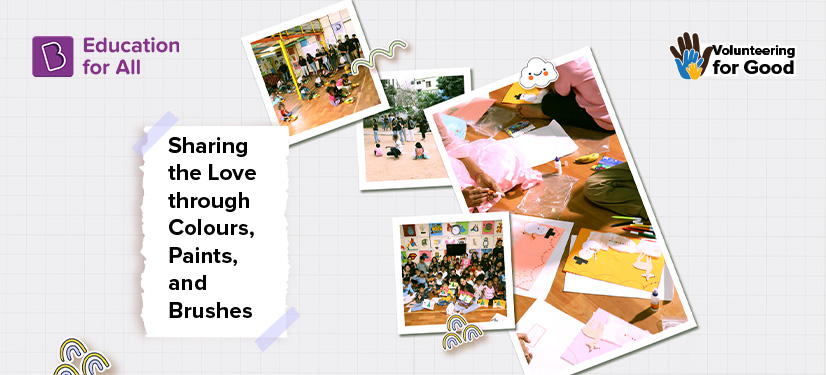 Every year, World AIDS Day is commemorated to spread awareness about its prevention and how to treat it if affected. On this day, BYJU'S organised an arts and crafts workshop for children at DESIRE society, an NGO that works towards improving the lives of children affected by HIV (Human Immunodeficiency Virus).
Through this workshop, the goal was to allow these children to express themselves through art. BYJUite volunteers spent time with these children and splashed their lives with colours.
It was also an opportunity for us to spread awareness about HIV/AIDS and provide a way for children to find a safe space to explore their creative passions.
"The day's purpose is to educate people about HIV, how it spreads, how to get tested for it, how to take preventative measures, and how to get treatment. Through the workshop, It was wonderful to see small kids and their talents," shared Jayati Moitra, Student Success Specialist.
"It was incredibly heartwarming to spend time with such loving kids, for whom we organised activities like outdoor games and art and craft workshop and provided them with various snacks to relish. While we went to spread some love, we were grateful to be showered much more by the little ones of the society! This volunteering activity did help me realise the values of empathy, kindness, inclusivity, patience, love, compassion, and togetherness, and I am inspired to do more! For me, this is just the beginning!" Viswathi K. V., Marketing associate, shares her experience.
Ravi Gudimetla, Curriculum and Learning Experience shared, "We were delighted to see how much joy these kids got from learning to make colourful craftwork and displaying their work. These kids have been impacted by HIV. It was heartwarming to see a smile on their faces, and we hope this event helps to spread awareness about the challenges faced by these kids."
Priyanka Kumari, Pre-Sales Associate, said, "Every child deserves a chance to experience the magic of art and creativity. We are happy that BYJU'S organised this event for them, and we hope it will inspire them to dream big."
Inclusion has been one of our primary goals through BYJU'S Education for All. Through these volunteering programmes and partnerships, we want to do more such activities to make inclusion more widely spoken and practised. We have also been working towards making education accessible and inclusive to 10 million children by 2025.
---
BYJU'S Education for All is on a mission to empower 10 million children by 2025 with education. Through the BYJU'S Give programme, you can contribute to this movement and help children with quality digital learning. You can donate an old device, which we will refurbish, and then use the money raised to buy a new device. In case you do not have a device, you can also donate to an NGO partner, who will use the funds to buy devices for children.
In both cases, we will load our BYJU'S Think & Learn premium content onto these devices and distribute them to children in need.
Also Read: BYJU'S Volunteers Help Beneficiaries of Right to Live to Improve their English Communication