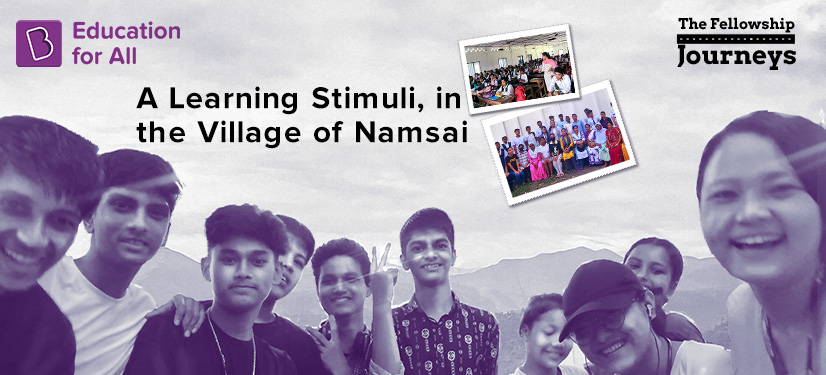 Namsai, a relatively new district carved out of the Lohit district, is home to over 95,000 people (Census 2011). In terms of facilities, the community has one university, six higher-secondary schools, two colleges and one district hospital with over 18 doctors. Namsai is also identified as one of the aspirational districts by the NITI Aayog.
Lawmnakim Hrangate, Fellow, Social Initiatives, has been reaching out to the children in Namsai through the BYJU'S Fellowship Program. She is one of the many people posted across different districts to help children with BYJU'S learning content. She shares her experiences with us, traversing the highs and lows to educate children.
"I have been passionate about working with children and young adults since school. The untapped potential in aspirational districts, with a focus on community partnerships and school ecosystems, led me to the BYJU'S Fellowship Program," Lawmna shares.
She adds, "I have experienced both sides of the education system – one where I have teachers who play an integral role in my life, and the other that made me dread every school day. This has shaped me into making the choices I am making now."
As she read through the programme description, she saw herself building the skills for the development sector with a focus on education. She also saw an opportunity to develop her passion into impact by being someone who sees the strengths in students and facilitating the process of rediscovering the purpose of their learning journey.
Every fellow of the programme works in a different context, from district to district. Lawmna's day starts at 9.30 AM when she takes sessions on social-emotional learning (SEL) at a government school and also conducts sessions about BYJU'S Education for All and the usage of its learning content. By 3 PM, she heads to the learning centre for JEE/NEET coaching.
The rest of the day, she plans the next day, reflecting on the student's learning based on their feedback of the live classes, assessments, and lectures and strategising a better outcome through feedback and individual interactions.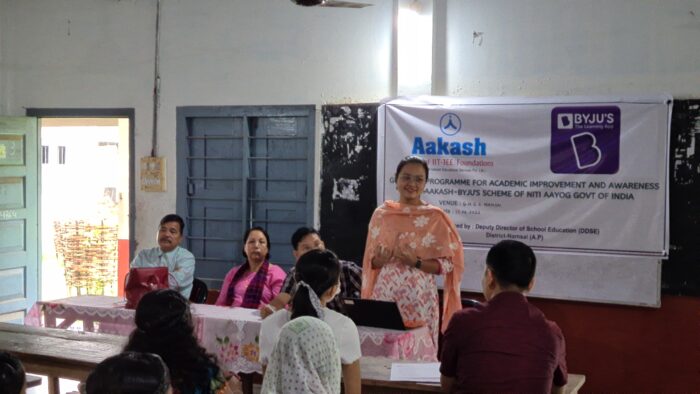 "Community outreach, fieldwork, and home visits are the most integral part of my learning. During the first two months of my stay here in Namsai, we went through an intensive community mapping of the established learning centres. We also liaised with the district administration for a collaborative outcome in establishing the first learning space for NEET and JEE in Namsai," she shares.
Lawmna talks about some of the hurdles and the vast learning gap children face due to the education system at Namsai.
"There are no proper science teachers in schools. Moreover, the community has a high influx of hard drugs and alcohol that many youths indulge in. This further makes children vulnerable to peer pressure contributed by the environment at home, which is not conducive for them to study. So, we decided to open the learning centre every day, from Monday to Sunday," Lawmna shares.
However, another major challenge is the community's perception of digital learning. The parents questions the reliability of live classes. Students are also still adapting to this new approach, away from the traditional education they receive in schools.
Lawmna believes she plays a massive role in changing this perception and ensuring education for all the children at Namsai.
"Right from awareness and advocacy about JEE and NEET, it is important to define their learning journey – mentoring and guiding them as they navigate digital learning while keeping holistic learning at the centre of every learning space," says Lawmna.
She adds, "I try to create a culture where learning is fun and peers encourage and support each other. Being the first learning centre for JEE and NEET in Namsai, we have a long way to go, and with the gradual community support, things are only getting better."
The BYJU'S Fellowship Program has posted various fellows like Lawmnakim to different aspirational districts across India. Each of these fellows works day and night to ensure that children get the quality education they deserve.
Through this programme and more, we hope to touch the lives of at least 10 million children by 2025.
---
BYJU'S Education for All is on a mission to empower 10 million children by 2025 with education. Through the BYJU'S Give programme, you can contribute to this movement and help children with quality digital learning. You can donate an old device, which we will refurbish, and then use the money raised to buy a new device. In case you do not have a device, you can also donate to an NGO partner, who will use the funds to buy devices for children.
In both cases, we will load our BYJU'S Think & Learn premium content onto these devices and distribute them to children in need.
Also read: BYJU'S Fellowship Program: Impacting Children in India's Remote Areas