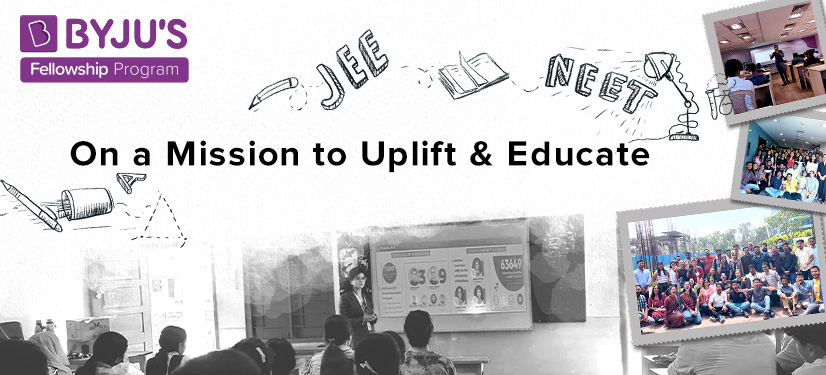 Noori*, a resident of Guna, Madhya Pradesh, travels for miles to reach her school every day. The road to school is not easy, but there is nothing more Noori dreams of than becoming financially independent. She hopes to support her family out of their struggles one day.
Similarly, Atul*, who resides in Namsai, Arunachal Pradesh, too, has just a school in his locality. While he manages to go every day, he aspires to become a doctor one day. While there are coaching classes nearby, his family can barely break even every month and cannot afford to send him there.
Like Noori and Atul, millions of children could take a step closer to their dreams with a little support.
To support children with a sliver of hope, the BYJU'S Fellowship Program was launched in May 2022. The program targets young candidates who want to participate in the development sector. In partnership with NITI Aayog, these candidates will oversee the BYJU'S social initiatives in the aspirational districts of India.
In this programme, 45 fellows were selected for a two-week training programme that included workshops on various developmental subjects, BYJU'S product knowledge sessions, speeches by industry experts, village immersion and a two-day volunteer programme in remote places.
A few months into the programme, we spoke to the fellows now located in different parts of India, encouraging children to grow with learning.
"The untapped potential in aspirational districts with a focus on community partnerships and school ecosystem led me to the BYJU'S Fellowship Program. I have always been passionate about working with children and young adults since my school days," says Lawmnakim Hrangate, currently posted at Namsai, Arunachal Pradesh.
She adds, "I saw an opportunity to build my passion into impact by being someone who sees the strengths in students and facilitates the process of rediscovering the purpose of their learning journey,"
Lawmnakim's day starts at 9.30 AM when she conducts various sessions at a government school on social-emotional learning and the use of the BYJU'S App. She also spends a lot of time strategising and planning the students' learning journeys throughout the day.
Similar is the routine of Mohammed Nooruddin, posted at Katihar Bihar.
"Through the day, I make many visits to the government officials in the state. During the later hours of the day, I engage with the students and clarify their doubts," says Nooruddin.
He shares that the students face many financial challenges, and their parents cannot support them financially.
"If a child can have a good environment, he can learn from his peers. But these children live at home, and the environment is sufficient for their future because they are JEE/NEET aspirants. Their parents are uneducated and don't understand the importance of these exams and their demand," explains Nooruddin.
Khushboo Kumari, a fellow, posted in Guna, Madhya Pradesh, hopes to make a difference in the lives of these children.
"In India, most parents desire their children to become doctors or engineers for many reasons. Even I experienced this dilemma in 10th grade and had to decide. I understand what the students are going through at this point. They are under a lot greater pressure to perform well in exams. In this competitive environment, I want to be the best mentor for them, ensuring that they don't get demoralised at all times and continue to learn and improve," says Khushboo.
While the job entails a whole new place for the fellows, they share that eventually, they warm up. Not just to the area but also to the people, the students and the experience.
"Every day is different and has something new to experience. When with teachers and parents, I become the problem solver on a different journey, and with government officials, I am on a professional journey. In other words, each day is a new adventure for me," says Nitesh Kumar, currently posted at Bhupalpally, Telangana.
Every day, the candidates of the BYJU'S Fellowship Program work towards a boost in their careers and uplift every child with the hope of education. Through this programme, we hope to reach at least 10 million children by 2025 with access to quality education.
*Names changed for the protection of identity
---
BYJU'S Education for All is on a mission to empower 10 million children by 2025 with education. Through the BYJU'S Give programme, you can contribute to this movement and help children with quality digital learning. You can donate an old device, which we will refurbish, and then use the money raised to buy a new device. In case you do not have a device, you can also donate to an NGO partner, who will use the funds to buy devices for children.
In both cases, we will load our BYJU'S Think & Learn premium content onto these devices and distribute them to children in need.
Also read: The Independence That Every Child Deserves