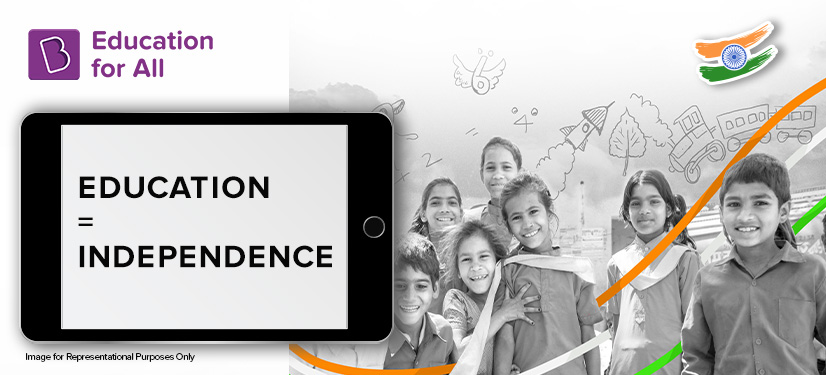 Put yourself in the oversized shoes of 8-year-old Veer. He proudly wears his father's worn-and-torn sandals as he sits on a bare brick wall with his siblings, watching the adults of his family install steel bars and pour cement.
Behind him, children his age march down the road in stark white uniforms, joyfully waving the tricolour. Veer picks up a fallen flag and adds it to his little collection of roadside novelties.
Veer's entire world begins and ends in construction rubble. To him, growing up means finally fitting into his father's shoes and becoming strong enough to carry the cement that generations before him have been carrying.
Children like Veer don't have the same independence to dream big as we did at their age. They may not understand what the world could look like beyond the lines of poverty. Education might just be their only means to achieve freedom for generations to come.
For every hour a child spends out of school, the nation loses out on years of progress.
The Promise of Educational Independence
Since India's Independence in 1947, the education scenario of the country has progressed leaps and bounds. However, we still have a long way to go in uplifting underserved children from all walks of life.
"I have the independence to study anywhere and anytime," says Varsha Dattu Girhe from Igatpuri. After she attends school during the day, she helps her mother at their shop in the afternoon. She has spent 4,828 hours of her spare time learning on the BYJU'S App.
At BYJU'S Education For All, we are working with NGOs and organisations across the country to empower millions of children by ensuring educational independence. We intend to provide our beneficiaries with quality digital education to bridge the learning gap.
Little Voices of Change
Anil Jagram Singh lives in Navi Mumbai and stares wide-eyed at the tall glass buildings on the way to school with his mother. "I can work in an office and earn money for my parents," he dreams. He has watched 1,247 hours of learning content, inching closer to his wishes.
Snehal Santosh Sonone is one of the brightest students in her school. She wants to become a journalist one day. She has spent 1,274 hours learning her favourite subjects. "Along with maths and science, I am also learning English," she says, becoming more confident about her decision.
"I do not have to depend on the internet to study from home," says Alongir Firoj Shaikh from class 9. Wanting to become an engineer, he aspires to sit for the competitive exams in a few years. He dedicates his nights to studying maths and science, and has learned 1,474 hours of concepts on the app.
After watching her elder sister marry young, Suman Kumari envisioned a different life for herself. She was the first girl in her family to be sent to school. One day, she wants to become a teacher to give little girls like her the same hope. "I am studying just like my brothers," she says proudly. Suman has spent 1,375 hours learning her subjects, and teaches her little sister too.
Clocking in Hours of Hope
Like Anil, Snehal, and Suman, Education for All strives to empower millions of children from every nook and corner of India. With free access to digital education, children can get the freedom to learn at their own pace, and explore a world of opportunities. We hope that with every hour a child spends learning, the future of our country beams a little brighter.
---
BYJU'S Education for All is on a mission to empower 10 million children by 2025 with education. Through the BYJU'S Give programme, you can contribute to this movement and help children with quality digital learning. You can donate an old device, which we will refurbish, and then use the money raised to buy a new device. In case you do not have a device, you can also donate to an NGO partner, who will use the funds to buy devices for children.
In both cases, we will load our BYJU'S Think & Learn premium content onto these devices and distribute them to children in need.
Also read: World Malala Day: How Jeevith and Rida Stood up for Education Despite the Hurdles