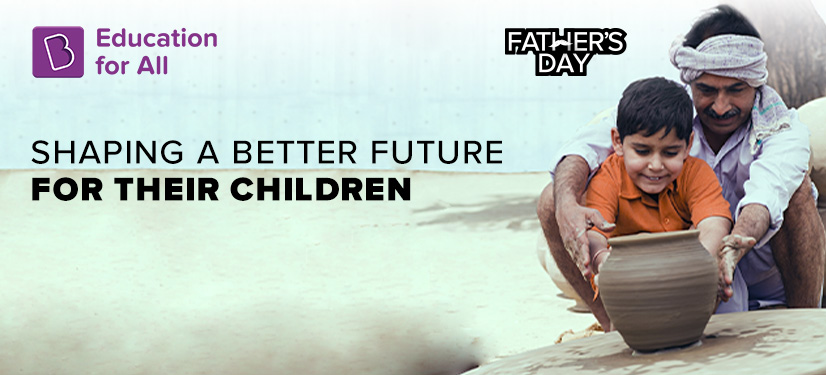 Most fathers across the world, despite their social backgrounds, want what's best for their children. Be it the CEO of a company, or a daily wage worker living on a hand-to-mouth basis, they try to support their families to the best of their abilities.
Father's Day is celebrated on June 19 every year around the globe, to acknowledge the efforts of these caregivers who play an integral part in children's lives.
At BYJU'S Education for All, we have partnered with over 115+ NGOs and are reaching out to millions of children through the partners. But behind each of these child beneficiaries is a father who is working harder to uplift their children.
On Father's Day, read about some of these fathers, who despite their economic situation, are moving mountains to help their children grow.
Ramesh Mehra
Ramesh* works as a city bus conductor in Pune. He resides in Yerwada with his wife and two children. While Ramesh has only completed his education till Class 12, he wants to ensure that both his children study more than he did.
One of the children, Rakesh*, 7, hopes to become a doctor one day, and the other, Radha*, 12, wants to become an IAS officer and serve the society. But, its not just the children who dream big, their father does, too!
"Both my children have great aspirations, and I want to support them completely. While I try to help them study, it was difficult when schools were closed in the pandemic," says Ramesh.
He adds, "I tried to help both of them attend the online classes but they were unable to understand the sessions.
However, IDEA Foundation was able to help Ramesh's older child, Radha, with the BYJU'S learning content, with which she was able to engage better in the online classes.
"Radha has been using the BYJU'S course for about a year and her studies have really improved. I really hope that she can get closer to her dreams of making a difference to the society."
While BYJU'S has been able to support the children with education, Ramesh is ensuring that his children see a brighter future.
Prem Kumar
Mumbai-based Prem* Kumar has been working in the bone-setting industry. His education came to a standstill beyond Class 2, but has been working hard to ensure that his children don't have to endure a similar plight.
In a small home in Sakinaka, Prem lives with his wife and five children – 4 daughters and 1 son. The older daughters, Kala* and Kriti* are out of school and working towards becoming a teacher and a banker respectively. The next two daughters, Kriya* and Sandya*, are in grades 12 and 10. While Kriya wants to become a psychologist, Sandya wants to become a fashion designer.
The youngest child, Vivek, is in class 7 and is en-route to joining the army one day.
Each one of Prem's children has exciting ambitions, and not a day goes by when he doesn't sit down to help them with their needs. However, during the lockdown he wasn't able to provide enough support for his children in terms of their education.
"We only have one phone at home and my children were unable to attend the classes. However, my daughter who is studying in the SPR Jain Kanya Shala received a tab from the NGO Ratna Nidhi Charitable Trust," Prem shares.
"Not only was the tab of help to all my children, but it was also loaded with the BYJU'S course, which helped them grasp the concepts better," he says.
He adds that the BYJU'S course has been helping his children take more interest towards their studies and also become more confident about themselves. They have been making the most of the learning app and are diligently working towards their goals.
Mahesh Rawat
Mahesh* hails from from Gujarat, and works as a florist. While his family members string together garlands, Mahesh delivers them to the customers. This business is the family's only source of income. Having studied till Class 7, he hopes for a different future for his children.
Mahesh has four children – Diya*, 16, Mala*, 13, Rakhi*, 10, and Megha*, 7. The eldest daughter is currently studying at the K. J. Somaiya College, Mumbai and wants to be an accountant. The next three daughters are studying in S. P. R. Jain Kanya Shala and have big aspirations, too. Mala wants to become a drawing teacher, Rakhi wants to become a cop, but little Megha, as Mahesh says, "is too young to decide."
"I am working hard to give financial support to my daughters so that they can achieve their dreams," says Mahesh.
The pandemic was not easy for Mahesh's children, with little to no access to virtual classrooms. Having just one smartphone, it was easy for all of them to study.
"Mala was the worst impacted as she would often miss her classes to encourage her sisters to study. However, on receiving a tab from Ratna Nidhi Charitable Trust, she was able to get back to her studies. Moreover, the tab was also loaded with the BYJU'S course, which made revision and practice easier," Mahesh says.
While the children's studies have now improved with the tab and access to digital learning content, Mahesh continues to support his children. He wants to make sure that his kids can do anything to the best of their abilities.
Vijay Devdas
Vijay* who hails from Pune, works as a carpenter within the city and has completed his education till Class 10. He lives with his wife and three children – Ganesh*, Ganga*, and Gita*.
Vijay has been working very hard to support his children's dream. While his older children are in college, Gita is still in school, but hopes to become a software engineer.
When the pandemic struck, Gita was unable to attend online classes. However, she received a tab loaded with BYJU'S content from the IDEA Foundation.
"In the last one year, she has been able to improve in her studies. I, too, try to motivate my children to do their best," says Mahesh.
Shekhar Singh
Shekhar* works as a farmer in Pali, Rajasthan and is the father to a single child, Rahul*. Rahul, 16, studies at the nearby government school and hopes to join the army one day.
But like most other children, the pandemic took a toll on his education.
"I really want to support his dreams and was planning to send him for tuitions, until the pandemic happened. However, about two months ago, we were able to receive a tab from the IN-DEED Foundation which was loaded with the BYJU'S content," Shekhar says.
He adds, "Rahul now regularly studies on the app and is working hard to reach his dreams."
Mohammed Asif
Mohammed Asif* from Pune makes bags for a living. He lives in the city with his four children. While one of them is in college, his two daughters are still in school, and the youngest son is just 4-years-old. The older daughter, Asna* is in Class 12 and the younger daughter, Afra* is in Class 9.
"I want to help all my children study well and reach their aspirations. But the pandemic took a major toll on their education and our livelihood," Asif says.
"However, my children received a device from the NGO FUEL, which was loaded with the BYJU'S content. Both my daughters are now actively revising and preparing for their exams with the help of the app," he adds.
The efforts of these fathers who go above and beyond to raise their children are truly remarkable. We hope to support them by helping more children with access to education.
Wishing all the fathers a happy Father's Day!
*All names have been changed in this blog for the protection of identities.
---
BYJU'S Education for All is on a mission to empower 10 million children by 2025 with education. Through the BYJU'S Give programme, you can contribute to this movement and help children with quality digital learning. You can donate an old device, which we will refurbish, and then use the money raised to buy a new device. In case you do not have a device, you can also donate to an NGO partner, who will use the funds to buy devices for children.
In both cases, we will load our BYJU'S Think & Learn premium content onto these devices and distribute them to children in need.
Also Read: BYJU'S EFA Spreads the Wings of Learning with Technology