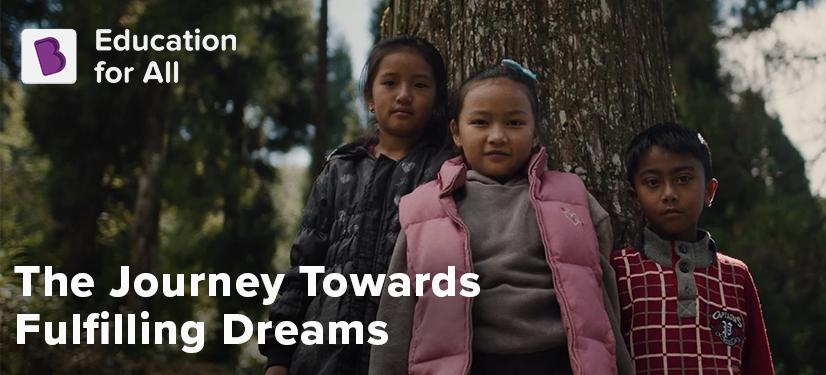 The education scenario in India is as diverse as its culture and heritage. We have a spectrum of children — from those who have access to quality education to ones who don't even know what the 9-letter word means. Living in extreme conditions of poverty, survival is their only priority, let alone education.
Such heart-wrenching stories accelerated our ongoing mission at BYJU'S Education for All (EFA), conceptualised in 2019, to make our learning content available to children, especially to those in need.
Here is a video that tells our story — the results of a month-long shoot across the expanse of 13,500+ kilometres in India — from the frosty Himalayan landscapes to the scorching dunes of the Thar Desert. 
While millions of children were grappling for a solution, thousands of NGOs supported them in these trying times. We decided to partner with these changemakers to reach children in need with quality learning content.
So far, we've joined hands with 110 NGO partners across the country. And through these partnerships, we've made education accessible to 3.4 million children in India spread across 26 states. By 2025, we hope to reach 10 million children and provide them with quality education.
The video truly captures the essence of our ultimate mission that we want to achieve, together at BYJU'S – Education for All.
Drop a heart in the comments, if you loved this video as much as we did making it!
Do share this on your social media pages and help us spread the word about our mission.
Also, check out the magic that happened behind the scenes here.
---
BYJU'S Education for All is reaching out to underprivileged children across India. Through the BYJU'S Give programme, you can contribute to this mission and help children with quality digital learning. You can donate an old device, which we will refurbish, and then use the money raised to buy a new device. In case you do not have a device, you can also donate to an NGO partner, who will use the money to buy devices for children.
In both cases, we will load our BYJU'S Think & Learn Premium content onto these devices and distribute them to children in need.
Also Read: Illuminating lives with BYJU'S Social Initiatives