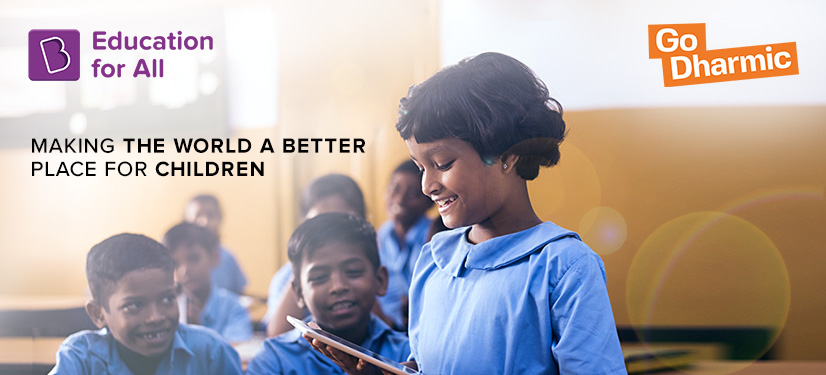 Across the world, more than 690 million people live in hunger everyday. According to a study, there is a predicted increase in the percentage post the impact of the pandemic. The futures of children, too, could be compromised with the lack of nourishment.
In such trying times, many NGOs are working towards creating a change by providing people with the essentials for survival. One such NGO which is present across the world, doing social good is Go Dharmic.
Go Dharmic was started on the foundation of "Dharma" with the universal call to serve, volunteer, and help make the world a better place. The organisation consists of a group of 3000+ like-minded volunteers who work to benefit all living beings. The NGO firmly believes in the motto "Love all, Feed all, Serve all".
From helping children with an education to creating green expanses within the country, Go Dharmic is involved in a slew of activities. Founded by Hanuman Dass in London, it now has offices in Glasgow, Ahmedabad, Mumbai, and Kolkata.
Inception
The story of Go Dharmic started in 2011 when Founder Hanuman Dass started distributing a handful of bananas in the streets of London. Today, the volunteers have distributed over 10 million meals to people in need.
Called the Feeding Project, it is now present in cities across the world including Glasgow, London, Edinburgh, New York, United Kingdom, and Ahmedabad with about 15 centres.
"We just distribute free food to anybody who wants to have a hot, nutritious, vegetarian meal. All this is done by the strong volunteer community," says Sonal Jain, Head of Fundraising, Partnerships & Communications, Go Dharmic.
Community Development and Social Work
Apart from the educational initiatives, the volunteers of Go Dharmic have been advocating a more environmentally-responsible lifestyle.
One of the campaigns include "Go Plant-based", where the volunteers encourage people to consume plant-based food to reduce the pressure on land, water, air, and on animals. The food distributions that the NGO has conducted so far have been 100% vegan.
Through the "Give it a Grow" campaign, more than 70,000 mangroves have been planted in the Dharma Forest, located in the Sunderbans, West Bengal. Why Mangroves? These trees can store large quantities of carbon and prevent it from entering the Earth's atmosphere. Go Dharmic aims to plant at least 2 million mangroves by 2026.
"We are currently doing a flagship programme called "Ahimsa and the Environment", to create awareness about conservation, which was launched through a 9-hour long event graced by many renowned personalities," says Sonal.
Go Dharmic's volunteers have also built about 40 new modular toilets across 10 government schools in the Northeast states of India.
In 2022, the NGO launched Mission Health for India's frontline police officials and high-risk government personnel to have extensive medical and health checks. Through this initiative, Go Dharmic has undertaken vital health checks for more than 505 police workers in Guwahati, Pondicherry, Perundurai, and Jalgaon.
Go Dharmic has also been a part of disaster relief including COVID-19, the ongoing Russia-Ukraine War, the floods in Assam, among several others.
Educational Initiatives by Go Dharmic
The Shape a Future initiative by the NGO aims to reduce poverty by building libraries in schools that lack the facility. The libraries are aimed at improving children's literacy and also nurture their overall development.
On an average, Go Dharmic develops 2 libraries every month and is on a mission to help 100,000 children before 2023.
"We've developed more than 100 libraries, which have impacted more than 45,000 children across India," says Sonal.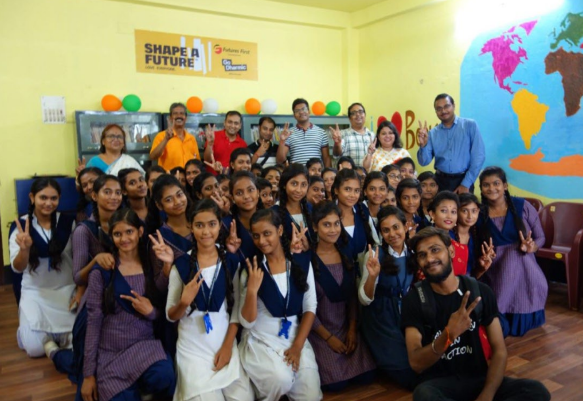 In addition to the libraries, the NGO is also helping children with quality digital education for underprivileged children. For the same, Go Dharmic has partnered with BYJU'S Education for All to help children with access to learning.
"We are working with BYJU'S Education for All to bring digital education to the rural children, who have no access to quality education. So far, we've distributed the courses to children in Ahmedabad," Sonal says.
"We're also looking at developing computer labs. We're creating the first one in Gandhinagar, at a school called Ratanpur. This is going to be the first fully-functional digital computer lab by Go Dharmic, and we want to create many more such labs in the future," Sonal shares.
With the support of our NGO partners like Go Dharmic, BYJU'S Education for All hopes to uplift millions of children with access to learning. Together, we want to create hope for a better future of these children.
---
BYJU'S Education for All is on a mission to empower 10 million children by 2025 with education. Through the BYJU'S Give programme, you can contribute to this movement and help children with quality digital learning. You can donate an old device, which we will refurbish, and then use the money raised to buy a new device. In case you do not have a device, you can also donate to an NGO partner, who will use the funds to buy devices for children.
In both cases, we will load our BYJU'S Think & Learn premium content onto these devices and distribute them to children in need.
Also Read: How Rotary India Literacy Mission is Boosting the Dreams of Children