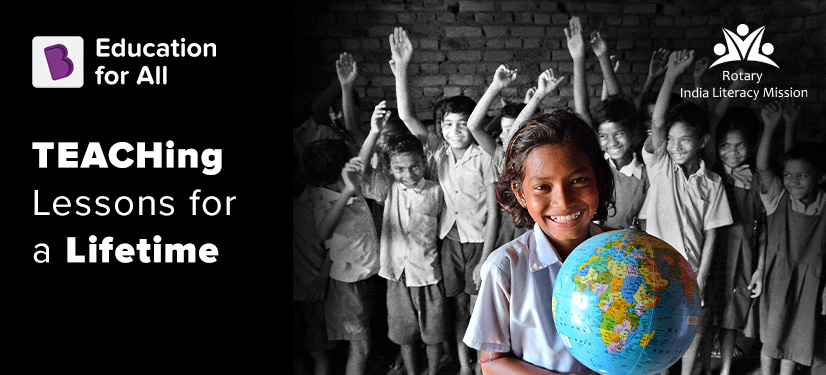 Every child has the ambition to become the best version of themselves. Education can help them realise their true potential and fulfil this ambition. However, when this opportunity for learning is taken away from them, their dreams are cut out from their lives.
However, many NGOs are on a drive to ensure that this doesn't happen and more children are given the opportunity to grow. One such organisation that has been helping children, encouraging them to enjoy learning with all the right opportunities is the Rotary India Literacy Mission.
Rotary is an international social service organisation whose stated purpose is to bring together business and professional leaders to provide humanitarian service and to advance goodwill & peace around the world. Rotary in India has been in existence for over 100 years, and has over 3500 clubs and approximately 1.5 Lakh Rotarians across the country. Rotarians in India have used their passion, energy, and intelligence to take action on sustainable projects, from literacy and peace to water, sanitation and health, they are working together to create a better world.
Rotary India Literacy Mission (RILM), formerly known as Rotary South Asia Society for Development and Cooperation, runs with the objective of achieving total literacy through quality education. The organisation aims to achieve these goals through a comprehensive programme called T-E-A-C-H.
T – Teacher Support
E – E-Learning
A – Adult Literacy
C – Child Development
H – Happy School
Each programme under TEACH has a specific focus that aims to improve the learning outcomes of primary education and also the spread of adult literacy across India.
"Our mission is to achieve total literacy and quality education by 2027, which is also one of UN Sustainable Development Goals, and we're dedicated to building this cause," says Kamal Sanghvi, Chairman, Rotary India Literacy Mission.
TEACHing to Make a Difference
The T-E-A-C-H initiative is currently being implemented by the Rotary India Literacy Mission since 2013. This has been possible through the strong partnerships with the government, corporates, national/state specific non-governmental organisations, as well as international organisations.
The Teacher Support programme aims to improve the professional skills and performance of teachers through training, re-training, and the recognition of outstanding teachers. While the training and re-training of teachers helps them conduct classes more effectively, the recognition for their efforts boosts their confidence.
The e-learning programme called E-Shiksha improves the teaching & learning experiences in government and government-aided schools. This is done through the provision of audio-visual multimedia modules for a more interactive learning.
Through this programme, RILM installs an LCD projector, LED TV or a Smart LED TV loaded with the educational software linked to the State Board curriculum in local languages.
RILM has successfully installed this e-learning system in about 15,000+ government and government-aided schools across the country through the Rotary Clubs, CSR and PSU support.
"We recently had a tie up with NCERT and the Ministry of Education, during the pandemic. While most of the rural households did not have access to mobiles, many had access to a television. So the government launched 12 national learning channels for the students, one for each class, called the PM eVidya programme," shares Biswajit Ghosh, Chief Operating & Strategy Officer, RILM.
"For the same, it had solicited content for these channels, and RILM was one of the few private/social sector players who responded to that call, since it was to be provided free. We provided multimedia animated e-content for all classes from 1-10, for all the subjects in the English & Hindi mediums, which were duly approved by the NCERT," he adds.
So far, NCERT has taken its digital content including RILM produced-content, to about 15 million households through DD Free Dish, 420 million users through Jio Mobile, 70.26 million households through TATA Sky, and also initiated a million learning sessions through the DIKSHA learning portal.
The Adult Literacy Programme was created to impart literacy to non-literate adults (15+years of age), and also engage the literate young adults in skill development programmes.
Through this programme, about 88,000+ adults have achieved literacy in a pilot conducted in the pre-pandemic phase, through government initiatives like DIKSHA and Swabhimaan.
In the post-pandemic situation, as schools and colleges reopen, RILM plans to take its Adult Literacy programme to newer heights, through partnerships & MOUs with numerous universities across the country, student service organisations like Bharat Scouts & Guides, and civil society organisations like Gayatri Parivaar, Brahmakumaris, etc,
RILM's Child Development programme called Asha Kiran aims to send children back to schools. The organisation has successfully enrolled 44,000+ out-of-school children into the programme.
"The goal is to mainstream children who have never been to school, children from underprivileged communities, and vulnerable children are given priority. So we provide a nine month bridge course, to these children, and get them ready for mainstream schooling and admitted in the nearest government school," says Jhilam Roy Choudhury, Director of Programs, RILM.
From across 15 states,  34 NGOs have collaborated with RILM in this project, in the last 7 years.
Another vertical, the Happy School programme, provides infrastructural and co-scholastic facilities in state funded schools. The objective is to make these schools a great teaching and learning experience. This positive environment can yield better attendance, which can in turn lead to higher retention and improve concentration.
RILM has successfully transformed 3,112 government and government-aided schools across the country through Rotary clubs and districts.
Apart from T-E-A-C-H, another initiative, the skill development programme leverages various government organisations and NGOs to impart new skills to literate adults, to ensure their economic empowerment.
e-learning with BYJU'S
"Today, a smartphone can be procured at a very minimal cost. Many children across India may have access to smartphones at least through their parents. However, quality educational content is not easily accessible to these children," says Biswajit.
"So, free content from BYJU'S Education for All fits perfectly to help children in need with the right mindset to study and grow," he adds.
BYJU'S Education for All hopes to grow and further impact millions of students across India with access to education. With the support of partners like RILM, we hope to touch the lives children and help them reach their dreams.
---
BYJU'S Education for All is on a mission to empower 10 million children by 2025 with education. Through the BYJU'S Give programme, you can contribute to this movement and help children with quality digital learning. You can donate an old device, which we will refurbish, and then use the money raised to buy a new device. In case you do not have a device, you can also donate to an NGO partner, who will use the funds to buy devices for children.
In both cases, we will load our BYJU'S Think & Learn premium content onto these devices and distribute them to children in need.
Also Read: Nourishing, Educating and Empowering Children: Story of the Akshaya Patra Foundation