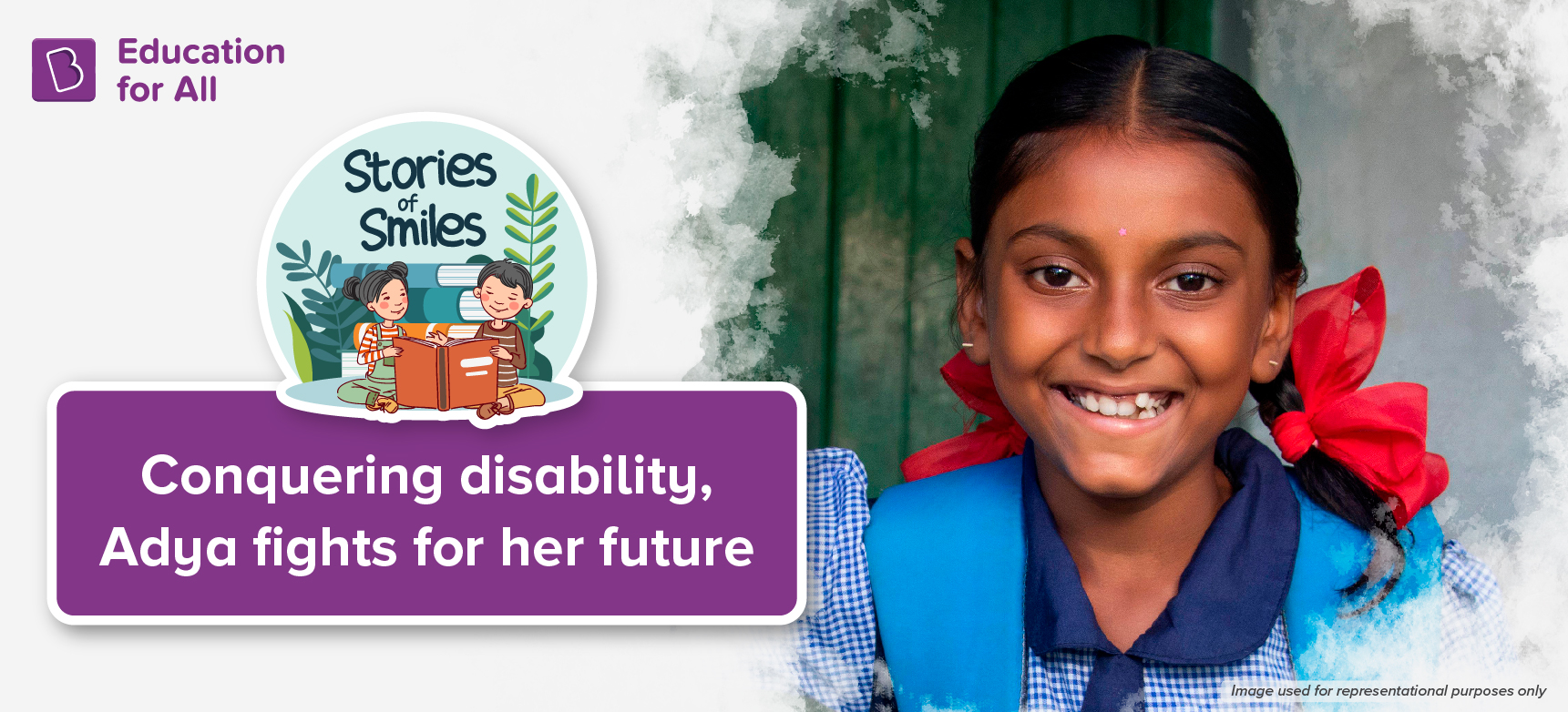 Adya* Ramesh lives with her five-member family consisting of her parents, brother, and aunt, in Ghatkopar, Mumbai. Her father who owns a hardware shop in the suburb is the only earning member of the family and makes about Rs 12,000 every month.
However, going to school was never a challenge for Adya, despite her family's income, because her school, S. P. R. Jain Kanyashala, a semi-English medium school was providing free education for all its students. The bright 8th grader has her own dreams of becoming a fashion designer one day.
With eyes filled with hope, she says, "I love to draw and often design clothes and other fashion accessories. I wish to become a designer someday."
However, the family is laden with several other expenses. Apart from the monthly utility bills that amount to Rs 4,500, her brother who is in grade 10, is suffering from Asthma and needs regular treatment. The medical bill amounts to Rs 800 every month.
In addition, Adya too has her own share of problems. She has a medical condition in her legs which makes her short in height. Both the legs are quite weak which often causes her to fall down. She was admitted to the hospital for treatment and went through a number of physiotherapy sessions. While these sessions were expensive, fortunately, she is now slowly recovering and is able to walk properly.
When schools were closed, it had a major impact on Adya's learning, a common feat for most school-going children. However, thanks to a tablet that was given to her by the Ratna Nidhi Charitable Trust, she was able to study with the help of BYJU'S Think & Learn Premium Content.
Through the BYJU'S app, Adya has been able to gain a better understanding of the subjects.
"I was finding it difficult to study the concepts by myself. But with the help of the explanations in each of the videos, I got a better understanding of the subjects, especially Maths and Science," she says.
"The questions are asked in an interesting manner and has helped develop my skills with practice," she adds.
The Ratna Nidhi Charitable Trust has been helping many children in Mumbai find education in these trying times. It aims to uplift people from the most underprivileged strata of the society, without any distinctions of caste, creed, race, colour, gender, etc.
The NGO has partnered with BYJU'S Education for All to provide free BYJU'S streaming licenses for children.
Like Adya, we hope to impact millions of children with BYJU'S learning content and shape the lives of children with access to digital education.
---
BYJU'S Education for All is reaching out to underprivileged children across India. Through the BYJU'S Give programme, you can contribute to this mission and help children with quality digital learning. You can donate an old device, which we will refurbish, and then use the money raised to buy a new device. In case you do not have a device, you can also donate to an NGO partner, who will use the money to buy devices for children.
In both cases, we will load our BYJU'S Think & Learn Premium content onto these devices and distribute them to children in need.
Also Read: Giving Pavithra the Right Tools To Help Her Build Machines