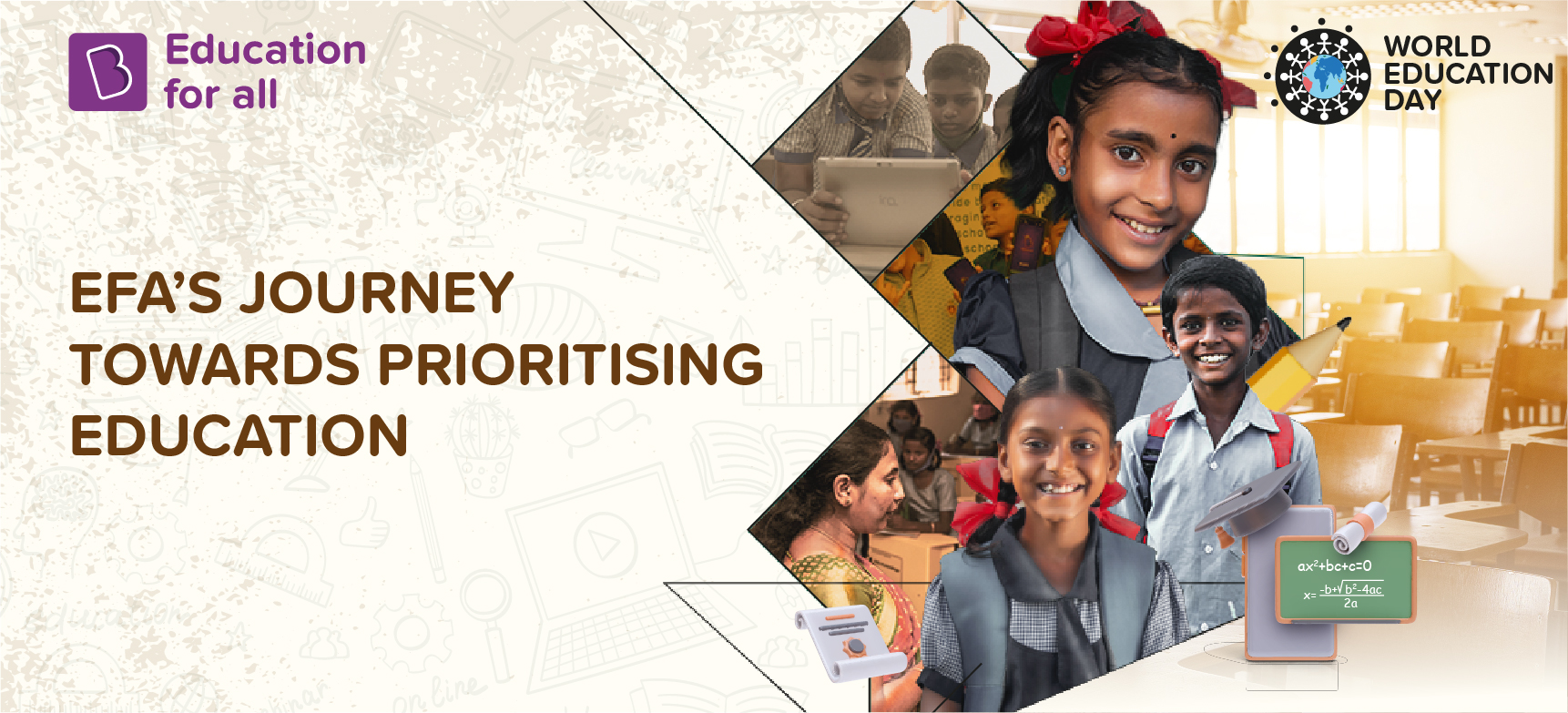 Over 244 million children worldwide were out of school, with no access to education in 2021, according to UNESCO. The primary causes are poverty, the lack of quality educational content, and insufficient school resources. While these reasons become persistent, gender inequality and intergenerational cycles of poverty will continue to exist.
International Day of Education is observed every year on January 24 by the United Nations to celebrate the role of education in harbouring peace and sustainable development. The theme for this year is 'to invest in people, prioritise education'. 
The UN shares that 'education must be prioritised to accelerate progress towards all the Sustainable Development Goals against the backdrop of a global recession, growing inequalities, and the climate crisis'. BYJU'S Education for All has been taking a step toward this goal through its philanthropic missions.
Since its establishment, BYJU'S EFA has been on a mission to foster children with the power of education. Our mission is to reach underprivileged children in every corner of the country and uplift them with access to education for a progressive future.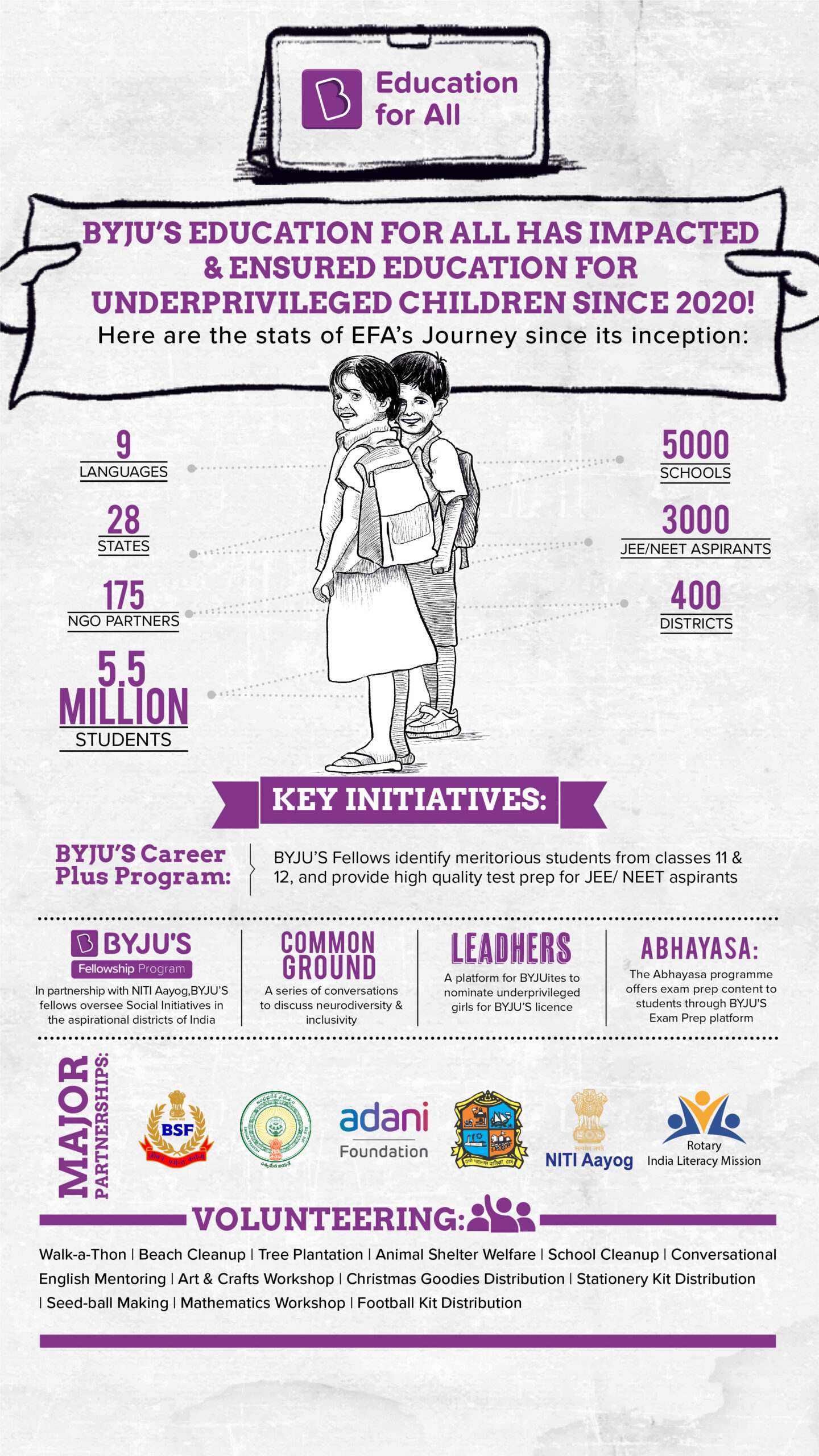 We have skillfully guided over 5.5 million children in the last two years through our NGO partners, Fellowship programme, and other significant initiatives spread across 400 districts. Through our partnerships with over 175 non-profits and tie-ups with various state governments, and our most recent partnership with football legend Lionel Messi, we are aiming to reach 10 million children by 2025. 
Mansi Kasliwal, VP, Social Initiatives, shares, "At BYJU'S, we believe that accessibility to good quality education is imperative to making lifelong learners. All children should learn in a manner that keeps their curiosity alive and gives them a fundamental understanding of diverse concepts such that they are not only able to apply their learning to real life but also enjoy the process of learning. Through EFA, along with our partners and stakeholders, we are committed to ensuring that we are able to reach out to children in all corners of the country and offer them courses that will help them shape their future."
A Country-wide Impact Through Partnerships
BYJU'S Education for All has impacted children in over 5000 schools across India through various mediums, comprising BYJU'S App licences, Android boxes, and other resources like workbooks.
Some of our significant partnerships include the Andhra Pradesh Government, NITI Aayog, Border Security Force (BSF), Adani Foundation, Thane Municipal Corporation, Changlang District of Arunachal Pradesh, and Rotary India Literacy Mission.
Key Initiatives
In 2022, we initiated BYJU'S Career Plus Program with the NITI Aayog. Through this programme, we efficiently crafted training and coaching sessions for JEE and NEET aspirants in aspirational districts. Our Fellows of the BYJU'S Fellowship Program have been going to each district to ensure that these children are empowered with exceptional training for a brighter future.
We also conducted a series of conversations through 'Common Ground', where we discussed neurodiversity in detail with all employees. We also initiated a campaign called 'LeadHERs' for our employees to nominate girl children who needed educational support, and in return, they would receive a free BYJU'S licence. To spread our mission further to BYJUites, we also initiated the BYJU'S Volunteering Programme, through which BYJUites have made a noteworthy difference across India.
One of our most recent initiatives, the Abhayasa programme, offers content to practice for exams to students through the BYJU'S Exam Prep platform. Exam Prep is an online classroom programme created by our leading faculty members with comprehensive study material for all exams.
While this is a stepping stone for bigger goals ahead, we plan to go above and beyond to make a difference with education for every child. With the support of our partners and all our initiatives, we hope to impact 10 million children by 2025.
---
BYJU'S Education for All is reaching out to underprivileged children across India. Through the BYJU'S Give programme, you can contribute to this mission and help children with quality digital learning. You can donate an old device, which we will refurbish, and then use the money raised to buy a new device. In case you do not have a device, you can also donate to an NGO partner, who will use the money to buy devices for children.
In both cases, we will load our BYJU'S Think & Learn Premium content onto these devices and distribute them to children in need.
Also Read: Paving the Future of Education in India